Quran public distribution ban discussed in Switzerland
The canton of Zurich calls its cities to prohibit the Salafist campaign "Read!" because it makes an apology of radical Islamism.
ZURICH · 10 MAY 2017 · 17:18 CET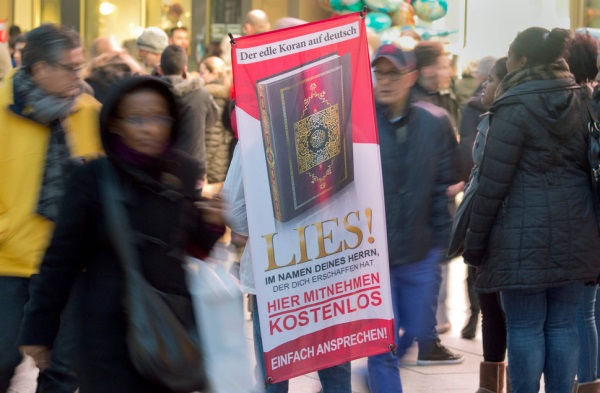 The Read! campaign gives away copies of the Quran to passers-by. / 20 Minuten
Authorities of the Zürich Canton (Switzerland) have asked their city councils to stop the "Read!" campaign (in German, "Lies!") because it seeks to "radicalise" the population.
The town halls will have the last word, but the regional police has already received indications on how to impede the public activities of the Salafist Islamist group "The True Religion."
This organisation, which includes Muslims converts, gives away copies of the Quran to passers-by in several cities. Their aim, experts in Zurich say, is not only to promote a peaceful version of Islam but to promote the Jihad.
NZZ, the main national newspaper in Switzerland, reported about how several young participants in the "Read!" campaign have travelled to Syria in the last years to join Daesh (IS).
"PROTECTING THE POPULATION"
"This is about protecting the population. We have invested in the prevention and we have elevated our capacity of intervention", the Director of the Security Department of the Canton of Zürich, Mario Fehr, said.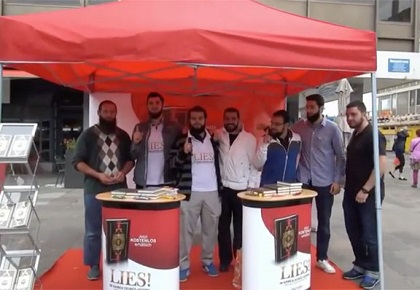 "We respect religious freedom", he added. "Therefore, actions like the distribution of Bibles and others initiatives related to the Quran will be allowed." The focus will not be put on religions, he clarified, but on dangerous religious entities.
DISCUSSION ABOUT RELIGIOUS FREEDOM
The political discussion about the "Lies!" campaign and the limits of religious freedom in the public space has arrived to several regions of Switzerland
In Bern, the capital, the Town Hall voted against a motion proposed by the main conservative party, SVP, which proposed to ban Quran distribution campaigns. During the debate, the spokesperson of the Evangelical Party EVP said the radicalisation of some Muslim groups is a shared concern, but added that "the prohibition of the campaign does not solve the problem."
In other Cantons, like Basel, a new regulation allows to stop the distribution of certain contents in the public space, although every case has to be analysed individually, after being reported by citizens or the police.
REACTIONS IN GERMANY AND AUSTRIA
The strong presence and the high number of volunteers propelling the Salafist campaign has led to diverse reactions in Central European countries.
In Germany, the organisation "The True Religion" has been illegalised.
In Austria, the distribution of the Quran in public spaces will be banned from July on, when a new law will come into effect.
The "Read!" campaign was started in 2011 and its organisers claim they have distributed more than 25 million copies of the Muslim holy book in several countries.
Published in: Evangelical Focus - cities - Quran public distribution ban discussed in Switzerland