Bible reading marathon in Sofia celebrates 1,150 years of Cyrillic Alphabet
Seven hours of continuous reading of the Holy Scriptures in the Bulgarian capital. "We desperately need to recover our Christian identity", organizers said.
SOFIA · 24 MAY 2017 · 11:33 CET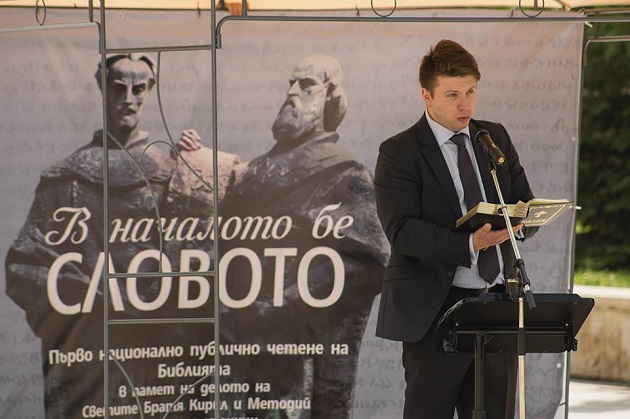 Rady Apostolov, president of Bulgarian Bible Society. / BBS
The initiative commemorated 1,150 years since missionary brothers Cyril and Methodius coined out a completely new alphabet in order to translate the Scriptures into the languages of Slavic people groups.
On May 24 every year Bulgaria celebrates the Day of the Cyrillic Alphabet. The marathon of public Bible reading intended to raise awareness in Bulgarian society that the primary motive behind the two brothers' idea to create a new alphabet was to make the Word of God accessible for many.
In 863, Cyril and Methodius started work among Slavic people groups. Their ambition was to use Slavonic language in order to convey the Gospel in an understandable way. They translated liturgical literature and large portions of the Bible into what came later to be called Old Church Slavonic language, and penned a new alphabet based on Greek letters. In 865, the Bulgarian knyaz (prince) Boris the First officially accepted the brothers' work brought to Bulgaria by five of their disciples.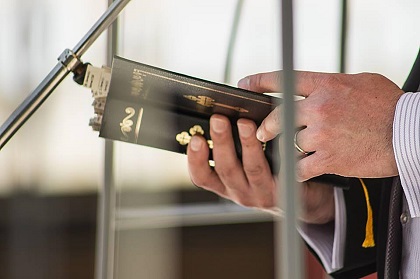 Today, Bulgaria still uses Cyrillic, and was the first EU member to introduce is as the third official alphabet in European official documents and currency (alongside with Latin and Greek). Elsewhere, the Cyrillic Alphabet is also used in Macedonia, Serbia, Bosnia and Herzegovina, Ukraine, Russia, Belarus, among others.
"Reading out loud includes a number of our senses," said Dr. Ilko Semerdjiev, former Minister of Healthcare in Bulgaria. "It evokes our abstract thinking, and it challenges the creative and emotional dimensions of our brain," he added in a follow-up meeting at the University of Sofia after the end of the initiative.
More than 50 people – young and elderly; doctors and architects, economists and linguists; teachers and entrepreneurs – took turns reading Bible passages in the center of Sofia, including Christians of Eastern Orthodox, Roman Catholic and Evangelical Protestant confession. Some of the public figures who joined the initiative included writer Teodora Dimova, Dr. Ilko Semerdjiev, TV host and theologian Goran Blagoev, musician Miro, economist Ilia Lingorski, university professor Valeri Stefanov.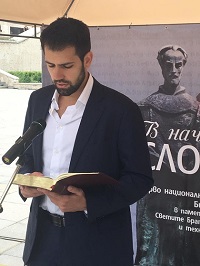 The organizers of the initiative shared in a statement that they intend to make this Bible reading marathon an annual event. Writer Alexander Urumov of "Word" Association announced that the endeavor is only making its first steps. Next year, they plan to set up similar public Bible readings in other towns, and not just Sofia. "More than ever, today
we desperately need to recover our Christian identity
", Urumov wrote.
The marathon of Bible reading is conducted under the title of "In the Beginning Was the Word".
Published in: Evangelical Focus - cities - Bible reading marathon in Sofia celebrates 1,150 years of Cyrillic Alphabet