Thousands march for life in London
Pro-choice group Abortion Rights had organised a counter demonstration. One week before the march, a law which bans prayer or the offer of help outside a London abortion centre came into effect.
UK March for Life, Christian Today · LONDON · 09 MAY 2018 · 10:47 CET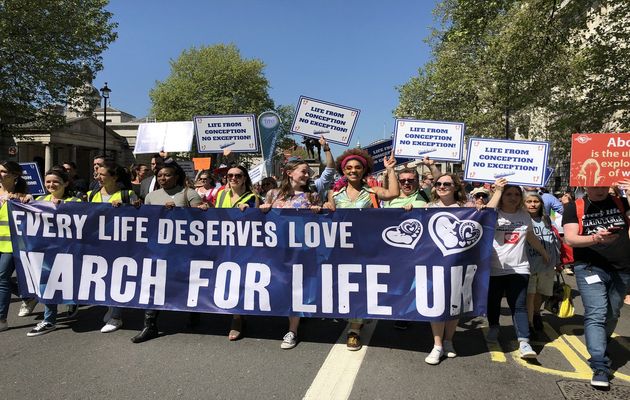 Thousands marched for life in London. / UK March for Life Twitter.
The UK March for Life movement held its first London-based march on May 5.
Thousands of pro-life marchers walked to Westminster's Parliament Square to oppose the liberalisation of abortion laws.
This march takes place each year, around the time that the 1967 Abortion Act, which legalised abortion in Great Britain (excluding Northern Ireland) came into effect.
It started in 2012 as an initiative of a small group of pro-life activists in Birmingham. The annual event grew so much that organisers decided to move it to London for the first time this year.
"TO BE A VISIBLE VOICE"
"The aim of the day is to encourage and inspire Christians who have a concern for the pre-born child as well as to be a visible voice and an audible voice for the pre-born child to the city of London", Regan King, a Christian pro-life supporter and organiser of the march told UK broadcaster Premier.
King hoped that the march "would be an encouraging time as we hear stories of God's grace, mercy and redemption in many people's lives".
LIVE MUSIC, SEMINARS, TESTIMONIES AND PRAYER
The pro-life marchers enjoyed "live music, some seminars talking about abortion, and times of worship, praise and prayer".
The march was led by US singer-songwriter, Joy Villa, who also spoke of her pro-life commitment.
The talks and testimonies were about "how we can best help our culture, which seems to love the idea of abortion in many ways but at the same time still maintains some moral conflictions over it", King explained.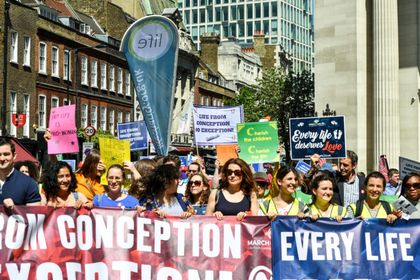 Other speakers were Rachel MacKenzie, of the post-abortive support group, Rachel's Vineyard, who shared her personal testimony about how after two abortions, she finally found what she was looking for: someone who told her that abortion was wrong but that there was forgiveness.
Next to speak was Clare McCullough, founder of the Good Counsel Network. She has been at the forefront of attempts to overturn the recent legal moves to prevent prayer and sidewalk counselling outside abortion centres.
PRAYER OUTSIDE ABORTION CLINICS, BANNED
In March, west-London's Ealing Council became the first council to establish an exclusion zone outside a local Marie Stopes abortion clinic, after allegations by the clinic of groups outside harassing its clients.
One week before the march, that law came into effect, banning prayer or the offer of help outside a London abortion centre. This type of prohibition is now expected to be rolled out across the country.
PRO-CHOICE MARCH
A counter demonstration organised by pro-choice group Abortion Rights, awaiting the March for Life in Parliament Square.
The group told London newspaper Evening Standard that "although March for Life tries to present a shiny, family friendly appearance, in reality, it is made up of extreme anti-women outside abortion clinics".
March for Life UK defended its demonstration stating that it "is an organisation that works to bring together various pro-life groups around the country as well as raising awareness of the hurt and damage abortion causes".
"The pro-life groups who we connect with work in different ways to provide help and support to women/couples in crisis pregnancy situations, during pregnancy and beyond, for as long as they need it, as well as help for those who suffer after abortions", they added.
Published in: Evangelical Focus - cities - Thousands march for life in London