Wittenberg hosts world exposition on Luther
The German city is ready for "Gates of Freedom", 16 weeks of events which could attract 500,000 visitors.
R2017, EKD, Idea · WITTENBERG (GERMANY) · 10 MARCH 2017 · 11:05 CET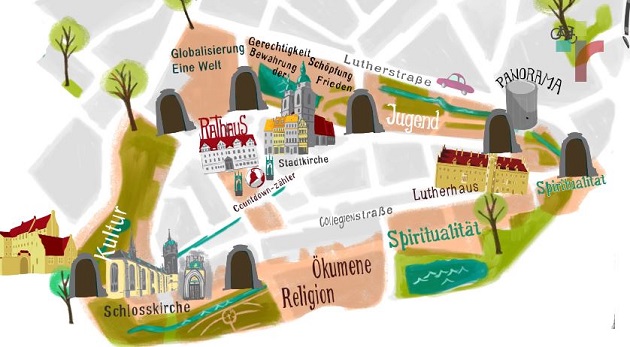 A map of the world exposition in Wittenberg. / R2017
"The biggest event happening in Europe" in 2017. This is how the organisation of "Gates of Freedom" have defined the 16 weeks of world exposition on Martin Luther's legacy in Wittenberg.
It was in the university of that German city where Luther taught and first publicised his 95 theses. The small city (46,000 inhabitants) will host more than 2,000 activities from May 20 to September 10 .
The world exposition on the Protestant Reformation will include worship services, exhibitions, thematic evenings, drama, public discussions and concerts. The aim is to "dialogue" with people from all over the world.
More than 80 artists will participate with their exhibitions, including Chinese activist Ai Weiwei.
A 25-meter tall "tower of books" will be set up nearby the Wittenberg train station, in which the Bible will be portrayed as the "book of books".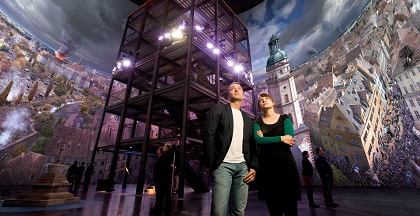 Another highlight will be the 360-degree-panorama exhibition "Luther 2017", produced by Yadegar Asisi.
The "Night of the Lights" aims to gather 300,000 people on May, 27.
Along the same lines as other initiatives of the EKD (the German national Protestant Church) in the last years, the world exhibition will include ecumenical services, as well as "inter-religious dialogue."
The world exposition will cost 20 Million Euro.
7 DOORS
Seven doors will be placed around the city of Wittenberg, which have been called:
1. Welcome
2. Spirituality
3. Youth
4. Freedom, Justice and Creation Care
5. Globalisation, One World
6. Ecumenism and Religion
7. Reflecting Culture
MORE INFORMATION
Download the World Exposition Reformation folding map here.
Visit the official website of the exposition here.
Published in: Evangelical Focus - culture - Wittenberg hosts world exposition on Luther