Germany to adopt integration law for refugees
First integration law in German history will facilitate refugees to live and work in the country, if they learn about language and culture.
Deutsche Welle, The Guardian, Evangelical Focus · BERLIN · 15 APRIL 2016 · 18:49 CET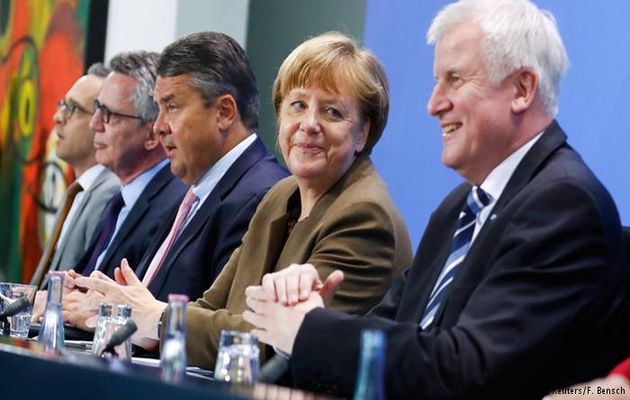 Members of the three coalition partners spent hours discussing the first draft of the law. / DW
The governing Christian Democratic Union (CDU), Christian Social Union (CSU) and Social Democratic Party (SPD) have presented the new draft integration law for refugees, agreed upon in Berlin hours before.
They announced new legal measures requiring migrants and refugees to integrate into society in return for being allowed to live and work in the country. The legislation would also include anti-terror measures.
Members of the three coalition partners spent hours discussing the first draft of the law, which will be formally voted on during a closed-door meeting on May 24.
Chancellor Angela Merkel described it as "an offer that carries certain duties with it", and Vice Chancellor Sigmar Gabriel called it a "historical step" in the regulation of migrants arriving in Germany.
ONE-EURO JOBS
The draft law puts heavy emphasis on refugees' participating in the workforce, although migrants without any intention to stay permanently in Germany will not be allowed to take part in the proposed work program.
The law requiring employers to give preference to German or EU job applicants over asylum seekers, will be suspended for three years.
They plan to create 100,000 "one-euro jobs," in which refugees can work for a wage generally between 1 Euro and 2.50 without their earnings counting against asylum support.
The measure will make it easier for firms to hire migrants if they are recognized as refugees seeking international protection.
Additionally, the legislation also proposes to provide easier financial support for new arrivals, lift the age limit for training schemes and shorten the necessary time to wait to enroll in integration courses.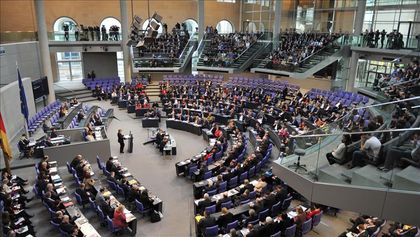 LOCATION MEASURES
Other measures, which need to be approved by the cabinet and parliament to become law, will include requiring migrants who fled to Germany to live in certain places even after they have been recognized as refugees.
The measure is meant to distribute refugees more evenly across the country and avoid "social trouble spots", Merkel explained.
PENALTIES FOR THOSE NOT WILLING TO LEARN
"For the first time in the history of Germany, we will adopt a federal law on integration; that is a qualitative improvement", Merkel told a news conference in Berlin on Thursday.
She stressed that the law would be based on the principle of "making demands and providing support", it will list obligations for migrants such as participating in language and integration courses, while improving their conditions.
There will be penalties for those who do not participate in the integration courses or make an effort to learn German.
INTEGRATION POLICIES IN AUSTRIA AND SWITZERLAND
Germany is not the only country with integration laws for refugees. Asylum seekers in Switzerland are obliged to complete integration courses - including one on how to keep house.
Last January, Austria's Foreign Minister Sebastian Kurz, said that refugees who refuse to attend special integration training courses as a part of a new program may see their social benefits cut.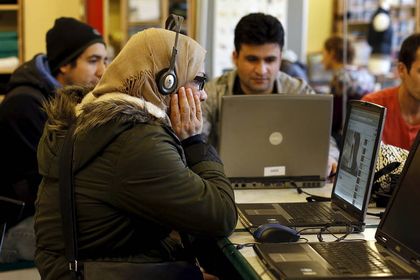 "INTEGRATION WITHOUT THREATENING IDENTITY"
Integration has been the subject of an ongoing debate in Germany.
In an interview with Evangelical Focus, Vimal Vimalasekaran, a former Tamil refugee, who now works among asylum seekers in Germany, states that "there are two extremes. One is integration, in which you push people into assimilation, which. The other is inclusion: just taking them without checking their values."
According to Vimal, it is key that refugees "learn the language and understand the culture, it is important, an imperative! But we need to learn how to give this help without threatening their identity."
"My suggestion is `interclusion´. It basically means the first half of integration (culture, language, knowledge, friendship…). And the second part of inclusion, meaning you accept who I am, how God has created me. I am not less human because I don't speak the proper language of the country, that doesn't make me less intelligent", he added.
AROUND 6,000 REFUGEE CHILDREN MISSING IN GERMANY
Almost 6,000 refugee children and minors were reported missing in Germany last year, according to its interior ministry; and the European Union estimates that at least 10,000 child refugees had disappeared after arriving in the continent were "very likely to be underestimated."
Some of those who vanish may never have registered, others may have been reunited with families and not told local officials. But there is little question that others have fallen into the hands of traffickers, and thousands more are at risk from criminals.
"They are invisible, that's the very reason why they are vulnerable; if children aren't counted, they don't count", said Sarah Crowe, UNICEF global spokesperson on the European and refugee and migrant crisis. "Different states need to know who is in their country and take care of them."
Published in: Evangelical Focus - europe - Germany to adopt integration law for refugees