The favourite to lead the Scottish government faces an obstacle - her evangelical faith
Kate Forbes, 32, is widely respected for leading the finance and economy areas. But her Christian commitment makes her unfit for office, politicians and journalists are saying.
EDINBURGH · 20 FEBRUARY 2023 · 15:02 CET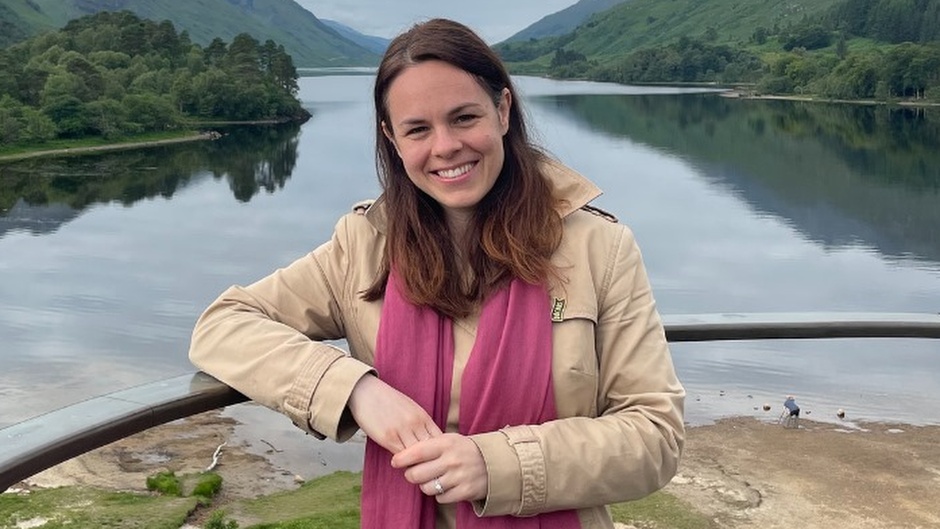 Kate Forbes, Finance and Economy Minister of Scotland. / Photo: [link]Facebook Kate Forbes[/link].
Nicola Sturgeon's unexpected announcement to quit politics has opened the race to succeed her as head of the Scottish government.
Scotland's First Minister stepped down as head of the left-wing, pro-independence government at a time of falling popularity amid the highly controversial gender self-determination law passed in December.
Among the "political talent" in the Scottish Nationalist Party (SNP) that Sturgeon praised at her farewell press conference, the Finance and Economy Minister Kate Forbes stands out.
The 32-year-old, born in the Highlands region (far from the power centres of Edinburgh and Glasgow) is admired for her thoughtfulness, her gentle temperament with political opponents, and her ability to connect with people. Trained in history and with a master's degree in migration and diaspora, she is fluent in Scottish Gaelic (something many other politicians cannot boast).
In the days leading up to Sturgeon's final departure, all eyes are set on Forbes, who is currently on maternity leave. Finally, on Monday she announced that she was entering the race to lead the SNP and the government.
But before that, the rising SNP star's faith was already the focus of media and political conversation.
"I believe in Jesus Christ, my calling is to serve"
Kate is a member of the Free Church of Scotland, a theologically conservative split of the established Church of Scotland. She is a committed Christian with evangelical convictions, active in her local church. "My faith is essential to who I am", she has said. As a child, Kate lived some years in India, where her parents served as missionaries involved in medical health.
Interviewed on the BBC in 2021, she elaborated: "To be straight, I believe in the person of Jesus Christ. I believe that he died for me, he saved me and that my calling is to serve and to love him and to serve and love my neighbours with all my heart and soul and mind and strength. Politics will pass - I am a person before I was a politician and that person will continue to believe that I am made in the image of God".
Asked about her willingness to respect the will of voters, Forbes has repeatedly insisted that having a strong Christian faith does not conflict with seeking to serve everyone.
But in the current context of ideological struggle in Scotland, the pressure on Forbes and her personal faith may have only just begun. Her pro-life stance is criticised (she said in 2018 that the "measure of true progress" is how the "unborn and terminally ill" are treated). Also that she was the most senior voice within the government calling to slow down the gender self-identification legislation, because hastily changing "the definition of male and female (...) would risk creating a bad law".
Media and politicians question her faith
A front page of the The Herald on Sunday announced that the The Greens party would consider breaking up the government if Forbes was the SNP's choice to succeed Sturgeon.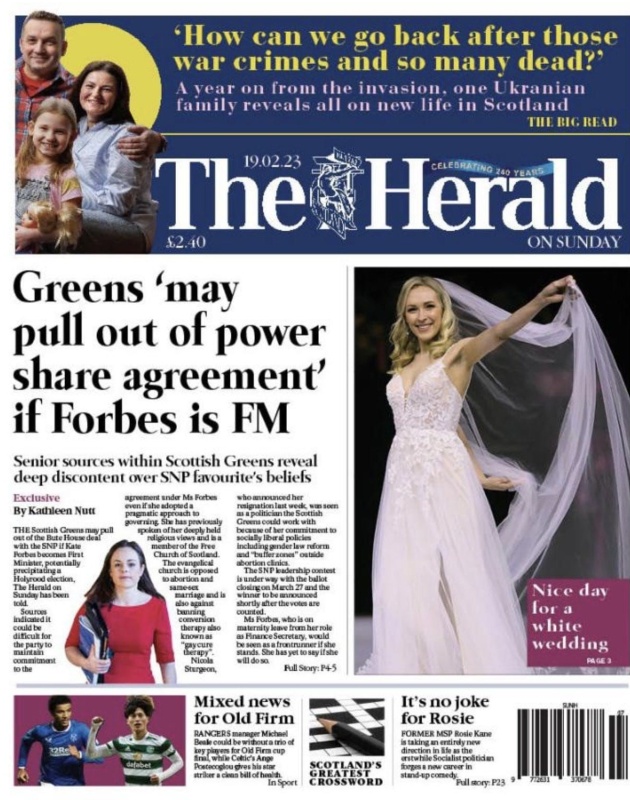 Front page of The Herald of Scotland, 19 February 2023.
Meanwhile, The Times journalist Kenny Farquharson asked on Twitter: "What are her religious views and to what extent, if any, will they influence the way she governs as first minister?". He pointed to issues such as abortion, transgender laws, assisted suicide, embryo research and LGBT rights, and concluded: "Only if she clears the air on these and related questions can she win a hearing on anything else".
There is also strong opposition to Forbes within the party, Scottish media say, from those who argue that having a committed Christian leading would divide the party. They consider her "unsuitable" to lead the SNP as she has not openly supported same-sex marriage in the past.
In defence of her right to belief
As mockery and stronger attacks against her beliefs abound on social media, some have also come to her defence, such as fellow Scottish Member of Parliament Joanna Cherry. "I wish people would stop attacking Kate Forbes for her religious faith. She's never shown any inclination to roll back rights as a matter of government policy", she said.
Columnist Stephen Daisley made perhaps the most interesting profile of Kate Forbes' faith in The Spectator. "No one who has ever listened to Forbes, let alone been in her company, could rationally think her a bigot. She is pleasant, respectful and doesn't view the public with horror and distaste, as is now the norm in her profession". However, he adds, her moment comes "at a time when religious faith - and let's not be coy about this: Christianity - is regarded at best with suspicion but more often as bigotry licensed by superstition".
The whole controversy has echoes of the enormous pressure that led to the resignation of Liberal Democrat leader Tim Farron. Constant criticism towards his Christian views on sexuality led him to "find myself torn between living as a faithful Christian and serving as a political leader", Farron explained as he left the post.
Kate Forbes is ready not only to lead the Scottish government while raising her baby, but also to see her faith used as a weapon against her burgeoning political career. We shall see whether the party of which she is a member supports the candidate who is seen as their greatest asset - despite Forbes' public commitment to the Christian faith.
Published in: Evangelical Focus - europe - The favourite to lead the Scottish government faces an obstacle - her evangelical faith
Since you are here…
Evangelical Focus is a news and opinion platform that brings together Christians from across Europe and other parts of the world. We need the support of our readers to make this media project sustainable in the long term. You can support our work! Read about Evangelical Focus's sustainability here.
Would you like to support the work of Evangelical Focus?
Use one of these methods. You can also transfer your donation to "Areópago Protestante / Evangelical Focus" IBAN: ES8521000853530200278394 (Swift / BIC: CAIXESBBXXX). Subject: "Donation Evangelical Focus"
Thank you very much!