Gold medal para swimmer Jessica Long: "My identity is in Christ"
The five-time Paralympian has won six medals in Tokyo 2020: 3 golds, 2 silvers and a bronze. Jessica Long has now 29 medals in total. She publicly "thanks Jesus" for her victory.
TOKYO · 03 SEPTEMBER 2021 · 21:19 CET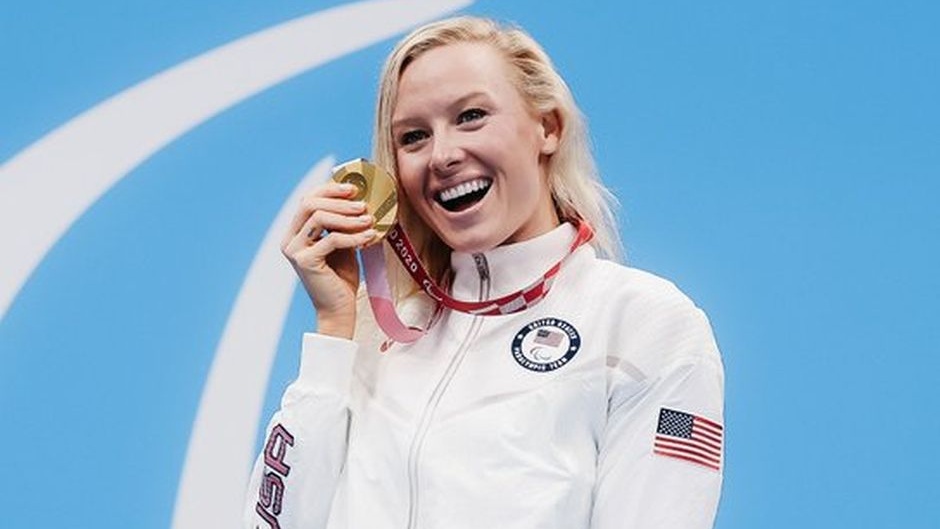 Jessica Long won 6 medals in the Tokyo 2020 Paralympics, including 3 golds. / Twitter Team USA.
The US para swimmer Jessica Long has won her sixth medal at the Tokyo 2020 Paralympic Games in the women's 100m butterfly S8 final this Friday.
This is her third gold at these Paralympic Games, after two more golds in the women's 200m individual medley SM8 and the 4x100m medley relay. She has also won 2 silver medals in the 400m free S8 and the 100m breaststroke SB7, and a bronze in the 100m backstroke S8.
At 29 years old, the five-time Paralympian is the most decorated active swimmer with 29 total Paralympic medals, including 16 golds. Her sports career started in 2004, at the age of 12, when she became the youngest Paralympian to win a gold medal.
? 16
? 8
? 5

At 29 years old, @JessicaLong has as many Paralympic medals as the number of years she's been alive. #TokyoParalympics pic.twitter.com/YRbVGv4uxh

— Team USA (@TeamUSA) September 3, 2021
"My identity is in Christ"
Long is very outspoken about her Christian faith in social media. After winning her fourth in a row 200m individual medley SM8 gold medal at the Paralympics, the US swimmer thanked Jesus for her victory in her Instagram.
In a recent interview with CBN News, Long recalled that at the London Paralympic Games in 2012, she "had just won five gold, life was great, but I just remember feeling really empty. I've done everything that I've ever wanted to in this swimming journey, how do I still feel empty? How do I still feel unsatisfied?".
She then started a women's Bible study and "it didn't happen overnight; but there was a moment in 2013 that I wanted to give God my whole heart and not just part of me", explained the swimmer in a podcast with Sports Spectrum.
"Now my identity is in Christ, I feel so much gratitude and love towards just everything that God's given me, and I really hope that I show that with just my character, the way that I do things on the pool deck. I know I couldn't do it without God. I do really rely on Him", the swimmer told CBN News.
The para swimmer stressed that "as a little girl, it was hard to comprehend that God's going to use you in this big way and that swimming is eventually going to be a platform to reach other people through my story, my testimony".
A long journey
Long was born in Russia and adopted by American parents from Baltimore, Maryland, when she was 13 months old. She had a rare condition called fibular hemimelia, so that her legs were amputated at 18 months, in order to improve her mobility with prosthetic legs. In total, she needed 25 surgeries.
She started to swim at her grandparent swimming pool every Sunday and joined the the local swim team at he age of ten.
She made her Paralympic Games debut at Athens 2004 at 12, and took home three gold medals. In China 2008 she won 4 golds, 1 silver and 1 bronze, while in London were 5 golds, 2 silvers and 1 bronze. She also won 1 gold, 3 silvers, and 2 bronzes in Rio 2016.
After taking some time out in 2019 to get married, Long arrived in Tokyo to "use the talent that God has given me. God is enough. Just know that God's waiting, waiting for you with His arms open and He can't wait to have you a part of His family", she said.
Published in: Evangelical Focus - life & tech - Gold medal para swimmer Jessica Long: "My identity is in Christ"