"High jump is a platform to make Jesus known", says new Australian recordwoman
Australian Nicola McDermott breaks the 2 meters national record and qualifies for the Tokyo Olympics. She and other sportspeople aim "to see athletes transformed by Jesus".
Eternity News · SYDNEY · 28 APRIL 2021 · 12:18 CET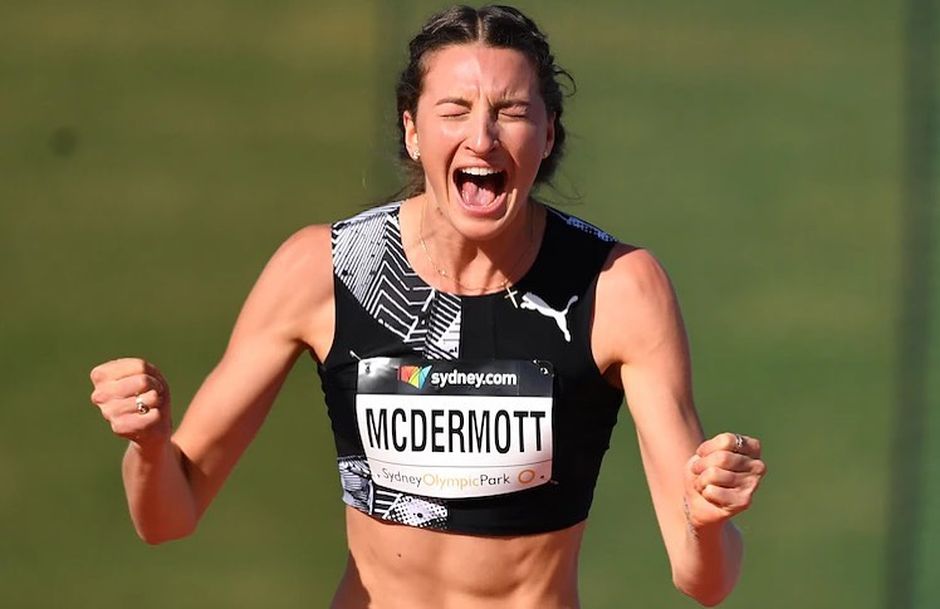 Australian high jumper Nicola McDermott, right after breaking the record. / Facebook Nicola McDermott.
Australian high jumper Nicola McDermott recently became the first woman in her country to break the two-metre barrier.
With that record, McDermott qualified to participate in the Tokyo Olympic Games, along with Eleanor Patterson, who had owned the Australian record of 1.99m, but missed the national championships because of injury.
After the victory, the Australian jumper, who is an evangelical Christian, pointed out that her inspiration came from a Bible verse she has tattooed on her wrist.
"What was written was fearless hearts are birthed in perfect love. And that's from Jesus and 1 John 4:18", McDermott told Australian newspaper The Northern Star.
She explained that she "was always scared of two metres. I knew in my body I could do a lot higher but the fear aspect of high jump is the thing that gets to you with the mind".
"Jesus can use ordinary people to do the most extraordinary things"
But the day of the competition, "I went out and I was like no, I am fearless because I know I am loved, let's go out there and do it", said McDermott.
"As I looked down at my hands and back at the bar and smiled, I knew I already had it. There was an unshakeable faith. I no longer feared a height that had overwhelmed me 7 weeks prior", she wrote on her Facebook site.
That same day, McDermott received the Betty Cuthbert award for the best individual performance at the 2021 Championships at the Athletics Australia Awards Gala.
"To me, this award carried such a strong legacy that Jesus can use ordinary people to do the most extraordinary things, when your heart is in the right place all things are possible for those who believe", underlined the Australian jumper.
"High jump is a platform to make the love of the King known"
McDermott started to compete at a young age, and "in the pursuit of sporting success, there was a large turning point in my career when I realised that no gold medal could bring lasting satisfaction to my heart", she says on her website.
"I was introduced to Jesus, not just the religious kind of meeting that presents itself once a week, the intimate way, which overflows a love to see His will done in every nation, stadium, school, church and community I can travel to".
Since then, high jump, which "was once a performance driven passion to bring meaning to life", became, "a glorious platform to make the unbiased, consistent love of the King to the entire world known", points out McDermott.
"When Christ came into your life, He heals you and through the freedom He gives you, you can live and be joyful. I saw that in my high jumper. Now when I jump I know that, whether I win or lose, it is all for the glory of God", said the evangelical jumper in a video for the Bible Society.
Everlasting crowns
McDermott, along with other Christian athletes, created Everlasting crowns, a ministry that aims "to see fellow athletes transformed by Jesus's perfect love, planted in churches and brought out to be a blessing to every place they were sent".
The ministry is based on 1 Corinthians 9:24-27 and they run bible studies and meetings across the world, "seeing the beginning of a movement in sport of what it looks like to be set free". "The calling to minister and share the testimonies of God moving in the sport world has been increasing", explains McDermott, so that she has worked closely with Christians organisations and local churches around the world "to help share the gospel to all".
One of those ministries is Bible Society Australia, with whom she collaborated in April 2018, right before winning a bronze in the Commonwealth Games. That same day, it was her turn to share a reflection on the Daily Bible email series written by the elite athlete they have organised.
She wrote: "In track and field, you can sometimes tell who an athlete's coach is by just watching their technique. A coach can have a certain idea and teaches accordingly. Once the coach has a few athletes able to replicate that, they are able to teach and develop them more to become an elite squad".
"In order for us to be taught by God, we have to receive His Spirit. In receiving Him, we are adopted into a family of courageous believers, recognised as children of God by not what we do, but how we live our lives. A fearless, free life is the divine handprint of our mighty Teacher".
Published in: Evangelical Focus - life & tech - "High jump is a platform to make Jesus known", says new Australian recordwoman