David Alaba, the footballer who reads the Bible and points to heaven
The Real Madrid player shone in the victory against Barcelona, scoring the first goal. During his pre-match routine, Alaba reads the Bible.
Protestante Digital · BARCELONA · 26 OCTOBER 2021 · 18:00 CET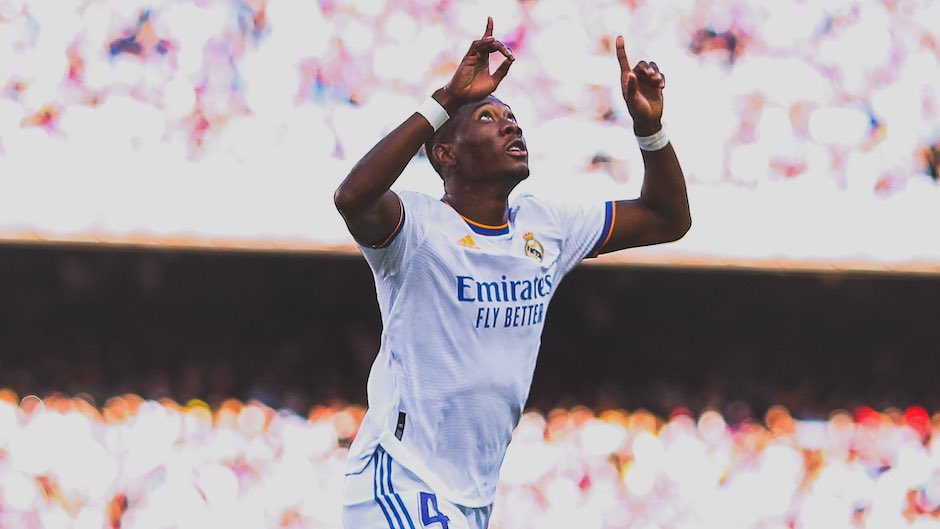 David Alaba points to heaven as he celebrates his goal against F.C. Barcelona / Real Madrid.
David Alaba wears the number 4 shirt at Real Madrid this year that Sergio Ramos wore last season.
The Austrian player does not seem to feel the pressure and he has become a permanent part of the Real Madrid defence in just a few weeks.
He has also responded in attack, scoring the first goal in the match against Barcelona last Sunday. Alaba Alaba scored brilliantly after a quick counter-attack, setting Real Madrid on their way to victory in their opponents' half.
In a video released by Real Madrid media before the match, David Alaba shared his pre-match routine, along with fellow players Luka Modric and Lucas Vazquez.
"During the day I am just chilling around in my room, reading the Bible, and when we are on our way to the stadium I like to listen to music. When we come to the stadium,I have a little bit of treatment. After the treatment, I warm up and I'm ready to go", explained the defender.
?￰゚モヨ ¡¿Cómo se preparan @lukamodric10, @David_Alaba y @Lucasvazquez91 para #ElClásico!?
? ¡Aquí lo tienes! @NIVEAMEN_ES pic.twitter.com/llJzkzQ9WW

— Real Madrid C.F. (@realmadrid) October 22, 2021
Outspoken about his faith
Alaba celebrated his goal by pointing to heaven, an image the player chose to post on his social media with the message "Just believe".
Just believe. ?￰゚マᄒ pic.twitter.com/dX6ExZvSaz

— David Alaba (@David_Alaba) October 24, 2021
The Austrian player has shown that faith in Jesus is a fundamental part of his life on several occasions.
When he was playing for Bayern Munich, he celebrated the European championship title by wearing a T-shirt with the slogan "My strength is in Jesus". A phrase he also used on other occasions, such as during Euro 2016, when he quoted the verse from Philippians 2:4.
Alaba was coincided in the match by another Christian player, Memphis Depay, who played the entire game.
Published in: Evangelical Focus - life & tech - David Alaba, the footballer who reads the Bible and points to heaven