David Alaba: "My strength lies in Jesus"
The Austrian-Nigerian player of Bayern München openly expressed his trust in Christ as he celebrated the Champions League title.
LISBON · 25 AUGUST 2020 · 10:06 CET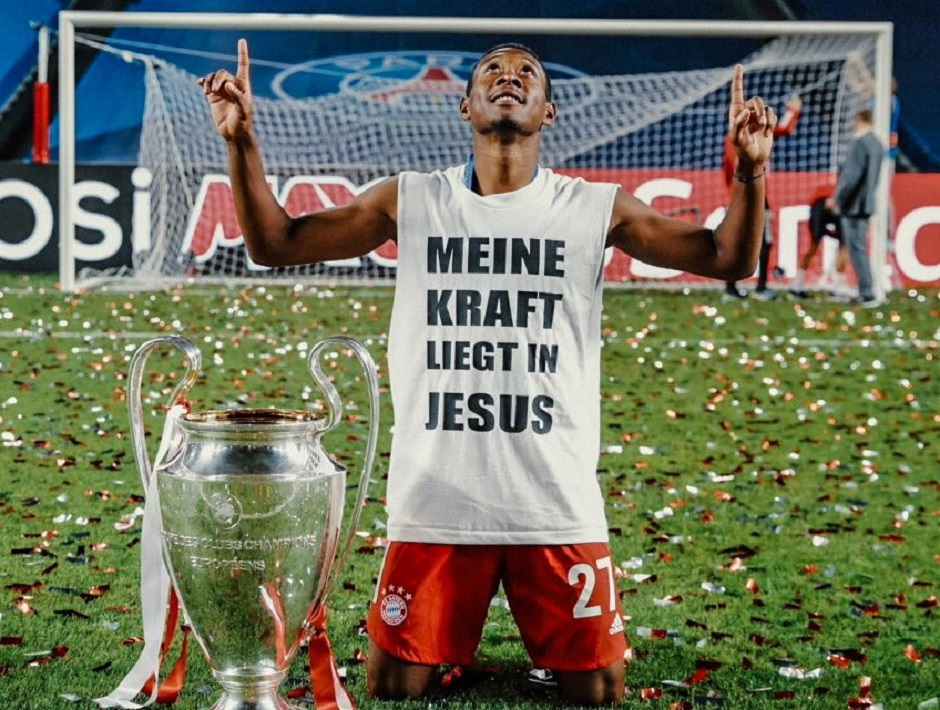 David Alaba celebrates the Champions League title wearing a shirt with the message: My strength lies in Jesus, 23 August 2020, Lisbon. / Twitter David Alaba
David Alaba, defender of the FC Bayern München, celebrated the Champions League title expressing his Christian faith.
The German football club had just won the final of the most important European championship against the French Paris Saint-Germain (0-1) in Lisbon, on 23 August 2020.
As the players celebrated on the pitch and in front of millions of television viewers (the stadium was empty due to Covid-19 security restrictions), Alaba took his team's tricot off and put on a white shirt with the message "My strength lies in Jesus" written in big black letters.
FOREVER MOOD#MiaSanChampions #FCBayern pic.twitter.com/obzCqqHR9s

— CHAMPIONS OF EUROPE(@FCBayern) August 24, 2020
On the back, another message saying "Black lives still matter" could be read. Later in the night, he posted a message on his social media profiles, saying: "Everything is possible by the power of the Holy Ghost! Champions of Europe!"
Alaba has played for Bayern München for over a decade and has won in this time 2 Champions Leagues, 9 German Leagues and 1 Clubs World Cup.
David was born in Austria and plays for its national team, but his father is Nigerian and his mother Philippine. He has often expressed his Christian faith in public. "My strength lies in Jesus" is a motto he has used in several occasions, an example is this tweet during the Euro 2016 championship, where he quoted Philippians 2:4 ("Let each of you look not only to his own interests, but also to the interests of others"):
Philipper 2, 4:
Denkt nicht an euren eigenen Vorteil, sondern habt das Wohl der anderen im Auge. #meinekraftliegtinjesus

— David Alaba (@David_Alaba) June 9, 2016
After the final game on Sunday, Alaba was seen comforting Paris Saint-Germain star Neymar, who also identifies as a Christian believer.
Published in: Evangelical Focus - life & tech - David Alaba: "My strength lies in Jesus"