Ebola kills 8.000 people in 2014
Sierra Leone, Guinea Conakry and Liberia continue to register new infections. There are 20.000 cases, according to the World Health Organization.
Protestante Digital, Agencies · Africa · 04 JANUARY 2015 · 21:35 CET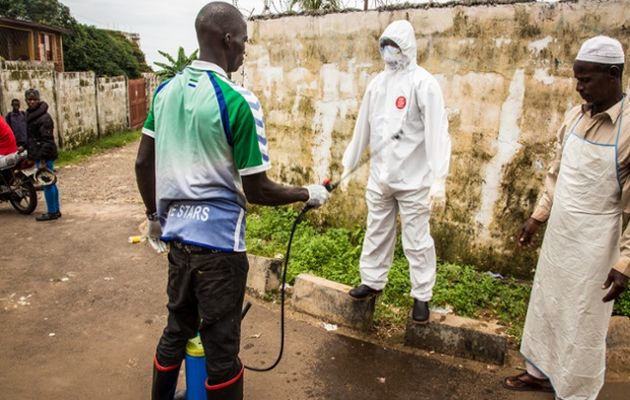 A health worker being disinfected after treating a patient in Freetown, Sierra Leone. / Michael Duff.
The Ebola outbreak which began one year ago, is still killing people in the three more affected countries by this mortal virus .
In Sierra Leone, 337 new cases were registered during the last week of the year. It is the highest number of infections in 2014.
It is the country most affected right now, with 7.900 of the 20.000 cases reported by the World Health Organization.
"The effects of the Ebola´s crisis will be noticed in the coming years, not only for the lack of inversion in the affected countries, but the infrastructures will also suffer. A whole generation has left school this year, and it is evident that this situation will continue for many years. Those children will probably never come back to class", explains Richard Daniel, Business Monitor analyst.
Because of the urgent need of assistance in Sierra Leone, the United States Agency for International Development (USAID), has sent two ambulances to Freetown from Monrovia, Liberia´s capital , which was the most affected country by Ebola in the past, according to the UN.
The international help is not enough, say the non- governmental organizations in the field. The EU, UNICEF and the World Food Progamme, has distributed 800.000 Kg. of corn-soy blend.
In the neighbouring country of Guinea, the number of cases has increased for the second week in a row, up to 346, so it seems that the outbreak is growing there.
Published in: Evangelical Focus - life & tech - Ebola kills 8.000 people in 2014