"We identify with a feminism with deep historical roots"
The Seneca Falls Platform aims to raise awareness about women's equality in rights and freedoms, both in the church and in society, from a biblical perspective.
Protestante Digital · MADRID · 11 NOVEMBER 2019 · 11:00 CET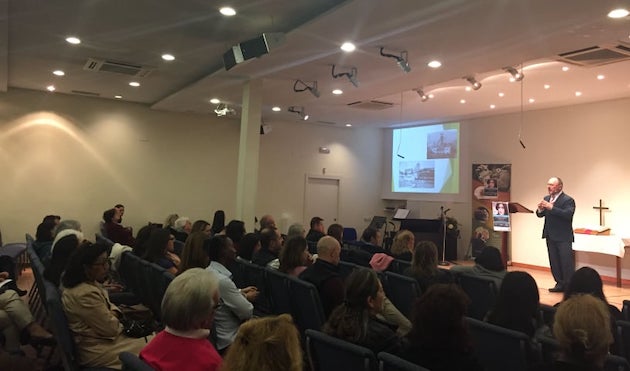 Antonio Simoni during his talk. / Seneca Falls platform
"We have to look to history, to the freedoms that are rediscovered in the Protestant Reformation", history professor at the Assemblies of God Faculty of Theology in La Carlota (Córdoba), Antonio Simoni, said at the inaugural conference of the Seneca Falls Platform, held on October 26 in Madrid.
This platform, constituted this year, proposes to work for "equal rights, freedoms and responsibilities of both men and women, from a biblical worldview applied to our current society, starting with the church", founder and president Asun Quintana, an evangelical pastor in Madrid, pointed out.
"WE IDENTIFY WITH A FEMINISM WITH DEEP HISTORICAL ROOTS"
At the begining the conference, Quintana mentioned that the movement "fills a void in the face of so much wind of doctrines and ideologies. In the midst of this confusion, we want to rise like a light because inequality continues to exist. God predicted this inequality, He did not prescribe it".
"In a world redeemed by Christ, we Christians have to fight to eradicate this sin that does not belong to the order of God", she added.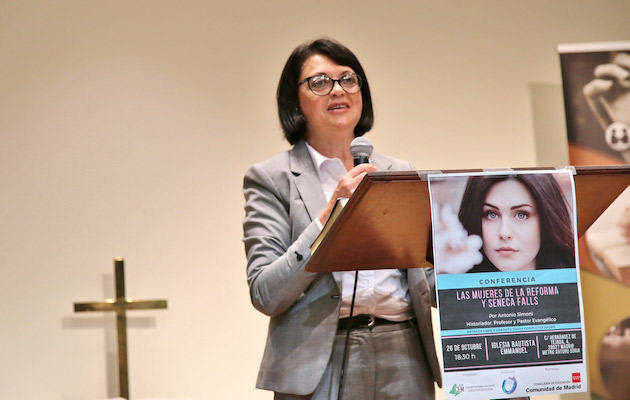 "Although in the evangelical world the word is a bit scary, we identify with a feminism with deep historical roots, known by its fight for human rights, the defense of dignity, life and family, and the full equality of men and women, without ignoring biological differences", Quintana stressed.
The Seneca Falls Platform has a large reference group, made up of about 60 evangelical leaders, and a coordinating group, consisting of Elena Moiche, Ana Cecilia Pérez Manco, Eva Sierra, Ana Giménez, Nieves Carabaña, Asun Quintana, Aurelio Esquembri, Antonio Simoni, and Ángel Bea.
"We expect the support of the churches, we hope they understand what we are doing and not be afraid to join", Quintana concluded.
WOMEN, KEY IN PROTESTANTISM
History professor Antonio Simoni made a historical review of women in Protestantism, showing how, since the Reformation, women played a fundamental role.
Simoni pointed out that current feminism usually seeks its historical models in the French Revolution, which is "an error", because it is in the Reformation, and not in the French Revolution where one can find the basis for a healthy feminism.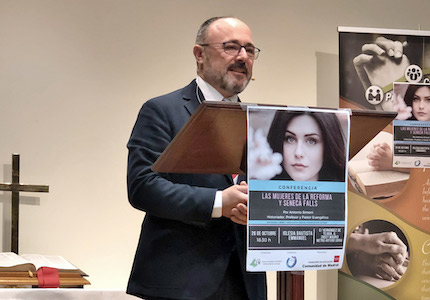 He talked about historical figures such as María de Cazalla, of the lighting group in Valladolid; women who defended their Protestant faith bravely despite the opposition, or Queen Juana de Albret, who allowed the development of Protestantism in a time full of pressures.
In Spain, many women were also key in the Protestantism of the second Reformation. Simoni shared the example of Dolores García Trigo, who financed the clandestine printing press that filled Spain with evangelistic treaties in the mid-nineteenth century, or the fundamental role played by several women in the foundation of public schools in the late nineteenth century.
Simoni also went to the Bible, and quoted Judges, the Gospels and Paul's letter to the Galatians, to explain the importance that God gives to women.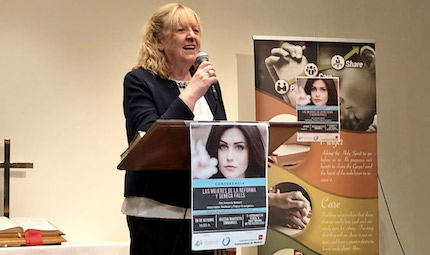 "HISTORIC DAY FOR THE CHRISTIAN WOMAN IN SPAIN"
According to Simoni, "this is a historic day for the Christian woman in Spain, and will have a greater significance than we can imagine".
"I hope this platform will serve to unite and close wounds, and that feminism born in the Bible can give answers to society", he concluded.
Published in: Evangelical Focus - life & tech - "We identify with a feminism with deep historical roots"