Luis Palau (1934-2021), from Argentina to the world
The well-known evangelist died after a three-year battle with cancer. Palau preached the Gospel of Jesus Christ to millions in massive events in 80 countries around the world.
Luis Palau Association, Protestante Digital, Evangélico Digital · PORTLAND (USA) · 12 MARCH 2021 · 11:17 CET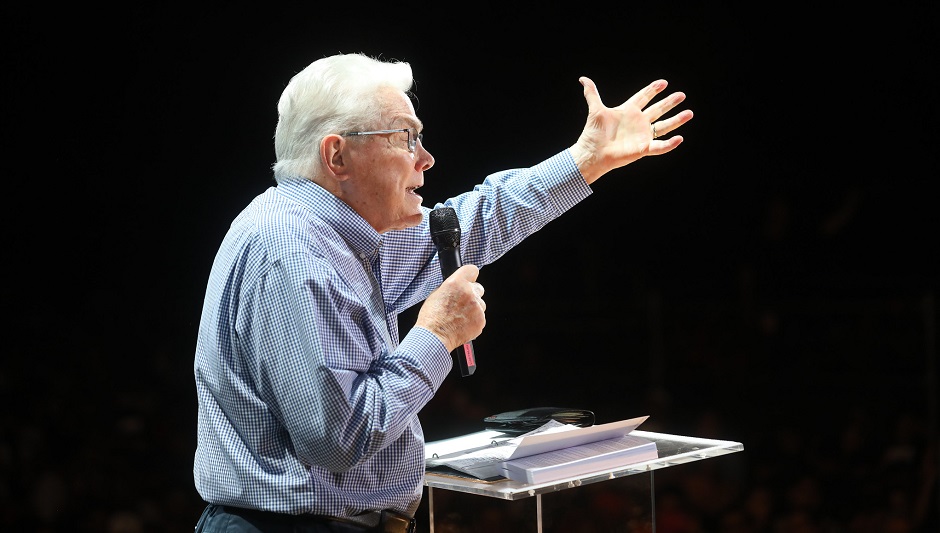 The Argentinian evangelist Luis Palau died on Thursday 11 March 2021 at the age of 86.
"After a three-year battle with lung cancer, evangelist Luis Palau died peacefully early this morning at his home in Portland, Oregon", the Association Luis Palau said in a statement.
The great Latin evangelist of the 20th century
For over 65 years, Palau dedicated himself to global evangelism. "Palau's heart for the world and passion for sharing the life-changing message of Jesus pushed him beyond Latin America".
The renowned evangelist preached in person at over 500 massive events in 80 countries. He had the chance to speak to all kind of ethnic groups, socio-cultural backgrounds, and ages. He was known for having conversations both with teenagers in Eastern Europe and world leaders elsewhere.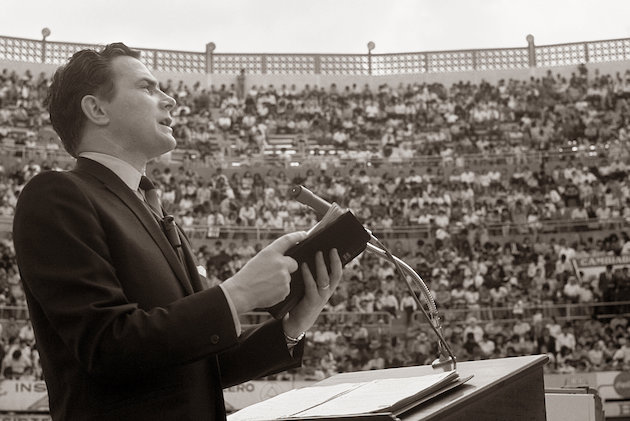 Luis Palau preaching in Mexico, in 1966. / LuisPalau.org
His clear message was focused on the person of Jesus Christ and the need to believe in Him for salvation. Palau wrote 50 books and was recognised by his gifting in engaging with all kind of people. His programmes were aired in over 4,000 radio stations, and he also hosted tv shows and online streaming contents.
"I have no regret in pouring out my years, from the time I was a boy, for the sake of the Good News. If I was given a thousand lifetimes, I would dedicate them all to the same calling", Luis Palau said.
From Argentina to the world
Palau was born on November 27, 1934, in Ingeniero Maschwitz, a small town outside Argentina's capital of Buenos Aires.
"He became a follower of Jesus Christ at the age of 12, just two years after his father's untimely death. He began preaching on street corners as a teenager and hosting his own Christian radio program by the age of 19", explains the website memorial of the Association Palau.
He was invited to the United States in 1960 by Ray Stedman, a pastor and missionary leader from Palo Alto, California. While studying at Multnomah School of the Bible in (Portland, Oregon) Luis met his wife, Patricia Scofield, and together they embarked on a life of missions.
Palau served as an intern with the Billy Graham Evangelistic Association, occasionally helping as the late Billy Graham's Spanish translator. They would later develop a strong friendship.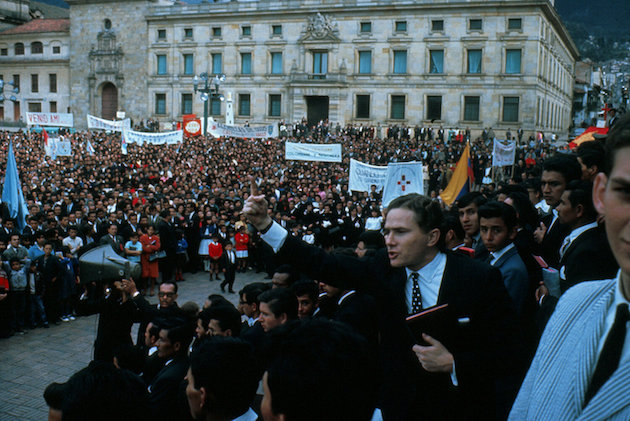 Preaching in Bogotá, Colombia, in 1996. / LuisPalau.org
During the '70s and '80s, "Palau was one of the few foreign preachers allowed to hold spiritual campaigns within the old Soviet Union, and when the iron curtain came down in 1991, he was among the first to hold open-air stadium campaigns in the region. Similar campaigns in seemingly 'closed' nations in the Middle East and Asia also helped break down barriers and set new standards for mass evangelistic efforts".
Palau and his team have "partnered with tens of thousands of churches to lead millions of individuals in decisions to follow Jesus Christ", the ministry he founded has said.
Luis Palau served on the boards of Gordon-Conwell Theological Seminary, Dallas Theological Seminary, and Multnomah University.
In 2019, the evangelist published his memories, Palau: A Life on Fire. In the same year the movie about his life was also released in cinemas.
Palau's "Crusades" filled stadiums in dozens of countries for over thirty years, until in the end of the 20th century they were turned into "Evangelistic Festivals", following the new vision of his son Andrés. These large event would now be held in open and emblematic city spaces that could be easily accessed by everyone. The events included the participation of well-known international musicians, sports people, etc.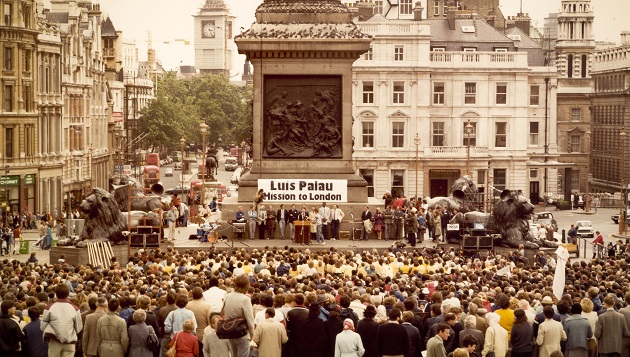 Preaching in London, England, in 1993. / LuisPalau.org
An example of the success of this new model of mass evangelism is Buenos Aires, where in 2008 the secular press spoke of half a million attendants in the first night of the evangelistic festival, and a million in the second evening. In 2004, around 700,000 people listened to Palau in Lima (Perú), and very large gatherings were reported in other events all over Latin America.
Madrid 2019, his last festival
One of the last trips Luis Palau made was in 2019 to Madrid (Spain). Then he already was in "phase IV" of the cancer. In what would be his last appearance in a evangelistic festival, Palau preached to 85,000 people during "FestiMadrid".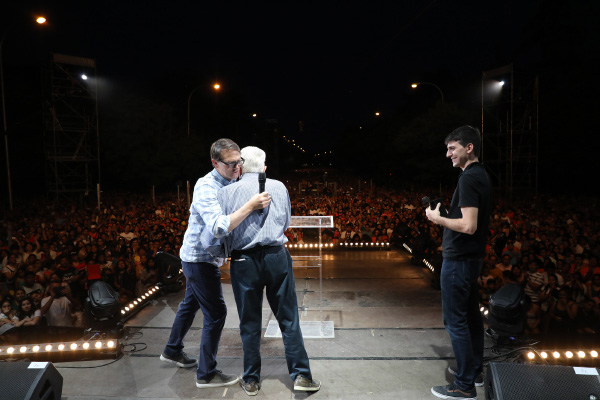 In Madrid, 2019, with his son, Andrew Palau. / Notiprensa
Another event with a big media coverage was held in New York in 2015. The festival combined Spanish and English languages, and for one week, the Gospel was preached in three of the most iconic parts of the city: Radio City Hall, Times Square and Central Park.
Palau's mission legacy
Palau's worldwide ministry has grown to include three international daily radio programs in both Spanish and English, a Global Network of Evangelists, a City Gospel Movements effort (focused on training and equipping city leaders to better engage with their community) extensive television outreaches, and a digital evangelism effort which reaches millions of individuals each year through social media.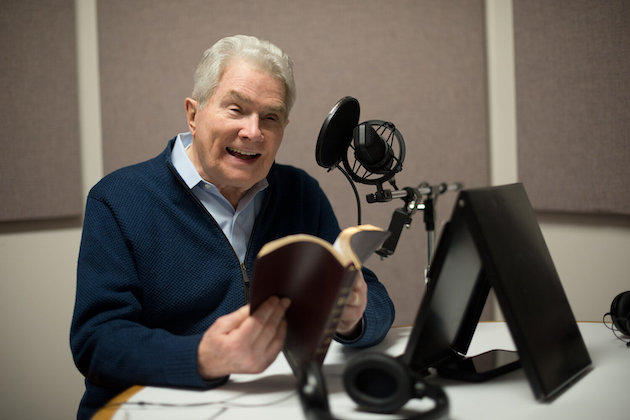 The radio and television ministry of Luis Palau has reached millions around the world. / LuisPalau.org
The Palau Association explained how its evangelistic efforts will continue. "For the past several years, Palau's sons have run the day-to-day operations of the ministry based in Portland, Oregon. Kevin Palau serves as the president and CEO. Keith serves on the Development team. And Andrew, Palau's third son, has followed in his father's footsteps as a well-respected evangelist, leading similar evangelistic campaigns around the world".
Luis Palau is survived by his wife, Patricia; his sons Kevin, Keith, Andrew, and Stephen; his daughters-in-law Michelle, Gloria, and Wendy; his sisters Matilde, Martha, Catalina, Margarita, and Ruth; his brother Jorge; and 12 grandchildren.
A memorial website in Spanish and English with testimonies, a biography, photo galleries and other materials has been published.
Published in: Evangelical Focus - world - Luis Palau (1934-2021), from Argentina to the world