Evangelicals seek to be "trailblazers in showing a way out" amid the Israeli-Palestinian conflict
Evangelical churches across the country have gathered "to pray that God will protect and bring peace to both sides", the Evangelical Alliance of Israel says.
Protestante Digital · RAMALA · 18 MAY 2021 · 16:20 CET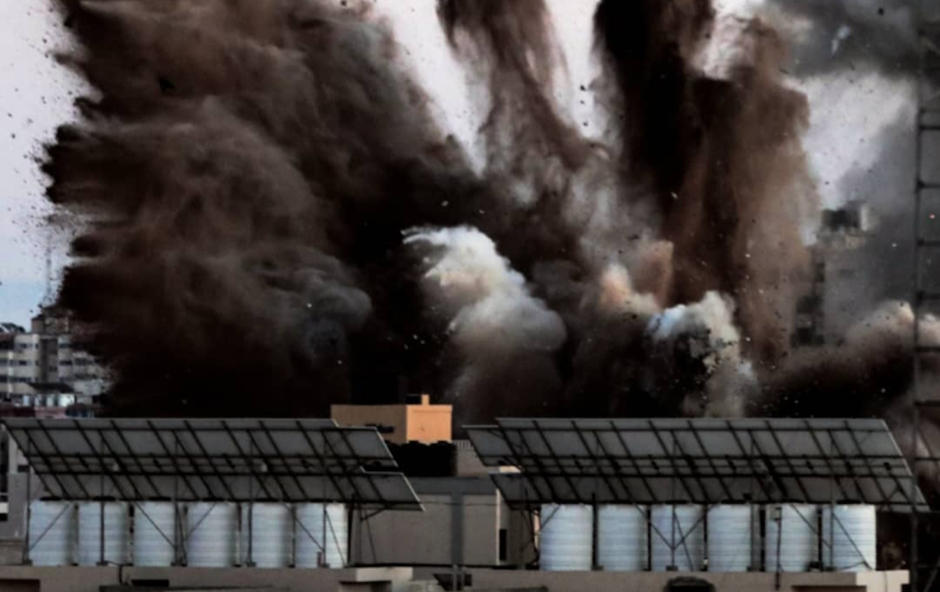 Violence in the Gaza Strip has steadily escalated since 10 May, with a continuing exchange of rocket-fire and air strikes between Israel and Palestine. These are the fiercest hostilities between the two sides since 2014.
Gaza's health ministry has reported that over 210 Palestinians have died, including 61 children, and about 1,500 have been wounded since the hostilities began. Meanwhile, ten Israelis, including two children, have also died and at least 300 are wounded in the same period.
In the last hours, the Israeli military conducted further air strikes and two buildings in Gaza City were destroyed, as well as several Hamas strategic tunnels. The offices of international press agencies and media outlets such as AP and Al Jazeera were also severely damaged. However, for the first time, there were no reports of casualties.
Palestinian militants fired rockets into Israel later on Tuesday morning. It set off warning sirens in cities in the south, sending people running for shelters.
International reactions
US President Joe Biden has called on for a ceasefire and talked to Israeli Prime Minister Benjamin Netanyahu on Monday, telling him that the US was working with Egypt and other countries on halting hostilities. But before that, the US had again blocked a UN Security Council statement calling for a cessation of violence.
Josep Borrell, the EU's foreign policy chief, criticised the "unacceptable number of civilian casualties in the fighting". The UN Security Council held an emergency meeting on Sunday, and Secretary General António Guterres warned that further fighting had "the potential to unleash an uncontainable security and humanitarian crisis". He pleaded for "an immediate end to the utterly appalling violence".
Increasing violence
That escalation of military violence has also resulted in increased hostility between different sectors of the Israeli population, particularly between Jews and Arabs. Images of neighbours arguing in the streets, of shops and private cars being burned, and of schools being raided in cities have been seen around the world.
Danny Kopp, President of the Evangelical Alliance of Israel, spoke to Spanish news website Protestante Digital about the difficult situation. "For many, there is almost a sense of resigned inevitability regarding the attacks and counter-attacks in Gaza, considering a political solution was nowhere on the horizon, but the incidents of internecine violence between Jews and Arabs in mixed cities and towns within Israel seems to have caught some of us off guard".
Kopp described how "evangelicals in Israel are deeply saddened and concerned about this eruption of violence between Israelis and Palestinians".
However, according to the president of the Evangelical Alliance of Israel, there is also a "silent majority that wishes to live in coexistence" that "may be less visible than the violent extremists now wreaking havoc but I believe they are indeed the majority".
He has recently participated in one of several protests across the country "that included both Arabs and Jews decrying the violence and intolerance on both sides". "I was pleasantly surprised by both the number of participants and the support from the vast majority of the bystanders".
An urgent call to prayer
Kopp pointed out that "evangelicals all over the country have rallied their congregations to urgent prayer. It is especially heartening to witness many churches pointedly praying for both sides of the conflict, that God would protect and bring peace to all".
There have been several initiatives promoted from different sectors of the Israeli evangelical population.
For instance, the Arab churches held an online national prayer meeting "beseeching the Lord's protection for both Jewish towns and population, as well as their own". Meanwhile, many Messianic Jewish congregations have also prayed for God's intervention on behalf of both communities".
"It is true that we could do more to coordinate our efforts and unite in one voice, but it is a perilous minefield to navigate when the faithful are found on both sides of the conflict", added Kopp.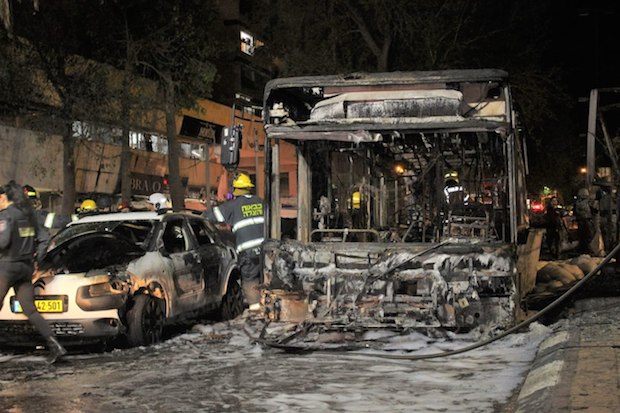 A bus and a car burnt in the Israeli town of Golon after a missile hit / Yoav Keren, Wikimedia Commons
New elections?
Israel held its fourth election in the last two years just a month and a half ago. Although Prime Minister Benjamin Netanyahu won again, he did not get the necessary support to form a coalition. The second most voted candidate, Yair Lapid, has the right to try to form a government now, before the deadline set on the Constitution. if he does not suceed, there would be new elections in the coming weeks.
The United Arab List, Ra'am party has a special role to play in resolving this political framework. They "broke with custom and declared their willingness to join any camp that would meet their demands", explained the president of the Evangelical Alliance.
"This has given them the unprecedented role of king makers in Israeli politics and were ostensibly on the brink of sealing a coalition deal with opposition parties when violence broke out", underlined Kopp.
Right now, "all negotiations are apparently on hold until relative calm can be restored" but "they may be able to eke out a fragile government that will leave Prime Minister Netanyahu out of power for the first time in many years".
"Pray that evangelicals would be beacons of light"
In the midst of this scenario, and in the face of the new outbreak of violence, the Evangelical Alliance of Israel asks to pray that "evangelicals of all nationalities represented in the land would be beacons of light and trailblazers in showing a truly inspired and realistic way out".
"We need prayers for peace but also for greater understanding and empathy for the plight of the other. There is a godly solution to this conflict, but all of us are blinded by our prejudices and preconceptions", concluded Kopp.
Munir Kakish: "This situation has united the evangelicals even more"
Protestante Digital has also talked to Munir Kakish, the President of another major evangelical organisation in the area, the Council of Local Evangelical Churches in the Holy Land, which is a member of the World Evangelical Alliance.
Question. How are evangelicals in the Holy Land facing this new escalation of violence?
Answer. It is a difficult time for the Christians in the Holy Land. Fortunately, in Palestine and Israel there are strong evangelical churches coping with it. They spend much time in prayer for this situation.
There is even an evangelical church in the Gaza Strip with which we have strong ties. They are all praying for peace because many of those being bombed in Gaza are their friends and relatives. They put their trust in the Lord and disavow violence.
Q. How does this new escalation of violence affect the relation between evangelicals in Holy Land?
A. It unites the evangelicals even more. Evangelicals, whether in the West Bank, Gaza, or Israel, join together to pray for the Holy Land. We all want more people to know about Jesus.
Q. Evangelicals in other countries are watching very closely what is happening and praying for peace in Israel, but how can we pray better for you?
A. The world needs a hero to come and resolve the situation with justice for the Palestinians and security for both sides. Two stable nations need to be formed, one for Israeli citizens and one for Palestinians in Gaza and the West Bank.
Pray that the politicians, all over the world, will work toward that goal. Much prayer is now needed for the war to stop.
Also pray that God will supply the needs, as we have been suffering from Covid for a year and now the war. And that we, the churches, can help the needy.
Published in: Evangelical Focus - world - Evangelicals seek to be "trailblazers in showing a way out" amid the Israeli-Palestinian conflict