Evangelical entities mobilise for Haiti
Over 1,400 people have died in Haiti earthquake and hundreds are still missing. Christian organisations say their staff are safe but the situation is very worrisome.
Evangélico Digital, Compassion International, World Vision · PORT-AU-PRINCE · 16 AUGUST 2021 · 18:40 CET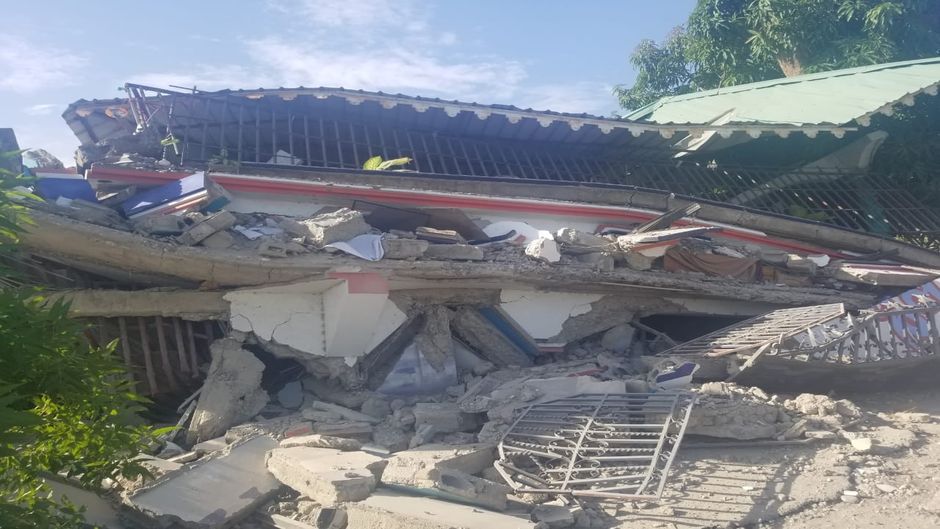 Many buildings and houses have been destroye. / Facebook Compassion Haiti.
An earthquake of 7.2 magnitude struck southern Haiti on Saturday, killing over 1,400 people. There are also more than 2,000 injured and hundreds are still missing.
The epicentre of the quake was located about 12 kilometres northeast of the city of Saint-Louis du Sud. Local authorities reported structural damage in the city of Jérémie and in the capital, Port-au-Prince.
The country's Prime Minister, Ariel Henry, said the situation in the country was "dramatic". On his Twitter account, he "appeal to the spirit of solidarity and commitment of all Haitians to join together to face this dramatic situation we are currently experiencing".

Henry also announced that he has mobilised "the entire government team to urgently take all necessary measures and to assess the situation as a whole".
Christian organisations on the ground
Several Christian organisations working in Haiti have reported that their staff are safe but that the situation is worrisome.
World Vision sent a team to ground zero to coordinate and evaluate the situation of individuals and families. "We are assessing the needs of many orphanages, which might urge support to provide emotional and psycho-social protection to vulnerable children", said Marcelo Viscarra, World Vision's national director in Haiti.
"We will not give up in our efforts to reach the most vulnerable, nor will we let this crisis die out with time. We are committed to vulnerable families who are expecting the arrival of food, hygiene goods and temporary shelter to survive", added Joao Diniz, Regional Leader of World Vision in Latin America and the Caribbean.
According to the Christian organisation, "thousands of people remain in the streets as they search for loved ones and try to collect a few of their belongings under the rubble".
The Social Action of the Baptist Union of Spain (UEBE) has launched a donation campaign to help the victims of the earthquake.
"It is very likely that many of those who lost their homes or were injured in the 2010 earthquake have not yet recovered", explained Pastor David Bianchi. "One of our desires in addition to helping all the people is that our brothers and sisters in the faith can give testimony of Christ in these difficult times for the population", he added.
Samaritan's Purse also announced that it was sending a plane with resources and an immediate action team to help those affected by the earthquake.
Children in the streets, churches affected
The branch in Haiti of the Evangelical association Compassion is "heavily affected by the earthquake. According to available figures, more than 46 partner churches are affected. Loss of life at the Development Centres, injuries and destroyed buildings are reported by officials".
They ask to pray for "the facilitators in the field as well as the people in charge of the centres who are multiplying their efforts to obtain an exhaustive assessment of the situation in order to better accompany the victims".
Pastor Mynor Vargas, leader of Shalom Christian church in Maryland, USA, which has eight orphanages with more than 100 children in different parts of the island, told Latin American news website Evangélico Digital that "there are millions of dollars in material losses; houses collapsed, cars buried, etc".
"Children will be sleeping on pavements and in backyards for the next few days, for fear of aftershocks from the big quake. We are happy to know that none of the orphans are dead or injured, but other than that good news, all is chaos", pointed out the pastor.
The threat of a tropical storm
Furthermore, "weather forecasts predict that a tropical storm called Grace could hit Haiti on Monday and Tuesday. Grace is expected to bring rainfall in the range of 100-200 millimetres, which could complicate or even compromise the efforts of the response teams on the ground" warns Compassion Haiti.
"Lets pray that the God of grace will keep Grace away from us. In this complicated situation, this threat will only worsen the living conditions of people forced to take refuge in tents far from their destroyed or cracked houses" they ask.
Eleven years ago, Haiti was hit by a major earthquake that left more than 200,000 dead and 300,000 injured.
Haiti, the poorest country in the Western hemisphere, has long suffered from serious political instability. Last July, gunmen stormed the residence of Haitian President Jovenel Moise in Port-au-Prince and killed him.
Published in: Evangelical Focus - world - Evangelical entities mobilise for Haiti