EEA calls to pray for "wisdom and courage" for Christians in Russia
"The European Evangelical Alliance is extremely concerned about Russia's new anti-terrorism law, which greatly restricts religious freedom". Evangelism is no longer allowed outside religious buildings.
BRUSSELS · 11 JULY 2016 · 14:33 CET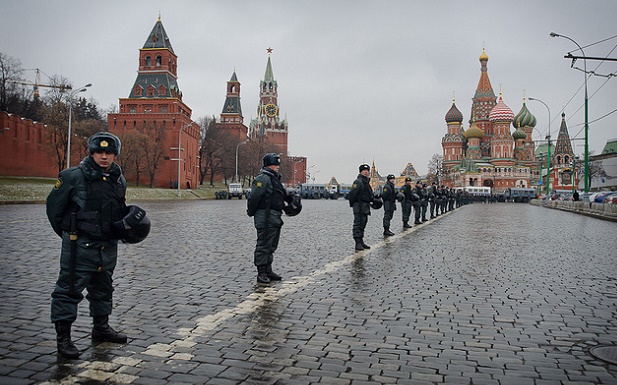 Police in Moscow, Russia. / Evgeniy Isaev
The new law restricting evangelism and any faith expression outside authorised religious buildings is a serious threat to religious freedom in Russia. The EEA expressed its "extreme concern" in a call to prayer issued on Monday 11 July.
On Thursday, Russian President Vladimir Putin signed into law a controversial package of counterterrorism measures, including tougher sentences for extremism and heightened electronic surveillance of Russian citizens.
The European Evangelical Alliance explains that "sharing one's faith will now be restricted to named members of registered organisations. Discussion about faith will only be able to take place in registered religious buildings."
"All sharing of faith will be forbidden in homes. Informal witnessing between individuals is not allowed."
"There are also restrictions on witnessing via social media."
"If the law is broken, the fines to be paid are high", the EEA explains.
PRAY FOR UNITY, WISDOM, STRENGTH
"We ask European Christians to stand with their Russian brothers and sisters in prayer", the EEA continues. "Let us pray for wisdom, hope and courage. Let us pray that this new law unites Christians in new ways and express this unity and love among each other."

The text continues: "Let us pray that the Russian authorities will realise that this new law unnecessarily restricts people's freedom. Let us pray that this time of trial will be used by the Lord to
strengthen and grow His Church
."
The EEA concludes his call to prayer quoting Jeremiah 32:27: "I am the LORD, the God of all mankind. Is anything too hard for me?"
Download the full statement here.
Published in: Evangelical Focus - world - EEA calls to pray for "wisdom and courage" for Christians in Russia