Christian in Pakistan sentenced to life imprisonment for 'blasphemy'
"We believe Bhatti is innocent and will be freed by the high court, but it will take several years for his case to be heard by the high court", an advocate says.
LAHORE · 11 MAY 2017 · 17:55 CET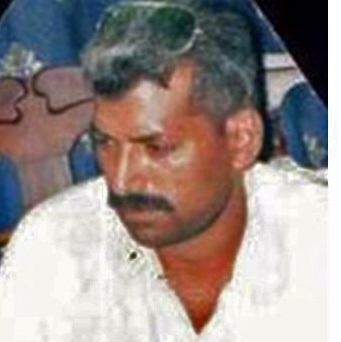 Zafar Bhatti, a Christian accused of blasphemy in Pakistan. / File photo, Morning Star News
A court in Pakistan has sentenced a Christian to life in prison under the country's blasphemy laws in spite of scanty evidence, an advocacy official said.
Nasir Saeed said a trial court in Rawalpindi sentenced Zafar Bhatti to life imprisonment, even though conviction under Section 295-C of Pakistan's blasphemy law mandates the death penalty and a fine for "use of derogatory remarks, spoken, written, directly or indirectly, that defile the name of Muhammad."
"It is very unfortunate that even though there was not enough evidence against Bhatti, instead of freeing him the court has sentenced him to life imprisonment because of pressure from Islamists," Saeed, director of the Centre for Legal Aid, Assistance and Settlement-UK, said in a statement after the sentencing was announced on May 3.
Lower court judges routinely hesitate to make rulings based on merit, or free those accused of blasphemy, instead transferring their burden to higher courts while the accused and their families suffer, he said.
"We believe Bhatti is innocent and will be freed by the high court, but it will take several years for his case to be heard by the high court, and until then he and his family will continue suffering needlessly," Saeed said.
Bhatti's attorneys plan to challenge the verdict in the Lahore High Court.
Bhatti, in Rawalpindi's Adiala Central Jail since 2012, was accused of sending blasphemous text messages from his mobile phone. He continues to deny that the messages were sent from his phone.
His trial was conducted in the jail due to security threats. An additional session judge reserved the verdict against Bhatti on April 24, and it was then announced on May 3.
"The blasphemy law is continuously being misused in Pakistan to take revenge and settle personal scores," Saeed said. "Christians are the most targeted group, and several Christians have been burnt alive, and even their towns and churches are often attacked and set to fire."
CLAAS-UK had petitioned the session court to move Bhatti's case to Lahore in view of the risk to his life from Islamist extremists and the fact that the Islamabad Bar Association had passed a resolution in 2012 forbidding its members from taking up the case. The court petition to transfer the trial to Lahore was denied.
TEENAGER REMAINS IN JAIL
In Kasur District, Punjab Province, the lawyer of a 16-year-old Christian languishing in jail under a baseless blasphemy charge told Morning Star News that a judge has denied him bail a second time.
Attorney Riaz Anjum said that Judge Naveed Iqbal had again rejected Nabeel Masih's bail plea on Friday (May 5), even though there were no witnesses on record against the Christian and nothing incriminating had been found in his possession.
Iqbal is the same judge who handed the death sentence to Aasiya Noreen, better known as Asia Bibi, in November 2010. The mother of two children and stepmother to three received the death sentence in spite of several gaps in the case. International attorneys note that lower courts have upheld her conviction even though they did not consider which of three statements attributed to her were "blasphemous" nor prove the intent to blaspheme necessary for conviction. Her appeal against a High Court verdict is pending with the Supreme Court.
Nabeel has been in prison since Sept. 18, 2016 after a Muslim friend accused him of "sharing" and "liking" on Facebook an allegedly blasphemous photo of the Kaaba, the holiest Islamic site in Mecca, Saudi Arabia. Police are suspected of beating Nabeel until he confessed last year; he maintains his innocence.
On Feb. 7, Judge Muhammad Imran of the Pattoki lower courts rejected Nabeel's bail application, claiming that "recovery of the used mobile phone and prints of relevant photographs are available on record which prima facie connect the accused with the alleged occurrence."
"Moreover," the judge wrote, "the statement of the witness also corroborates the prosecution story … the accused/petitioner is not entitled to concession of post-arrest bail."
At that time Anjum told Morning Star News that he was surprised at the judge's mention of a "witness," as the First Information Report (FIR) makes no mention of any witnesses to the sighting of the alleged image at a village in Kasur District, 30 miles from Lahore.
"The case against Nabeel is clearly fabricated, as he is an illiterate and does not know how to use social media," Anjum said. "The Facebook account in his name was made by his Muslim friends, and they used to post pictures on the timeline without his consent."
Regarding his bail application, Anjum said superior courts have ruled that if there is any element of doubt as to the guilt of the accused, the benefit of a doubt must be given to the accused.
"Moreover, Nabeel is 16 years old, and the superior courts have already ruled that a juvenile has to be released on bail irrespective of the gravity of offenses if there is no possibility that his release would bring him in association with unknown criminals," he said.
He added that the case against Nabeel had been registered with "mala fide intention" and "ulterior motives."
"I have repeatedly told the court that the case against the Christian teen had been lodged after two days of the alleged occurrence of the incident, which clearly showed that he was [accused only] after deliberation and consultation," he said. "Keeping in view the several lacunas in the case and its investigation, we had hoped that the judge would admit our application and grant bail to the teen."
The recent lynching of a Muslim student over blasphemy charges at a university in northwestern Pakistan, the murder of a blasphemy accused Muslim in Punjab Province and mob violence against a mentally challenged Muslim on similar accusations have compelled officials at high levels to call for changes in the widely condemned statutes.
POLITICIANS AMEND BLASPHEMY LAW
The National Assembly on April 17 passed a resolution calling for amending the blasphemy law to include strong safeguards to help prevent its misuse. At the same time, the Senate called for amending the statutes to provide punishments to those who concoct blasphemy accusations against others.
Calls to amend the blasphemy laws have been made before, especially after two high-profile political leaders – Punjab Gov. Salmaan Taseer and the first Christian minister for Minority Affairs, Shahbaz Bhatti – were gunned down by Islamist militants for demanding a review of the laws.
The Khan murder, however, echoed loudly in both houses of Parliament, and, following army operations against Islamist militancy across the country, members of the National Assembly and Senate appear determined to take action.
Published in: Evangelical Focus - world - Christian in Pakistan sentenced to life imprisonment for 'blasphemy'