Family members to alleged Charleston gunman: "I forgive you"
Tearful relatives of Charleston victims confront killer in court with heart-wrenching speeches of Christian forgiveness.
CBS, The Guardian · WASHINGTON · 21 JUNE 2015 · 19:21 CET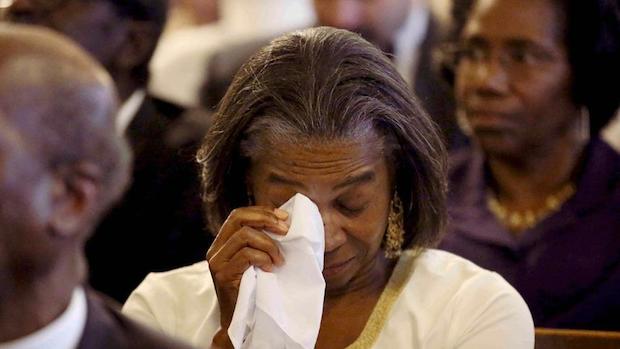 Relatives of the Emanuel church victims stood up one by one in the courtroom, offering forgiveness to the man accused of murdering their relatives. / The Post and the Courier
"I forgive you," said the daughter of 70-year-old Ethel Lance to the 21-year-old man who allegedly murdered her mother in church and appeared at an emotionally charged video court appearance in Charleston on Friday afternoon, two days after a horrific mass shooting here.
Relatives of the Emanuel church victims stood up one by one in the courtroom, offering forgiveness to the man accused of murdering their sons, mothers and grandfathers in cold blood, as a nation continued to call for justice.
Dylann Roof appeared at his bond hearing via videolink from the Charleston detention center, where he is being held in isolation. Officials later confirmed he is being detained in the same jail unit as Michael Slager, the white police officer who just 10 weeks ago stood in the same court, charged with the murder of Walter Scott, whom he shot five times from behind as the unarmed black man ran away.
"You took something very precious from me, but I forgive you," Lance's daughter said through tears. "It hurts me. You hurt a lot of people, but may God forgive you."
Speaking of her son Tywanza Sanders, who was also killed on Wednesday night trying to shield his great aunt from gunfire, Felicia Sanders said to the suspect: "We welcomed you Wednesday night in our Bible study with open arms. You have killed some of the most beautifullest people that I know. Every fiber in my body hurts. I will never be the same."
She continued: "Tywanza was my hero. But as they say in the Bible study, we enjoyed you, but may God have mercy on your soul."
"HATE WON'T WIN"
Roof stood still, in an oversized black-and-gray striped inmate's uniform, as Judge James Gosnell requested a representative from each family to declare if they wished to make a formal statement.
The 21-year-old was flanked by two heavily armored officers throughout the hearing. He uttered very few words, confirming his age, employment status and address in a timid baritone. As successive relatives stood to offer him forgiveness, he expressed no emotion, staring down and occasionally into the camera inside a cell.
Court officials later confirmed that Roof could see into the courtroom and heard each of the speeches, but he could not see the relatives who stood a few feet away from the judge, out of his view.
Alanna Simmons, the granddaughter of 74-year-old retired pastor Daniel Simmons, stood after Sanders.
"Although my grandfather and the other victims died at the hands of hate, this is proof that they lived and loved," she said. "Hate won't win."
"GIVE YOUR LIFE TO CHRIST"
In an opening statement Judge Gosnell asked that Roof's family be acknowledged as they were also victims of his crimes.
"We would like you to take this opportunity to repent," said Anthony Thompson, grandson of 59-year-old Myra Thompson as the family's statements continued. "Repent. Confess. Give your life to the one who matters the most, Christ, so he can change your ways no matter what happens to you and you'll be OK.
Roof's family later issued its first public statement since the shooting: "We have all been touched by the moving words from the victims' families offering God's forgiveness and love in the face of such horrible suffering," the family said.
DEATH PENALTY
On Thursday, the attorney general, Loretta Lynch, had described the massacre as a "barbaric crime", and said it was being looked at as a hate crime. "Acts like this have no place in our country and in a civilized society," Lynch said in Washington.
Roof's homicide charges make him eligible for the death penalty, for which South Carolina's Governor Nikki Haley advocated during a visit to Charleston on Friday.
Published in: Evangelical Focus - world - Family members to alleged Charleston gunman: "I forgive you"