At least 100 dead and 4,000 wounded in Beirut blast
Lebanese president says explosion was caused by 2,750 tonnes of ammonium nitrate unsafely stored in a port warehouse. Christians in Beirut call on to "pray for Lebanon".
BEIRUT · 05 AUGUST 2020 · 13:45 CET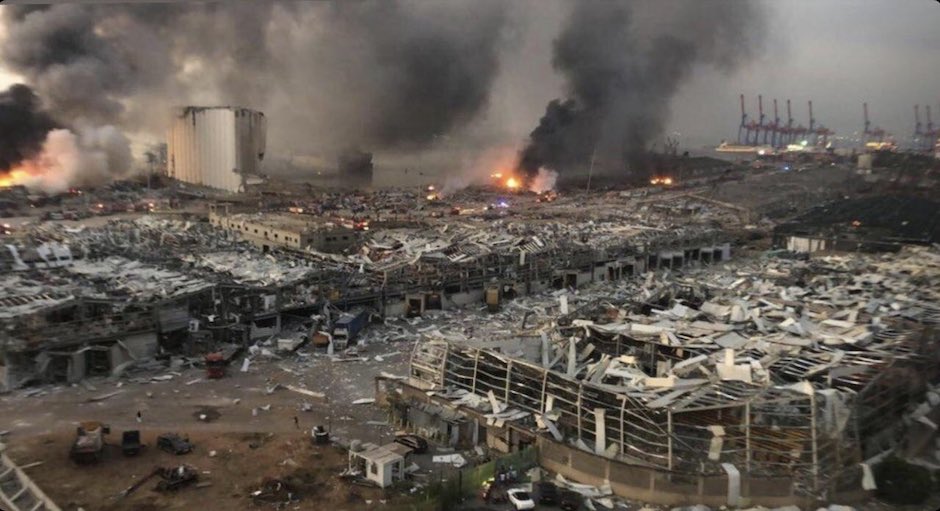 Exploxions have devastated Beirut's port and surrounding areas./ @MECChurches
A massive explosion ripped through Beirut's port and surrounding areas on Tuesday, has killed at least 100 people and wounded 4,000 with many feared to be still trapped under rubble.
"What we are witnessing is a huge catastrophe. There are victims and casualties everywhere", the head of Lebanon's Red Cross, Georges Kettaneh, told a local broadcaster.
Explosions took place on Tuesday evening and witnesses reported that there was a first plume of smoke which consumed by a white mushroom cloud and fireball, sending a shockwave scudding across the city.
Facades of central Beirut buildings were ripped off, furniture was sucked into streets and roads were strewn with glass and debris. Cars near the port were flipped over.
The blast was also felt 240km away on the island of Cyprus, in the eastern Mediterranean, with people there saying they thought it was an earthquake.
Smoke was still rising from the port on Wednesday morning.
2,750 tonnes of ammonium nitrate unsafely stored
President Michel Aoun said that 2,750 tonnes of ammonium nitrate, unsafely stored in a port warehouse for six years, have caused the second, larger explosion.
He pointed out that Lebanon will observe an official period of mourning for three days from Wednesday, and suggested that a two-week state of emergency should be declared.
Aoun has also scheduled an urgent cabinet meeting for Wednesday and confirmed that his the government would release 100bn lira (€56m) of emergency funds.
The explosion came three days before a U.N.-backed court is due to deliver a verdict in the trial of four suspects from the Shi'ite Muslim group Hezbollah over a 2005 bombing that killed former Prime Minister Rafik al-Hariri and 21 others.
"Pray for Lebanon"
According to the local media An-Nahar, different initiatives for medical and humanitarian assistance have already been launched by different organizations and entities of Lebanese civil society.
Christian entities and organisations have also expressed their condolences for the losses caused by the explosion, and are offering their help and praying for the country.
"Beirut is facing a tragedy Let's stand together Let's rescue the wounded and those who lost their homes. O God, have mercy on our beloved Lebanon and on its heartbroken people", the Middle East Council of Churches (MECC) said in Twitter.
Evangelical TV, SAT-7, which has studios in Lebanon, has released a statement, explaining the situation and calling on to pray for it.
"Everyone is in shock and devastated by what has happened. Our staff are all accounted for, but the SAT-7 studios have suffered minor damage. Please pray for calm for everyone in Lebanon", SAT-7's Executive Director in Lebanon, Maroun Bou Rached, stressed.
"We did not know what was happening. We are extremely thankful to know all our staff in Lebanon are safe, but our hearts go out to everyone in the country who have lived through such dark days before. Please pray for calm and for peace", pointed out SAT-7 CEO, Rita El-Mounayer, who was in the office in Cyprus and heard the explosion there.
The SAT-7 ARABIC channel team also asked "for prayers for the wounded and for families that have lost their beloved ones; for politicians in their decision making and for Lebanon to continue as a hub for coexistence and freedom in the Middle East".
Published in: Evangelical Focus - world - At least 100 dead and 4,000 wounded in Beirut blast