"We want to bring the gospel to young people in their own language"
Two experienced hip hop artists in Spain open an online radio project to reach the urban culture with the gospel.
Protestante Digital · ALICANTE · 25 JUNE 2020 · 09:06 CET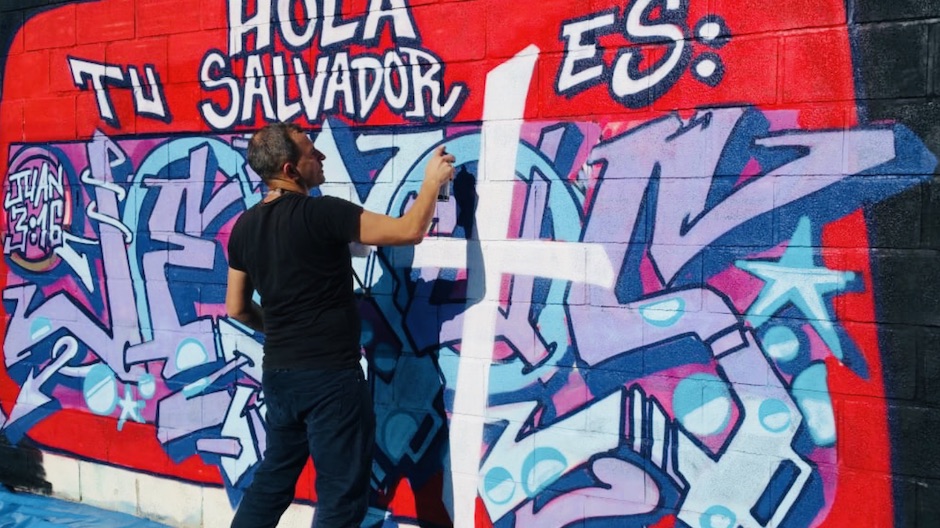 Seth Vañó making a graffiti in the Spanish city of Alicante. / DolarOne.
Urban culture continues to gain spaces in society. Its impact on other arts and its penetration at all social levels, and especially among young people, has been undeniable in the last decades.
An example are the known as 'cockfights', teenagers improvising rap rhymes to express themselves and compete with their skills. They can bea hear in any secondary school playground.
An online hip hop radio in Spanish
In the midst of this, Noé Serrano, a Spaniard who loves urban music and has rapped for 20 years, has started GLS Stream Radio, an online radio that broadcasts urban music in all its styles, 24 hours a day.
"At the beginning the idea was to have a platform for young Christians in the world of rap, to help them grow and give them the little I can have", Serrano told Spanish news website, Protestante Digital.
But then "it occurred to me that we could put together a Christian radio for urban music, because there was no Christian radio with rap music in Spain, as there is in the United States or in Latin America", he explained.
"So we started with this online radio station, providing a space for music of Christian rappers from Spain and Latin America, and also in other languages (English, French)".
More than music
But in addition to music, the GLS Stream Radio is also starting to produce other contents, such as a devotional podcast that Serrano has set up in collaboration with Seth Vañó, an evangelical pastor in the Spanish city of Alicante, who is a graffiti artist, known as Dolar One.
"I was doing graffiti, but then I met God, who changed my life, and I left all that. But later on, God showed me that I could use graffiti to reach the youth that was getting lost, and that I was hiding a talent that I had to use", he said.
According to Vañó, the online rap radio is a very useful resource. "What I am doing is passing the radio link, so that young people can listen to good messages of salvation and hope".
Trying to delve a little deeper into spreading the message, Seth and Noé decided to encapsulate a daily devotional by pastor José María Romo used in a local church, in a podcast format, and call it Reflections on the Wall.
They pointed out that "the devotional was in a PDF format, but young people don't use that, so we are producing it in audio, with a good background music".
"Hear the gospel in their own language"
"Every morning we share a message of hope. We are getting very good feedback from people who are in the world of rap, hip hop, or graffiti, and we are building relationships with them that allow us to talk about spiritual issues. We know that God will work in their hearts", Vañó underlined.
Serrano explained that they "are working to connect with young people who need to hear the gospel in their own language. It is important to evolve, to change the packaging without changing the content".
"We try to make young people see their mobile phone as if it was the street, as the place where they can connect with their friends. We have to give them resources, so that they can share the gospel message", Vañó added.
Courage to share
Serrano stressed that the project has just started, "now I am preparing an interview program with different artists, to know their history, how they discovered the gospel".
"I think it will be interesting. We are looking for ideas, so that I appeal to anyone who has a rap program or wants to collaborate, we are open to it. We would like to reach all the people who like rap", he added.
Vañó encourages everyone to share the message. "You can make a WhatsApp broadcast list and share it. I think it can help many people to share the gospel. And for those who are Christians, this devotional can also be good because we all need God".
Published in: Evangelical Focus - culture - "We want to bring the gospel to young people in their own language"
Since you are here…
Evangelical Focus is a news and opinion platform that brings together Christians from across Europe and other parts of the world. We need the support of our readers to make this media project sustainable in the long term. You can support our work! Read about Evangelical Focus's sustainability here.
Would you like to support the work of Evangelical Focus?
Use one of these methods. You can also transfer your donation to "Areópago Protestante / Evangelical Focus" IBAN: ES8521000853530200278394 (Swift / BIC: CAIXESBBXXX). Subject: "Donation Evangelical Focus"
Thank you very much!