Evangelical Focus is 3 years old
As we start our fourth year, we thank God for His Grace, and all our readers for your support.
08 JANUARY 2018 · 17:00 CET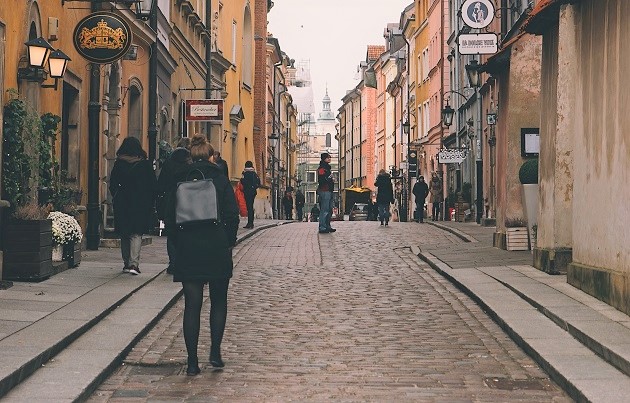 A street in Warsaw, Poland. / A. Almelor (CC)
On January 8th, 2015 we first launched Evangelical Focus. Prior to the start, a team of journalists, designers and church leaders worked for several months raising financial support and building partnerships to set up this daily online news and opinion website for Europe.
Today we celebrate that God has brought us to our third anniversary. We are aware that He uses all kind of projects for His glory and keeps them by His Grace. Working as a small team with reduced resources, we are clearly aware of how dependant we are of God's providence and of the churches' support.
MARCH 2017, OUR BEST MONTH SO FAR
In the last twelve months, Evangelical Focus has continued to reach more people, making March 2017 our best month so far (71,660 page views).
People from every country in Europe have visited this website. These are the top 10 countries in 2017:
1. United Kingdom
2. Spain
3. Germany
4. Netherlands
5. Italy
6. France
7. Sweden
8. Romania
9. Portugal
10. Switzerland.
Tens of thousands have also landed on Evangelical Focus from the rest of the world, these being the top five: 1. USA 2. Canada 3. Australia 4. Philippines 5. India and 6. South Africa.

NEW CONTRIBUTORS IN THE LAST 12 MONTHS
So far, we have published 3,120 contents, mainly news stories (Cities, Europe, World, Life & Tech, Family, Science, Culture) and opinion articles and analysis (Blog, Magazine), but also audios, videos and photos (Multimedia).
Our team of contributors has grown this year to include new authors writing about archaeology (Marc Madrigal, Turkey), missiology (Samuel Escobar, Spain), Family and freedoms (Roxana Stanciu, Belgium) and Latin American trends (Juan Francisco Martinez, USA).
Team members have attended strategic European conferences on issues like mission, human trafficking, Bible teaching, and we have given a voice to interviewed many experts on relevant society and faith issues.
More than one hundred other authors have contributed in some way or another to Evangelical Focus since we started this project. In the background, the vauable work of our translators has made it possible to publish quality contents that had not been available in English before.
A BIBLICAL WORLDVIEW ON CURRENT ISSUES
In 2018, our aims as Evangelical Focus team will continue to be:
1- To give a voice to evangelical Christians who often are not heard.
2- To build bridges between churches and society. Helping Christians understand the current issues happening around them, and helping non-believers to understand what Christians offer to society.
3- To do journalism which fits into God's mission in Europe.

USE THIS WEBSITE
Join other 500 people receiving our daily newsletter with the latest contents.
Send your own news and articles to readersblog(at)evangelicalfocus.com.
Follow us on Facebook, Twitter and Instagram.
We highly value the opinion and suggestions of all of you who read our contents. Feel free to write yur feedback and suggestions to office(at)evangelicalfocus.com
Evangelical Focus begins its fourth year. Thank you for your support!
Published in: Evangelical Focus - Editorial - Evangelical Focus is 3 years old