Daesh claims responsibility for the France attacks
"Eight brothers, wrapped in explosive belts and armed with machine rifles, targeted sites", the terrorist group said in a statement. One attacker has been identified.
CNN · PARIS · 14 NOVEMBER 2015 · 16:00 CET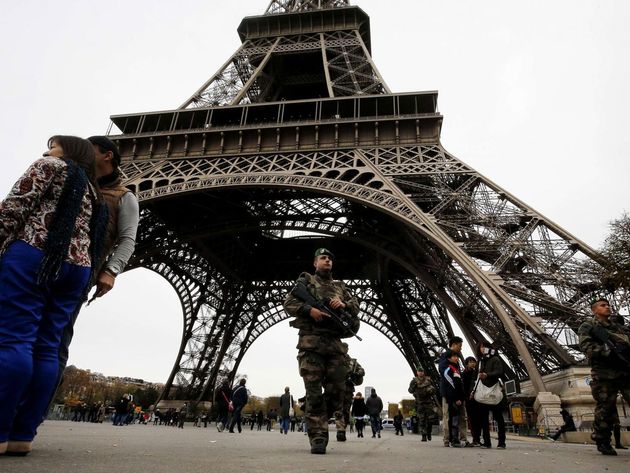 Soldiers patrol all around Paris. / AFP
One of Friday's Paris attackers has been identified by fingerprints as a French national, and was known to police, a source close to the investigation of the attacks told CNN on Saturday.
The French newspaper Libeation reports that an Egyptian passport was found on one of the attackers the Stade de France, as well as a Syrian passport. Neither man has had their identity confirmed by officials.
The Islamic State claimed responsibility for the attacks in the French capital, calling them "the first of the storm" and threat with future attacks.
They stated that France deserved it, after "having dared insult our prophet, having bragged about fighting Islam in France and striking Muslims in the Caliphate with their planes (...)."
The remarks came in a statement published in Arabic, English and French on the Daesh's Telegram account and then distributed via their supporters on Twitter, according to a transcript provided by the SITE Intelligence Group, which tracks jihadist propaganda.
The statement was released on the same Telegram channel that was used to claim responsibility for the crash of a Russian jet over the Sinai Peninsula two weeks ago, killing 224 people.
TERRORIST THREAT
"Eight brothers, wrapped in explosive belts and armed with machine rifles, targeted sites that were accurately chosen in the heart of the capital of France," the group said in the statement, "including the Stade de France during the match between the Crusader German and French teams (...)."
"Let France and those who walk in its path know that they will remain on the top of the list of targets of the Islamic State," the statement added, referring to the attacks at the Bataclan concert hall and several districts in Paris.
"PARIS, CAPITAL OF PERVERSION"
Calling Paris, "the capital of abominations and perversion, the one that carries the banner of the cross in Europe" Daesh called those attending the Bataclan concert hall where the largest number of fatalities happened, "idolators."
An earlier statement was released but was deemed unlikely to be authentic because of anomalies in the language used, as well as an error in a date provided, according to experts on jihadist propaganda.
Published in: Evangelical Focus - europe - Daesh claims responsibility for the France attacks