Over one million refugees enter Europe in 2015
Most of the people came via Greece, which took in more than 820,000 people this year. Half of them were Syrians.
UNHCR, BBC · GENEVA · 30 DECEMBER 2015 · 19:20 CET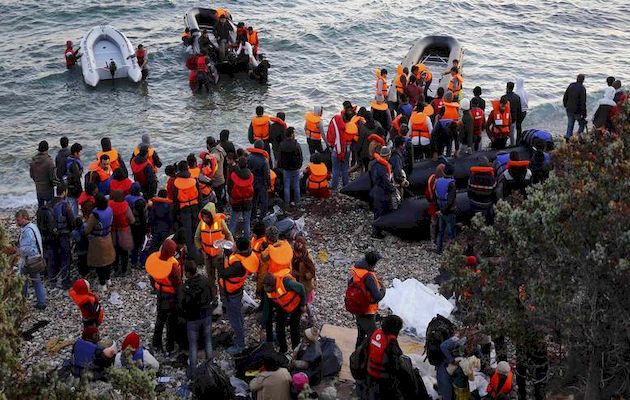 More than 80% of the people arrived in Greece
According to the United Nations refugee agency (UNHCR), more than one million refugees and migrants have reached Europe by sea since the start of 2015. It is the worst migrant crisis in Europe since World War Two.
The number of sea arrivals has increased vastly since 2014, when it was recorded at slightly more than 216,000. The number of those dead or missing at sea is now at 3,735.
MOST ARRIVE IN GREECE
More than 80% of the 1,000,573 people arrived in Greece, with the majority landing on Lesbos Island.
The majority (about 844,000) travelled to Greece from Turkey. Most of the others - over 150,000 - crossed the Mediterranean from Libya to Italy.
"Increasing numbers of refugees and migrants take their chances aboard unseaworthy boats and dinghies in a desperate bid to reach Europe", the UNHCR said on its website.
"The vast majority of those attempting this dangerous crossing are in need of international protection, fleeing war, violence and persecution in their country of origin", they added.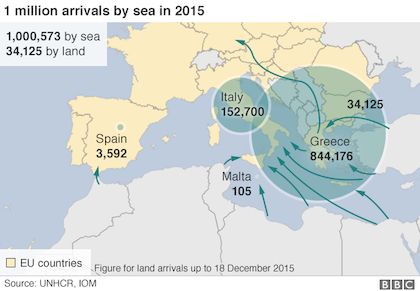 Most of the refugees are Syrians fleeing their country's civil war. Afghans, Iraqis and Eritreans fleeing conflict and repression are the other significant national groups.
Germany says it has received more than a million refugees and migrants, the largest number of any European country, but this includes a large number from the Balkan states who are not counted in the sea arrivals.
EUROPEAN ACTION NEEDED
On 21 December, the International Organization for Migration (IOM) also said the total number of migrants arriving by both land and sea had reached more than 1,006,000.
"I don't understand why people are insisting that this is a European problem. This is a global issue", Michael Moller, director of the UN office in Geneva, told a news conference.
The UN refugee chief Antonio Guterres called on for a "massive resettlement" of Syrian and other refugees within Europe, to distribute many hundreds of thousands of people before the continent's asylum system crumbles.
He called for European countries to recognise the positive contributions made by refugees and migrants and to honour what he said were "core European values: protecting lives, upholding human rights and promoting tolerance and diversity."
IOM director-general William Lacy Swing urged European governments to make migration safer.
"We know migration is inevitable. It's necessary and it's desirable," he said, adding: "Migration must be legal, safe and secure for all — both for the migrants themselves and the countries that will become their new home."
IOM estimates people smugglers in Europe have made $10 billion or more since 2000, maybe much more. "They are certainly getting very well paid for their services," Swing said.
Published in: Evangelical Focus - europe - Over one million refugees enter Europe in 2015