"The churches in Ukraine are trying to help all people with food and places to stay. We are doing everything we can"
Andrey Tyschchenko is the pastor of an evangelical church in Kharkiv, one of the cities hardest hit by the Russian attack. He is now a refugee in Poland with his family. From there, he organises help to be sent into Ukraine.
WARSAW · 07 MARCH 2022 · 11:03 CET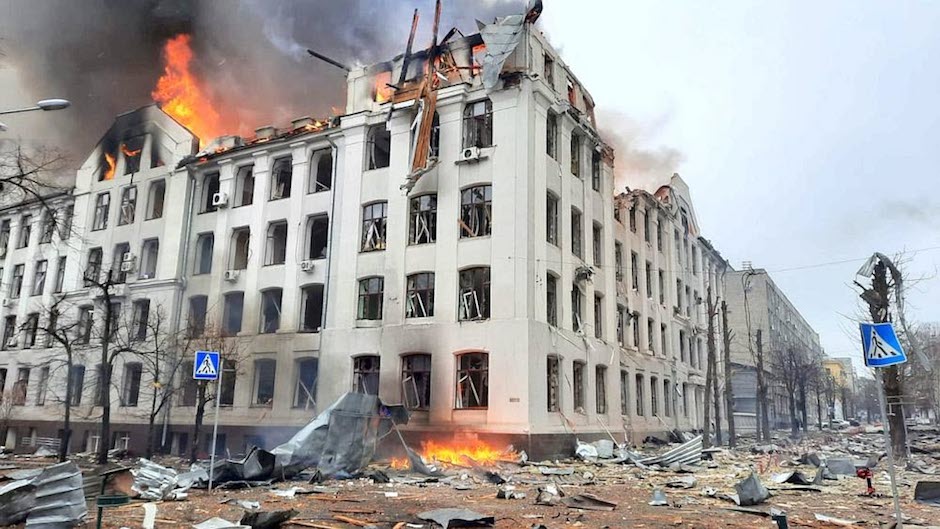 Kharkiv, Ukraine's second most populous city, has been one of the most devastated by Russia's attack.
According to the NGO Human Rights Watch, the Russian army has used cluster bombs in its offensive against the city and the surrounding region. This weapon is banned by a treaty signed by more than 100 countries in 2010, although neither Ukraine nor Russia are among them.
In the city, of around 1.4 million inhabitants, there are now repeated images of destroyed buildings, such as the iconic Opera House. A part of the city's population has already joined the million people who have fled the country to seek refuge in neighbouring countries.
Among them is Andrey Tyschchenko, pastor of the New Generation evangelical church in Kharkov. 10 days before the Russian invasion, he told us that "most churches, located close to the Ukraine-Russia border in the east part of Ukraine, continue preaching the Gospel".
After the invasion, his family sought refuge in Poland. Speaking to Protestante Digital, Tyschchenko explains that from there he continues to work for his congregation. So far, the shelling has not affected the church building and he is confident that he will be able to return soon.
Question. What is your personal situation right now?
Answer. Before the war astarted, I was travelling to Ghana with my father, to a conference. When we had just arrived, I received messages saying the war had just started in Ukraine. I was really nervous.
What I did first was to get in contact my wife and my mother and my sister. They tried to reach the west of Ukraine during five days. My father and me changed our tickets and flew to Istambul and then to Berlin. Then we drove by car to Poland and we met our family there. We are here now, in an apartment. To be precise, somebody from Poland left us this place for free, so we are very thankful to those people who are volunteering, they serve and do anything for the refugees, so that people find themselves well.
Q. What is the situation of refugees arriving there in Poland?
A. The conditions for the refugees who have been able to cross the border here are very good. There are many volunteers, in some places even more than the people who need help. So, we thank to all of people who are working and doing everything in order to help every refugee.
Q. How is the church in Kharkiv doing?
A. When we came back to Berlin we sought to go back to Ukraine but unfortunatelly we don't have a safe place where we can go and we couldn't to help our people in Ukraine, our church members. That is why we decided to do it in another way.
We started to call and write our friends in Europe so they send us money so that people who stay in Ukraine, some pastors and leaders were able to help people to get out of the country, being evacuated, and feed people.
So many people there is still in bomb shelters and what our people are doing with the money sended is to buy some food and oil, which is really difficult to acquire right now. For exemple, in Kharkiv, we already evacuated around 600 people, maybe more. They have been sent to safety places. The churches in Ukraine are trying to help all the people, give them food and places where stay. We are doing everything we can in order to protect our people.
In Kharkiv, our church buildings is still available and has not been destroyed. We believe that when we'll be able to come back to Ukraine, we will be able to gather in this place again. In prayer, we proclaim everyday protection for people and we believe everything is gonna be good and this war will end soon.
Q. How can other Christians help Ukraine right now?
A. There are three points to help Ukraine right now. First of all, it's praying. We believe that prayer is the biggest power in the whole world. Please, pray that Putin stops his troops. Pray for our protection and the safety of the country.
The second point is I believe that all the Christian community should rise up their voices and tell about what is happening in Ukraine everywere where they are. If somebody has ia relationhip with its governement, please ask them to help us sending food, money and weapons to Ukraine. I believe that if we protect our country we will protect the whole of Europe.
In a third way, I think it's really useful to send supplies and money to our people, because in this moment what is most needed is to just feed the people and evacuate them.
Published in: Evangelical Focus - europe - "The churches in Ukraine are trying to help all people with food and places to stay. We are doing everything we can"