Ban on Russian music in Ukraine puts more pressure on Christian radio ministry
New Life Radio in Odessa laments new laws restricting freedom of the press. The team had to start broadcasting from Romania after the Russian invasion.
ODESSA · 13 JULY 2022 · 16:24 CET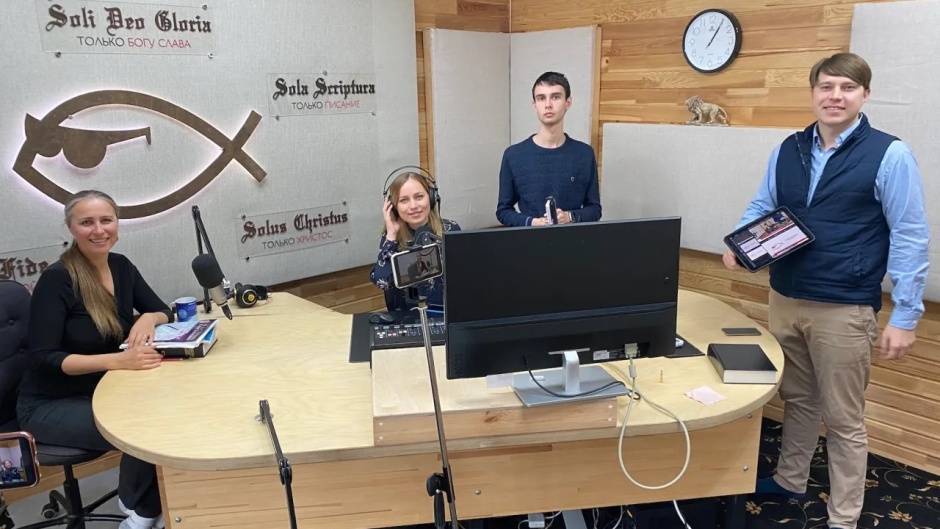 Staff of New Life Media in Odessa, Ukraine, before the Russian invasion. / Photo: New Life Radio.
A Christian Radio broadcaster in Ukraine says it as an "error in judgement" to ban music in Russian language in Ukraine.
New Life Radio (NLR) is a Christian ministry based in the warzone city of Odessa (south of Ukraine). Their programme is based around Bible teaching in Russian language, serving audiences both in Russia and Ukraine. The NLR team includes members of both nations.
In 2019, they had to leave Moscow, moving to Ukraine because of the restrictions implemented by the Russian government.
Now, the draft law signed by Ukrainian President Volodymir Zelensky at the beginning of July banning Russian language music in television and radio, is a new obstacle in their ministry.
"New Life Radio-Odessa continues to provide Biblical programming despite constant threats to its operations from Russian bombing attacks on the city", the leadership said in a press release on 12 July. In March, the core team had to leave the city and relocate temporarily in Romania. "Miraculously our facility has escaped damage", but the war has put their mission under much pressure.
"Now the station is threated more critically by the Ukrainian government that has taken actions against freedom of the press and religion", NLR says, adding that the recently approved law is "revealing a general error in judgment by the government of Ukraine".
War should not be excuse to control media
New Life Radio acknowledges the difficult wartime situation of Ukraine, but says the country should continue to strive for democratic rights. "Such laws are reminiscent of Soviet-era content controls over the media", they say. The image of Ukraine in the West is not helped by to implementing "such Russian-style restrictions over basic institutions and rights of a democratic state", they add.
In practice, the law means that NLR "may be forced to stop use of Russian language Christian music on our Russian language radio service, as our studios are located within Ukraine". They are consulting lawyers to learn whether the law may or may not completely stop their Russian language broadcasts from inside Ukraine,
A new service in Ukrainian
At the same time, the broadcasting ministry is planning new programmes in Ukrainian language. "It will take some months to compile enough Bible
teaching, Christian music, and general programming resources to support a 24/7 operation" of this Ukrainian speaking project. The hopes are to develop a new network of local FM radio affiliates in villages and cities across Ukraine.
These "two separate operations" and the re-location of the Russian-speaking programmes to outside Ukraine may be needed in the future. But residence and work permits in neighbouring countries are not easy to obtain.
New Life Radio is appealing to Christians in Europe, the US, and other places to support the ministry as the team seeks to find ways forward.
Published in: Evangelical Focus - europe - Ban on Russian music in Ukraine puts more pressure on Christian radio ministry