Four dead and several critically injured in London terrorist attack
Eight arrests have been made in raids following the attack. 29 have been injured near Westminster.
Agencies · LONDON · 23 MARCH 2017 · 11:35 CET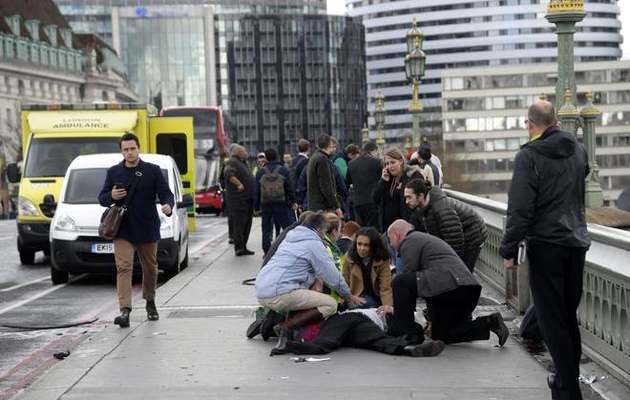 Scene after the attack in London. / Toby Melville Reuters
Police confirmed that four people have died in the London attack on Wednesday, including a Metropolitan Police officer, the attacker, a woman who was a teacher at London College, and a man in his mid-50s .
Acting Deputy Commissioner and Head of Counter Terrorism, Mark Rowley also confirmed that at least forty people have been injured, and seven are in a critical condition.
The police officer was Keith Palmer, 48, a member of the parliamentary and diplomatic protection command, with 15 years' service in the force. He was unarmed.
In the attack, a man drove a car over Westminster Bridge, near the Houses of Parliament in central London, killing two pedestrians and injuring many more. He then ran towards Parliament where he stabbed PC Palmer who was unarmed. Armed police then shot dead the attacker in the grounds.
EIGHT PEOPLE ARRESTED
Eight arrests have been made in raids in London, Birmingham and elsewhere following the attack, police have said.
In a statement made outside Scotland Yard, Mr Rowley said: "The inquiries in Birmingham, London and other parts of the country are continuing. It is still our belief - which continues to be borne out by our investigation - that this attacker acted alone and was inspired by international terrorism."
"To be explicit, at this stage we have no specific information about further threats to the public", he added.
Right after the attack, police had called it a "terrorist attack".
Police say attack at UK Parliament being treated as "terrorist incident until we know otherwise"https://t.co/WG8yXWpPVV pic.twitter.com/gaUKNRFJwN

— BBC Breaking News (@BBCBreaking) 22 de març de 2017
HOUSES OF PARLIAMENT SIT AS NORMAL
Parliament was suspended and politicians, journalists and visitors to the buildings were locked in for about five hours. Hundreds of people were evacuated from Parliament to Westminster Abbey for safety.
But on Thursday, both the House of Commons and the House of Lords sit at their normal times. Following the minute's silence, MPs have resumed the usual business of the day.
"SICK AND DEPRAVED ATTACK"
Theresa May was rushed out of parliament as the attack unfolded and later chaired an emergency meeting of the government's crisis committee, Cobra.
Shortly before 9pm on Wednesday the Prime Minister confirmed that what she called the "sick and depraved" attack had been carried out by a single assailant.
She also praised "the bravery of the police and other emergency services, who ran towards the danger, even as they encouraged others to move the other way".
Read prayers and reactions of Christians to the terrorist attack.
Published in: Evangelical Focus - europe - Four dead and several critically injured in London terrorist attack