Ten asylum seekers die in the Mediterranean every day
So far in 2017, more than 3,000 people have lost their lives trying to reach Europe.
Euronews, El Mundo · ROME · 01 DECEMBER 2017 · 09:16 CET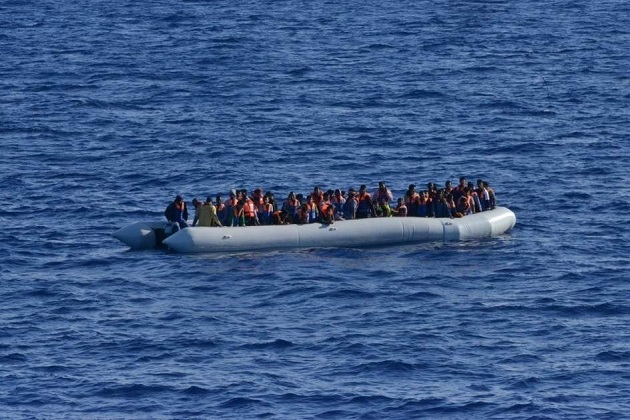 A group of migrants tries to reach the coast of Spain. A boat wPhoto: Spanish Defense Ministry
2014, 2015, 2016 and now, 2017. This is the fourth year in a row in which 3,000 lives have been lost in the Mediterranean.
Official figures confirm that this number was reached at the end of November.
In other words, 10 asylum seekers die in the Mediterranean sea every day trying to reach Europe.
The last documented cases are the death of a 10-year-old boy in Lesbos (Greece), of eight people trying to cross from Northern Africa to Spain and, and a shipwreck that killed 31 people nearby the Libyan coastal city of Garabulli.
"We have said this before, and we say it again: it is not enough to count the statistics, we need to take action", the International Organisation for Migration has said.
Since the Lampedusa (Italy) tragedy in 2013 - when 360 people died - more than 15,000 people have died trying to cross the Mediterranean.
SLAVERY IN LYBIA, SLOW EUROPEAN REACTION
Meanwhile, national leaders taking part in the fifth Africa-European Union summit in Abidjan have announced there is to be an emergency evacuation operation of migrants who are threatened by people traffickers in Libya.
In the last days, shocking footage showed slave traders selling African migrants at markets in the country.
Lybia promised to investigate the reports of slavery but also blamed the European migration policies.
Most European countries are failling to fulfil the refugee relocation scheme that was agreed in the EU in September 2015.
In fact, only 17% of the 160,000 people that the EU pledged to take in have been relocated.
Published in: Evangelical Focus - europe - Ten asylum seekers die in the Mediterranean every day