Zeman wins the Czech presidential election
Christians wish to see a change in the socio-political atmosphere.
29 JANUARY 2018 · 09:52 CET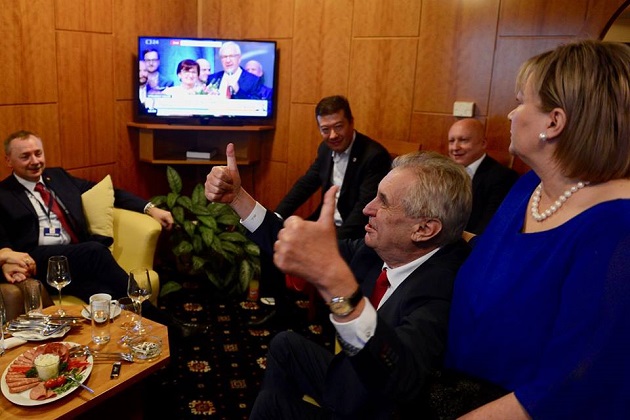 Milos Zeman celebrates his victory on January 27. / Facebook M. Zeman
Pro-Russian incumbent President of the Czech Republic Milos Zeman took 52% of the vote to beat Milan Drahos, the liberal pro-EU candidate.
Two thirds of the population voted in the second round.
"This is my last victory", Zeman, who is 73 years old, said. "In my next term I want to be less arrogant and more humble", he promised. The President-elect announced he will give Prime Minister Andrej Babis a second chance to form a government.
Zeman has been very vocal in his opposition to Muslim migrants and refugees. He is also skeptical about the European Union.
Meanwhile, Drahos, a pro-EU academic with no former political experience, said he would "carry on". He aims to "end the climate of populism and fear in Czech society", he told the BBC.
A CHRISTIAN PERSPECTIVE
Dan Drápal, a Christian analyst and pastor, told Evangelical Focus that "the brutal atmosphere of Czech politics" should change.
Churches in the country have not a unified approach to politics. "What is more important? The right political views - or personal character? That is the dilemma we face now and over which we are sharply divided".
The Czech traditional anti-faith environment has changed slightly in the last years. "Until now, it was fashionable to oppose churches and Christianity", Drápal explained. "This is slowly changing - most of the Czechs would now welcome mentioning the "Judaeo-Christian roots" in EU documents".
Among evangelical Christians, a large majority sees Muslims as a potential threat to the culture, a recent survey showed.
Published in: Evangelical Focus - europe - Zeman wins the Czech presidential election