Christians in Rafina work with authorities after the "big disaster"
"A lot of people are blaming the State, blaming God", says a Christian in the region. "Please pray for the country".
ATHENS · 27 JULY 2018 · 10:35 CET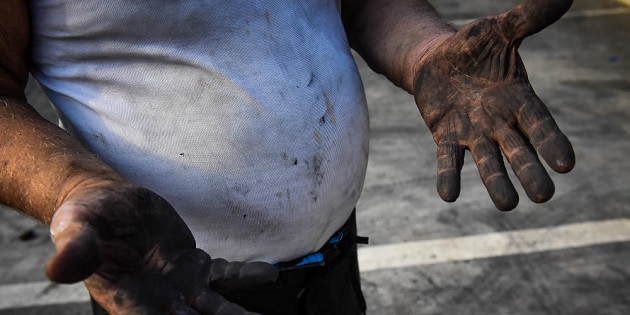 A man in the region of Rafina, after the fires. / Eleftheros Typos
People are still missing after the wildfires in the municipality of Rafina and Mati (Greece).
At least 85 people have died, hundreds are injured and thousands lost their homes.
"It's a big disaster", Nico Spies, a Christian in Athens, told Evangelical Focus.
"A lot of people are blaming the State, blaming God, and blaming others". Christians, as everyone else, "sometimes get emotionally involved, but we try to stay calm", he explained.
Some people are still missing, some of them are thought to have drown in the sea. Families are taking DNA tests to officially identify some of the burnt bodies.
The presence of thieves who try to loot the remains of the burnt houses is a worry for the authorities.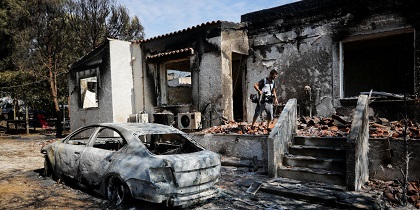 The city of Rafina is collecting food supplies to help those who have been resettled and are in the hospitals.
Evangelical churches have offered their infrastructures, such as a warehouse, to support the distribution of aid. An evangelical community in the region is "waiting for an official answer from the city of Rafina on how to work hand in hand with the city", Spies said.
CAUSES
The government said the simultaneous fires were caused intentionally by arsonists. The high temperatures and the wind blowing at 100km/h only helped to expand the flames.
But it also has been known that some citizens did not listen to alerts of the police calling them to leave the zone when the fires started. Ambulances and fire extinguishers were blocked from accessing difficult zones by other cars, and time was lost with calls from people who lied about the gravity of the fires in other regions.
In addition, there was a lack of efficient water houses in the whole Attica region.
"Please pray for us, for our country, for the workers, and be connected", Spies said.
Published in: Evangelical Focus - europe - Christians in Rafina work with authorities after the "big disaster"