Social Democrat Pedro Sánchez wins Spanish election
The high turnout (76%) punished the conservative People's Party. New far-right party Vox enters parliament but will not be able to influence government.
MADRID · 29 APRIL 2019 · 10:30 CET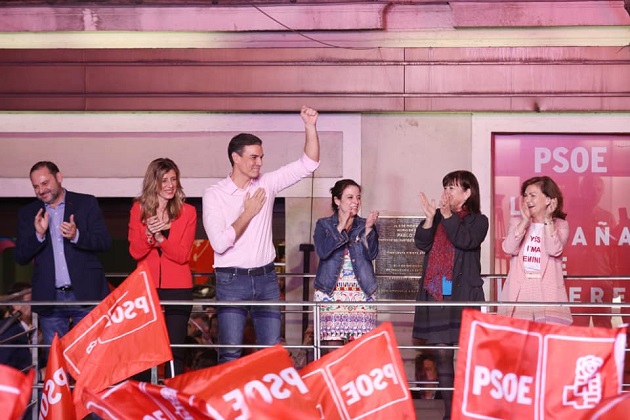 Pedro Sánchez and members of his government celebrate the victory in Madrid, Spain. / Facebook PSOE
The Socialists of Prime Minister Pedro Sánchez won the general election as Spaniards voted massively (76% turnout) on Sunday.
Sánchez's PSOE won 123 seats (up from 85) with a 29% of the vote, as the conservatives People's Party of new leader Pablo Casado collapsed to earn the worst outcome in its history: 66 seats (down from 137).
"We want a country that looks forwards and advances", Sánchez said. "We will form a pro-European government to strengthen and not weaken Europe".
In July 2018, Sánchez won a no-confidence vote against former Conservative Mariano Rajoy. The leader of the Socialists managed to stay in power for only 10 months ago, but the victory in this snap election will give them options to form a government with te support of either liberals Ciudadanos (57 seats) or leftists Podemos (42).
All polls predicted a strong result for the new far-right and nationalist party Vox, who gained around 10% of the vote and 24 seats. Despite their irruption, Vox will only be the fifth group in parliament, and is not expected to have real influence.
Meanwhile, Catalan pro-independence party ERC earned the best result in history. Their leader Oriol Junqueras is former Catalan Vice President. He and other separatist leaders are in preventive jail as they are being judged by the Supreme Court. The pro-independence bloc in the Basque Country also won seats.
Spain now enters into another electoral campaign. On the same day as the the European elections on May 26, the Mediterranean country will also hold local and regional parliament elections. Analysists believe this 'second round' could will confirm how the new socio-political scenario will look like in the next few years.
Evangelical Christians represent around 1.5% of the population. The Spanish Evangelical Alliance had called to "think biblically" about the future and offer dialogue and reconciliation in a very polarised socio-political context.
Published in: Evangelical Focus - europe - Social Democrat Pedro Sánchez wins Spanish election