'Christians, engage and go to vote'
UK is less than 4 weeks away from their national election day. Evangelical Christians are offering all kind of resources to encourage believers to engage politically.
LONDON · 13 APRIL 2015 · 17:44 CET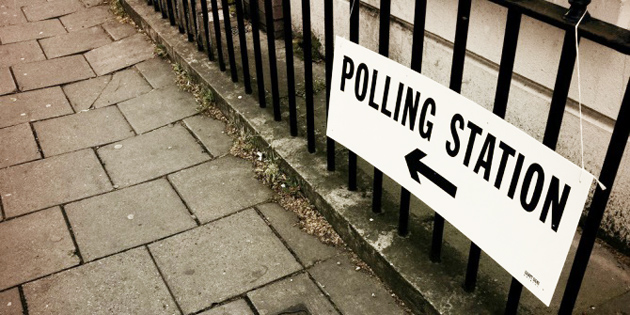 The citizens of the United Kindom are called to vote a new Parliament the next 7th May. While political parties conduct their campaign to find their votes, many others are doing a big effort to fight apathy towards political affairs and the growing cynicism of Britain's young generations.
Aware of the general sense of discontentment (which can be found in almost all other European countries), Evangelicals in the UK are doing their own election campaign targeting Christians with the motto : "Participate, don't just commentate."
To help voters do an informed decision, the United Kingdom Evangelical Alliance (EAUK) launched some months ago their own Election 2015 website, a platform on which Christians politicians, experts, pastors and organizations with an evangelical perspective have been contributing with content.
The Evangelical Alliance United Kingdom is not giving their support to Labour, Conservatives, Liberals, UKIP, SNP or any other option. The goal is to make sure that as many believers as possible "show up" to cast their vote.
GUIDES, INTERVIEWS, RESOURCES FOR CHURCHES
"Time to take the lead" is the topic of EAUK's printed magazine IDEA latest edition, which offers surveys, analysis by people working in politics, interviews and "ways to get more engaged in politics".
A video unites voices of Evangelical leaders from a wide range of denominations in the UK: "It's your vote, it's your God-given responsibility to actively engage in the political process", Christians are told. "Evangelicals have a rich tradition of political engagement, often leading the way securing freedom, bringing about positive social change."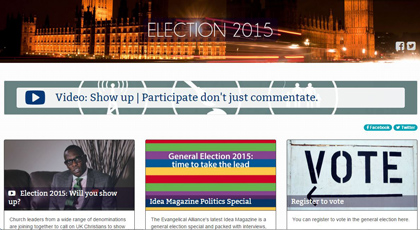 Well-known Anglican theologian Tom Wright also gives his opinions on the question "Would have Jesus voted?" in another video.
And why not organize a political debate at your local church? The EAUK encourages it and offers a guide with tips about how to organize the event, invite political representatives, and conduct the debate. "Some of the liveliest debates that I take part in at election time are organised by the local churches", comments MP Steve Webb. "It is important for Christians to get informed and get involved at election time, and this is an excellent way for churches to reach out to people in their local area at the same time."
WHAT ISSUES MATTER THE MOST?
The latest survey conducted among practising Christians was published by Premier Christian Radio just some days ago and showed that the "public health system" (42%), "Economic growth felt by all" (41%) and "a fairer welfare system" (33%) were the key issues that would influence their vote.
The survey found that, according to the interviewed, Labour party was the fittest to address these three top priorites.
Over 80% of practising Christians agreed with the statement that 'Britain seems to be going in the wrong direction morally'.
And the majority of those asked (60%) strongly disagreed with the statement 'David Cameron was right to say that gay marriage was amongst his proudest achievements in 2014'.
The EAUK summarised the position of the main parties on some of these key issues (including Education, Poverty, Euthanasia/assisted suicide, Human Traffick, Economy, Health services or religious liberty) in this article.
You can follow EAUK's updates on their Facebook page and on Twitter.
Published in: Evangelical Focus - europe - 'Christians, engage and go to vote'