Thousands rescued and dozens feared dead in Mediterranean
About 7,000 people were rescued last weekend, but 46 might have drowned.
The Guardian · ROME · 05 MAY 2015 · 16:57 CET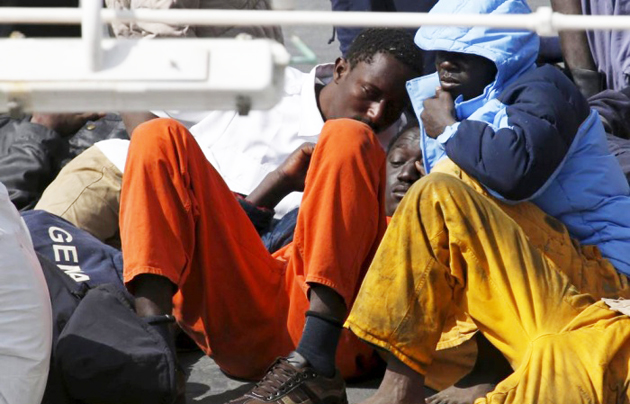 Migrants lie on the deck of the Italian coastguard ship Bruno Gregoretti in Senglea, Malta. / Reuters
At least 46 migrants are feared to have drowned in the Mediterranean after falling out of a rubber boat as a rescue ship approached, survivors have said.
The accident is the first major Mediterranean disaster since the drowning of about 800 migrants in mid-April. It occurred despite Italian-led rescue operations that saved up to 7,000 others over the weekend.
The 2015 death toll in the Mediterranean is now more than 1,700 – about 17 times higher than the number of people who had died by the end of April 2014.
The migrants died as they waited to be saved from their stricken vessel in the early hours of Monday morning. Standing on the edge of a packed inflatable dinghy, dozens overbalanced and fell into the sea, according to testimonies gathered by the International Organisation for Migration.
At least 91 people survived, mainly economic migrants from Gambia, Senegal, and Nigeria. They were rescued by a commercial ship, the Zeran, and on Tuesday they reached Sicily, where they told support staff of their ordeal.
Flavio Di Giacomo, an IOM spokesman, told the Guardian: "They left Libya, but they don't know where from, on Saturday night at midnight, and the shipwreck occurred one day later at about 1am on Monday. They had problems inside the dinghy and when they saw the commercial ship they tried to move."
In the scrum, 46 migrants toppled into the sea and drowned. Five bodies have been retrieved.
OVERLOADED ZODIACS
The biggest Mediterranean disasters usually involve wooden or steel trawlers. But this week's stricken boat is almost certain to have been a large inflatable dinghy, known as a Zodiac, which is designed to carry up to 24 passengers.
Libyan smugglers interviewed by the Guardian admitted they drastically overloaded these smaller boats in an attempt to make a bigger profit, and fitted them with wooden planks to make them more buoyant. Some smugglers acknowledged the vessels should not be used to cross the Mediterranean.
One Tripoli-based smuggler said last month: "It's impossible that they reach their destination like that. But there are people who do it. They're cheap and people know it has a slim chance."
Survivors of another Zodiac boat, which was carrying more than 100 migrants, said their vessel was so overloaded that passengers had little room to move. Those at the edge frequently fell into the water, and those in the middle could only relieve themselves by urinating on their fellow passengers, they said. "They pissed on all our clothes," said Fatima Bahgar, a 20-year-old Malian student who survived a Zodiac trip last month. "I was sick of the scent."
The IOM said the volume of boats being rescued close to the Libyan shore this week showed it was vital that the EU's revamped rescue operations patrolled the southern waters of the Mediterranean as a matter of course. Italian naval ships did so until October, but stopped because of a lack of EU support.
The EU's replacement mission – Operation Triton – usually operates much closer to the European maritime border. Amid public outcry at recent deaths, the EU has pledged to expand Triton's activity, but by what amount is not yet known.
Di Giacomo said: "What is clear is that we don't know how the new Triton operation will work and if it will patrol the area far from the Italian coast. This weekend is proof that migrants need to be rescued very close to the Libyan coast."
COMMERCIAL SHIPS, SAVING LIVES
The IOM spokesman also highlighted how commercial ships were being forced to carry out a disproportionate amount of rescue operations. "It's thanks to the commercial ships that a lot of the migrants are being rescued. They're called by the Italian coastguards, they're in contact with the Italian coastguard – but nevertheless they're rescuing a lot of people," he said.
Turkey's coastguard has rescued 636 people trying to cross the Aegean sea over the last five days, a provincial governor's office said on Tuesday. More than 400 of the rescued migrants were from Syria, while others were from Iraq, Afghanistan, Burma and some African countries, according to the governor of the coastal Izmir province.
ANALYSIS:
Read "A Christian response to the Humanitarian Crisis in the Mediterranean", by WEA ambassador for refugees, displaced and state-less people Thomas Albinson.
Read the reaction of the European Evangelical Alliance Brussels representative Christel Lamère Ngnambi: "Dignity of migrants i as precious and unassailable as ours."
Read "Mediterranean Crisis: 3 issues we need to tackle", by Italian pastor Leonardo de Chirico.
Read
Published in: Evangelical Focus - europe - Thousands rescued and dozens feared dead in Mediterranean