Brits do not include going to church in a 'perfect Sunday'
According to a survey conducted in the United Kingdom, the perfect Sunday "consists of waking up at 8:30 am to the smell of breakfast, a cuddle and three hours of television".
Onepoll, Premier · LONDON · 26 FEBRUARY 2019 · 12:26 CET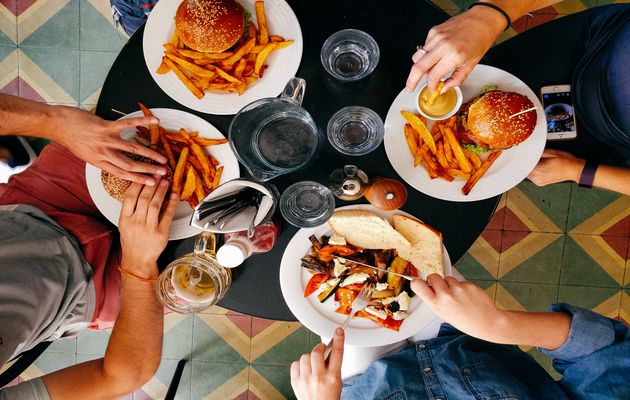 Having lunch or dinner with friends is part of a perfect Sunday. / Dan Gold, (Unsplash, CC0)
British research and public relations companies Onepoll and 72Point carried out a an integrated research for Harveys Furniture, which "looked what would be included in the nation's perfect Sunday".
After surveying 2,000 people, the study found that the perfect Sunday "consists of waking up at 8:30 am to the smell of breakfast cooking, a cuddle and three hours of television".
DIFFERENT PLANS WITH FRIENDS AND FAMILY
According to quarter of those surveyed, that ideal breakfast would be "a full English breakfast in bed". A third wanted to start their Sunday morning "with a cup of tea or coffee, before pottering around the house for an hour".
Additionally, 23% like "a morning stroll before stopping for a few drinks in the beer garden or relaxing on the sofa"; 43% love to settle down to a good movie, while 40% want to relax with the family", survey said.
A perfect Sunday includes sunny weather for 61% of the people surveyed, while 52% want quality time with a partner, and 33% answered that "spending time with the children is what Sundays are all about".
Other activities which make up the perfect Sunday are relaxing in the pub on the last day of the weekend (33%); taking a day trip (28%); visiting the family (27%), or having lunch or dinner with friends (22%).
A ROAST DINNER FOR 4
A roast dinner was also listed as one of the most desirable components of a perfect Sunday.
The perfect roast "should be served at exactly 3:15pm in the afternoon with, ideally, four people". Each one must have "three slices of beef, four roast potatoes and gravy all over the plate, but not drowning the food is a must".
Finally, "the perfect Sunday will finish at a reasonably early bedtime of 10:15pm, as people want to feel refreshed and ready for the week ahead", the researchers explained.
CHURCH, NOT INCLUDED IN THE "PERFECT SUNDAY"
The results of the research show that attending church did not appear anywhere in the poll.
"The sad thing for me is not just that it means that they're not hearing the gospel, they're not coming to an encounter with God, but it's also that churches are great places for taking our families, for making friendships and for learning who we are and why we are here", Graham Nicholls of Affinity, a network of evangelical churches, told UK online news website Premier.
Nicholls "would love it if, included in the list of things we want to do on a Sunday, whether we are Christians or not, is find a place where we can hear God's word and do stuff together in an atmosphere of trust and love".
PERSONAL RELATIONSHIPS
When asked if the survey results help churches plan events, Nicholls was not sure, because "a lot of those activities are quite isolated, so people like safe places, so it's not as though if you having a roast dinner it would necessarily draw everyone in", he said.
"I think the way that we get people gathering with churches is by individuals befriending people, having roast with them, going for walks with them and then eventually having the opportunity to invite them along to stuff at church", Nicholls added.
According to Nicholls, "there are lots of good things we can do in our leisure time. Part of understanding of creation is to know that we can work and we can rest, so actually sitting around watching some television, eating a roast or spending some time in the pub with our friends are all good things".
Published in: Evangelical Focus - life & tech - Brits do not include going to church in a 'perfect Sunday'