Europa League winner Olivier Giroud supports persecuted Christians
The Chelsea striker, along with other players, sponsored an Open Doors event in London. "We have to talk about it [...] I do it to serve Jesus", he said.
Open Doors, Evangeliques.info · LONDON · 31 MAY 2019 · 18:55 CET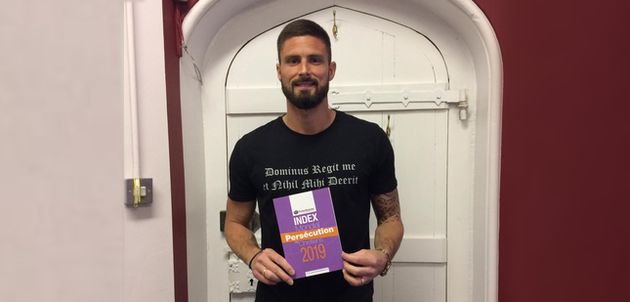 Giroud in the Open Doors gala. / Portes Ouvertes
French Chelsea striker Olivier Giroud, supported the persecuted Christians and the NGO Open Doors at a gala event on May 19th in London.
The charity gala, organised by a partnership between French Connect, a French-language church in London, and the Plus Que Sportifs association, raised more than 11,000 euros for Open Doors and Holistic sports, a Christian chaplaincy with top athletes.
Giroud, along with several Christian players including, Lucas Moura, David Alcibiades and Paul-José M'Poku, sponsored the event.
He point out that "If I'm here, it's because I've always had a good star on my head. This star is God and his son. I am convinced that what I am doing is for one purpose, that of serving Jesus Christ".
"It is unimaginable to see so many persecuted Christians in the world today. It's amazing to have numbers like that. We have to talk about it. There needs to be awareness", Giroud said.
The Chelsea footballer also wrote a tweet about the event.
Super temps de partage et dédicace à @stbkchurch au profit de #ONG @portesouvertes #HolisticSports Merci les frères de @PlusQueSportifs @dav_alci @ThibaultJoel @jlsergent @Meak_official @LeaderVocal # AlertePersecution pic.twitter.com/Iu4UWrLX5w

— Olivier Giroud (@_OlivierGiroud_) 19 de mayo de 2019
EUROPA LEAGUE AND WORLD CUP CHAMPION
Giroud won the Europa League final on Wednesday, beating Arsenal 4-1. He opened the scoring for Chelsea in the 49th minute, and ended the season as the Europa League's top scorer with 11 goals.
Last summer, after winning the World Cup with France, he told the Daily Mail: "I'm very religious so, at that moment, I just thanked God. I was very grateful to have the opportunity to live my dream. To live every single day for me is a day blessed".
"I WANT TO KNOW MORE ABOUT JESUS"
Giroud also recalled that he "grew up with my mother bringing me every single Sunday to church", and "now I'm studying the Bible and I feel like I want to know more about Jesus Christ's life".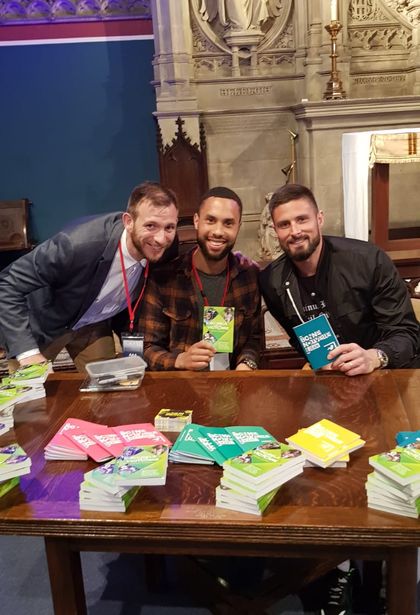 "Every time I read the words of the Holy Bible, it makes me feel grateful about everything that has happened to me,and positive".
He has a tattoo in his right arm of the first line of Psalm 23 in Latin (Dominus regit me et nihil mihi deerit: 'The Lord is my Shepherd, I shall not want').
Chelsea have confirmed that Giroud has signed a one-year deal with the club, which will extend his stay until the end of the 2019-20 season.
Published in: Evangelical Focus - life & tech - Europa League winner Olivier Giroud supports persecuted Christians