Report says Christians persecuted in Donetsk and Luhansk
Pro-Russian gunmen terrorised Christians in Donbass and other towns of the region. Pastors have died and many churches have been destroyed.
Vsi Razom · DONBASS · 20 MARCH 2015 · 17:35 CET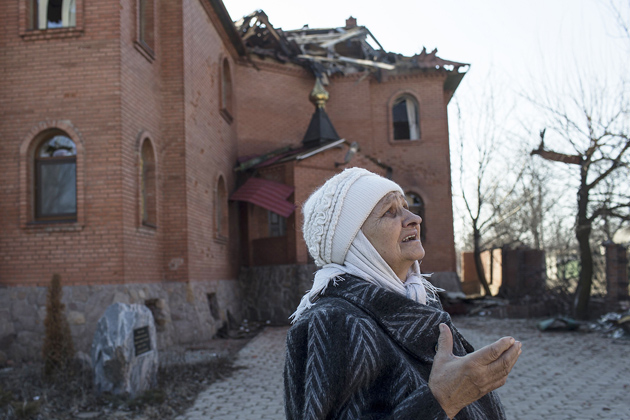 A woman in front of damaged church in Luhansk. / Reuters
The situation in Ukraine continues to be a major international conflict; many people are still dying or losing their properties. Christians are not an exception. In fact, in many areas, they are even more persecuted than the rest of the population.
Vsi Razom Civil Movement has conducted a study regarding religious persecution in the occupied territories of the Donbass, Ukraine. The Ukrainian association has collected information about acts of violence committed against Christians and clerics.
They have recorded data of church buildings and other property that has been captured in the the self-proclaimed Donetsk and Luhansk people's republics (DPR and LPR).
Ministers of Evangelical churches and their property are among the most affected, but clerics belonging to the Greek Catholic Church, Roman Catholic Church and Ukrainian Orthodox Church, as well as their property, have also been subject to violence.
Pro-Russian gunmen terrorised churches and ministers in Donetsk and in other towns of the region, such as Sloviansk, Horlivka, Shakhtarske, Druzhkivka, Torez, and Debaltseve. Antratsyt, Pervomaiske, Krasnyi Luch, and Rovenki, in the Luhansk area, have also been threatened.
PASTORS DEAD, CHURCHES DESTROYED
According to Vsi Razom, seven pastors and clergymen have died, and over 40 church ministers have been detained and later released after being beaten and interrogated during their detention.
Buildings belonging to 12 Christian communities, a Christian shelter for homeless children, a Christian university, three rehab centres for drug addicts and alcoholics were captured throughout 2014, and 5 church buildings were severely damaged as a result of shelling. Three of them were burned to the ground.
"Seized church buildings are used by the militants as their headquarters, ammunition depots and troop housing spaces", and "supporters of the so called DPR and LPR steal cars, money, documentation, office equipment and household appliances and even children's toys from ministers and churches", they added.
Due to the military situation in the Donbass some religious communities have ceased to exist. Many Christians have no other option but to do hold meetings in their homes. Thousands of Christians from the Donetsk and Luhansk regions as well as Crimea have become forced migrants, moving to other parts of Ukraine.
"FREEDOM OF RELIGION IS A HUMAN RIGHT"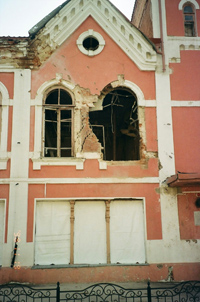 ''Freedom of religion is one of the basic principles of democracy. The right to practise Christian faith is a fundamental right. Facts are speaking for themselves – these principles and rights are being trampled upon everywhere in the occupied territories of the Donbass", said
Ruslan Kukharchuk
, head of Vsi Razom.
International help is much needed in a country where Christians are persecuted everyday, explained Ruslan: "Ukrainian authorities and the international community should pay careful attention to this frustrating situation and prevent it from further development and expansion. Persecution of Christians in the so called DPR and LPR should stop and seized church buildings should be given back to religious communities".
Published in: Evangelical Focus - europe - Report says Christians persecuted in Donetsk and Luhansk