Evangelical church shelters Coptic Christians fleeing North Sinai killings
Around 400 Christians threatened by Daesh, arrived in the Suez Canal city of Ismailiya "exhausted, with urgent needs for food and children's clothing, and terrified."
AFP, Deutsche Welle, BBC · ISMAILIYA · 01 MARCH 2017 · 16:40 CET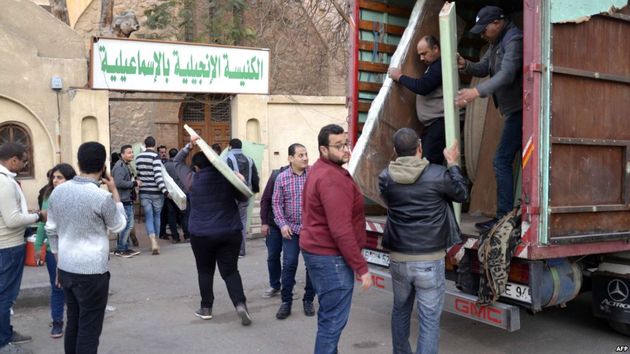 Refugees have now taken refuge in the Evangelical Church of Ismailiya. / France24
Dozens of Coptic Christian families in Egypt have fled the North Sinai province after a number of killings in recent weeks by suspected Islamist militants.
Many of them are from the city of El-Arish, where at least seven Coptic Christians were killed this month by Daesh-affiliated terrorists. They have now taken refuge in the Evangelical Church of the Suez Canal city of Ismailiya.
The Coptic Church has condemned the attacks, saying they were aimed at "dividing" Egyptians.
A VIDEO THREATING CHRISTIANS
Recently, Daesh militants released a video, warning of more attacks on Egypt's Christian minority. The Copts, who make up about 10% of the country's 90 million population, have often been targeted by Islamists in recent years.
Most of the attacks have been focused on the Sinai peninsula, where a Daesh-linked jihadist group is active, but the capital Cairo has also suffered a string of attacks in the past two years.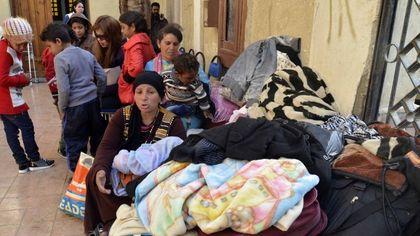 EVANGELICAL CHURCH PROVIDES SHELTER AND HELP
According to an official statement of the Coptic Orthodox Church, at least 100 families have reached the Ismailiya governorate. Dozens of students from Arish have also left.
"About 400 Christians with their belongings were in Ismailiya's evangelical church", deacon Nabil Shukrallah said on Friday."They've come running with their children. It's a very difficult situation. We're expecting 50 or 60 more", he told the AFP news agency.
Shukrallah said the families arrived "exhausted, with urgent needs for food and children's clothing, and terrified of the violence and brutality of the terrorists", news agency EFE reported.
They were then transported to be housed in and around the city, in private homes and, now, also accommodation provided by the government.
Refugees said they are "scared of our shadows", because they "are being targeted in an ugly way."
EGYPTIAN PRESIDENT VOWS TO HELP COPTIC CHRISTIANS
In parliament on Tuesday, President Abdel-Fattah el-Sissi, defended the nation's fight back against Daesh militants amid complaints that Copts aren't given sufficient protection from security forces in the restive region.
"The attacks aim to destabilize the fabric of Egypt... to give the impression that one group isn't protected as it should be", El-Sissi pointed out on television late on Tuesday.
He noted that "some accuse the state of not helping them", warning that the country was "beginning to disunite." But he said that "security services are doing their utmost to protect civilians in the region."
CONTINUOUS ATTACKS SINCE 2013
Egypt has seen a wave of attacks by militants since 2013 when the military overthrew President Mohammed Morsi, an elected leader who hailed from the Muslim Brotherhood, and launched a crackdown against Islamists.
Some of President Morsi's supporters blamed Christians for supporting the overthrow. In December, a bomb explosion in the Coptic Christian cathedral killed at least 25 people.
Published in: Evangelical Focus - world - Evangelical church shelters Coptic Christians fleeing North Sinai killings