Scott Morrison, new Prime Minister of Australia
Morrison is the first Australian Prime Minister to openly define himself as evangelical Christian. He is a member of the Pentecostal Horizon Church in South Sydney.
SYDNEY · 27 AUGUST 2018 · 18:50 CET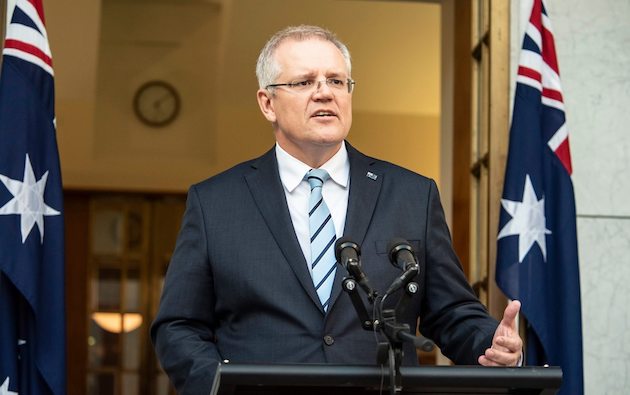 Scott Morrison after his election as Prime Minister / Scott Morrison oficial
A crisis of government in Australia has led to the change of the Prime Minister.
Malcolm Turnbull, from the liberal party, was relieved of his position on Friday, and Scott Morrison became the country's sixth Prime Minister in 10 years.
Morrisonis a former Australian treasurer, minister of social services and minister of immigration and border protection. He emerged victorious from a three-way race with former home affairs minister Peter Dutton and Foreign Minister Julie Bishop.
Incumbent Prime Minister Malcolm Turnbull, who called the leadership meeting after losing the majority support of the party, opted not to contest the vote and said he would resign from Parliament "not before too long".
AN EVANGELICAL PRESIDENT
Morrison is the first Australian President to openly define himself as a Pentecostal. He said that his "personal faith in Jesus Christ is not a political agenda ... for me, faith is personal, but the implications are social".
As journalist Deborah Cornwall recalled in an article in The Australian, Morrison described his family and his faith "as the most significant influences in my life", at his maiden speech in federal parliament in 2008.
"Our task is not to claim whether God is on our side but to pray earnestly that we are on His", the new Prime Minister told Parliament.
SAME - SEX MARRIAGE, RELIGIOUS FREEDOM AND SECULARISM
Morrison has always been against same-sex marriage, and during his time as minister of immigration, he was roundly criticised for his tough stance on asylum seekers.
He also denounced that "in recent times it has become fashionable to negatively stereotype those who profess their Christian faith in public life as 'extreme'".
"Australia is not a secular country, it is a free country. This is a nation where you have the freedom to follow any belief system you choose. Secularism is just one. It has no greater claim than any other on our society", he said in 2008.
MEMBER OF A CHURCH IN SIDNEY
Scott Morrison is a member of the Horizon Church in South Sydney. It is a Pentecostal church with a strong growth in the last 30 years.
Brad Bonhomme, the church's senior pastor, explained to the Sidney Morning Herald that Morrison, his wife Jenny and their daughters Lily and Abigail are regulars at Sunday church meetings, which usually has about 2,000 attendees.
The pastor made it clear that "as far as the Liberal Party is concerned, we have no involvement in their policy making and their decision making".
"Our prime minister is a Christian, he goes regularly to a church and my job is to provide him with a place to express his faith. I don't delve too much into it as far as Scott's political world goes, my role in his life is more on a faith base", he added.
Published in: Evangelical Focus - world - Scott Morrison, new Prime Minister of Australia