Evangelical parliamentarians distance themselves from Bolsonaro
They oppose new legislation on carrying weapons, one of the priorities of the Brazilian President.
Evangélico Digital · BRASILIA · 17 MAY 2019 · 11:10 CET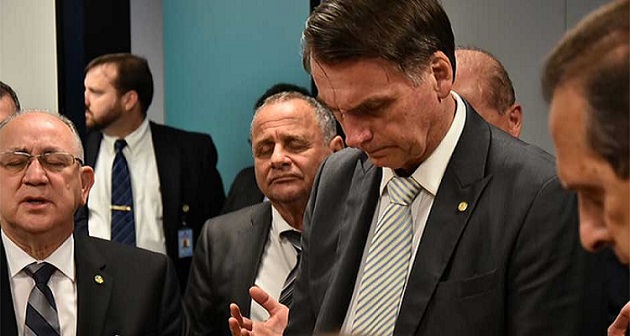 President of Brazil Jair Bolsonaro, in a prayer meeting. / Agencies
The honeymoon between the President Jair Bolsonaro and the so called 'evangelical caucus' of the Brazilian Parliament seems to be coming to its end.
The head of the government has been criticised by the MPs of several political parties who form this faith-based group.
Bolsonaro reached power with the support of many pastors and church leaders. It was expected that the Presidency would count on the 'bancada evangelica' (evangelical bench). It represents around 200 representatives of the Congress, which has a total number of 513 legislators.
This group of Christian members of parliament played a key role in the destitution of former President Dilma Rousseff in 2016, and helped Michel Temer escape a political trial in 2017. The evangelical group also stopped a number of pro-LGBT and pro-abortion projects.
Now they are opposing one of the star initiatives of Bolsonaro: the expansion of licenses for weapons.
The decree signed by the President and published last week gives new rights to carry weapons for citizens working in around 20 professions, as well as for owners of rural properties.
Congressman and pastor Sargento Isidorio recently protested against this initiative in the Brazilian Congress. He lied on the floor with clothes stained in red and a fake weapon. "Shedding blood, is that what the government wants?", Isidorio said. "We want peace, we defend life", he added.
According to a source inside the government, some of the members of the 'evangelical caucus' were unsatisfied with the low representation in Bolsonaro's government.
Analysts said this opposition to the President's decree on weapons could break the parliamentary support of Bolsonaro, and complicate the implementation of his controversial political agenda.
Published in: Evangelical Focus - world - Evangelical parliamentarians distance themselves from Bolsonaro