Christians denounce persecution in Colombia
"Armed groups, guerrillas, militamen, criminal gangs and drug cartels see the church as an enemy to be eradicated", a pastor says.
Evangélico Digital · BOGOTÁ · 01 AUGUST 2019 · 17:20 CET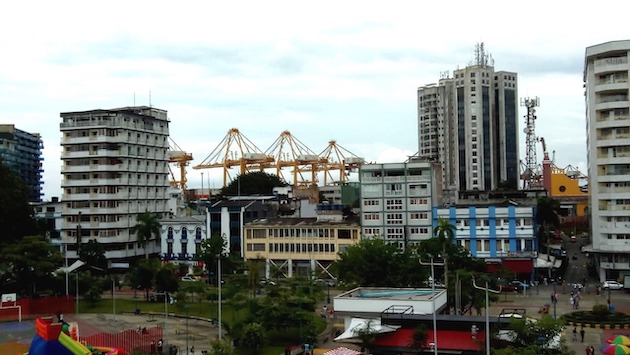 Port of Buenaventura, Colombia. / Wikipedia
Colombia celebrated its independence on July 20. However, freedom remains a distant dream for many Colombian Christians.
This year alone, Christians in Buenaventura, Colombia have seen eight violent attacks against Christians, two churches shattered, one murder and multiple cases of threats, extortion and abuse.
Due to its strategic position as a port with easy access to forests and fertile lands, Buenaventura has become one of the most desirable territories for paramilitary groups, guerrilla groups, criminal gangs and human trafficking leaders.
PREACHING THE GOSPEL IN THE MIDST OF VIOLENCE
According to the Open Doors organization, in the midst of this hurricane of violence and conflict of interests, Christian leaders stand firm in the faith, calling people for sincere repentance and the opportunity for a new life in Christ.
These pastors preach an opportunity to change through the teachings of the Bible, and not through violence or firearms.
This message is not well received by the violent groups of the region, who do not hesitate to attack pastors and Christians. Often, they are taken from their churches and forced to participate in illegal activities.
Christian associations such as Open Doors and The Voice of the Martyrs, has documented many cases of religious persecution in south-west Colombia.
"THE CHURCH IS SEEN AS AN ENEMY TO BE ERADICATED"
Pastor Harold Arias, leader of the Salvation Door Church, confirmed Latin American news website Evangelico Digital, that armed groups, guerrillas, militamen, criminal gangs and drug cartels, "see the church as an enemy to be eradicated, because, due to the preaching and courageous action of pastors, many youth have renounced armed conflict and illegal operations".
In places where the Christian church maintains a strong influence, residents are less inclined to be part of criminal operations.
"By preaching the Word of God, the Christian church establishes a direct opposition to the purposes of the armed groups. For this reason, these men were seen as a threat", Arias added.
Meanwhile, Pastor Nelson González, from the city of Buenaventura, told Open Doors that "the proclamation of the gospel has never been easy, but in our region it is a matter of life or death. However, we don't stop".
YOUNG CHRISTIAN LEADERS THREATENED
The pastor - whose name has been changed for security - confirmed that "the Word of God is powerful and it has changed the lives of so many young people, who have left illegal groups, and are now leading Church projects".
"That is why illegal groups often persecute Christian those leaders, they kill them or force them to return. They use all kinds of strategies to attract young people to criminal organizations, such as promises of money, motorcycles and women, as well as witchcraft", he concluded.
Published in: Evangelical Focus - world - Christians denounce persecution in Colombia