Helping Czech Roma children to build their own future
A centre for youth empowers children coming from very difficult contexts. "Jesus is their strength in planning and building up their future."
PRAGUE · 27 NOVEMBER 2015 · 10:59 CET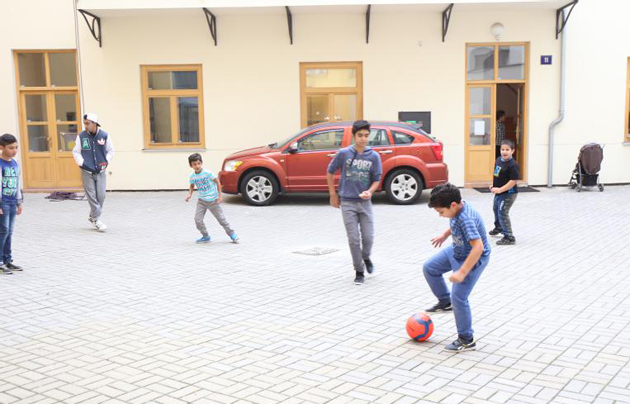 Children playing outside the CDM building. / CDM Teen Challenge Czech Republic
"The continued discrimination of Roma, in particular of Roma children, is a serious concern." These were the words of Thorbjørn Jagland, Sectretary General of the Council of Europe, quoted in the Prague Post.
According to a report of the European Commission that was published last October those at biggest risk in the Czech Republic are Roma children.
The European Commission values the fact that the country has adopted a Strategy to Combat Extremism. But many efforts haven't been very effective so far.
Althought the EC values the measures taken to help Roma children in mainstream school, the reality is that still too many "only Roma" schools exist and provide a reduced curriculum and lower quality education.
TEEN CHALLENGE IN THE CZECCH REPUBLIC
But there are other stories to tell as well. Teen Challenge is one of the organisations that are aware of these deficits and they work very hard to empower Roma children.
Teen Challenge is an international organisation which runs several projects. One of them is CDM, Centrum d?tí a mládeže (Center for children and youth). Anna Tichá is its current director.
She started as a volunteer for CDM in 2002, shortly after she came to faith in Jesus Christ. The young passionate woman talks about the history, and the goals of CDM. And also about her personal motivations.
BROKEN FAMILIES
The founder of the centre for children and youth was Lucie Pohanková. During a mission trip she worked with street children in Ukraine. After that, she felt led by God to start working with children at risk in Prague.
She and others started meeting weekly with children in parks in the district Žižkov, up to 40-50 mostly Roma children. The first official centre was opened in February 2002 and it hosts weekly club meetings. Until today they work with three age groups: pre-schoolers, schoolkids till 10 year old and teenagers 11+. The weekly clubs are offer having fun together, sharing God's Word with the children, prayer, and worship.
Roma children mostly have a home and a family, but there are issues. Many families are broken, or one of the family members is in prison. Usual problems are alcohol and drugs addiction. Some children are living with their grandparents.
Other families are functioning reasonably well but are in financial trouble, and most of the children have to move often because of that. Although not all Roma children are discriminated against, they see their parents struggle. For instance, it is no easy for Roma families to find a house or a job.
Many of the Roma children don't feel safe. As one of the children visiting the centre put it so painfully clear: "Mummy, where do we live today?"
The Teen Challenge CDM wants to minister the children they serve, and want:
- The children to get to know God, and learn how to live as Christians.
- To help the children integrate in society.
- To build long term relationships with the families the children come from.
- To help young adults to be responsible for their own lives.
Every now and then there are events in which the parents are encouraged to participate, so that CDM members can meet them and build relationships.
Another mean of empowerment is personal counselling, to help stimulate these children to make their own choices. CDM also has a fund to pay for their books and supplies.
PLANNING A BETTER FUTURE
One of the children whose life really has been really affected by the work of CDM is Lenka (not her real name). When she first came to CDM she didn't have much self-confidence. She was a shy girl. But after she started helping with the younger children, she developed strength and started to think about life goals and plans for the future.
Thinking about the future is rare among Roma people. Most of them live mainly in the present. That has a positive side as well. They know how to celebrate. When they have money that organise a party, make good food and have a lot of fun together. A Consequence of this lifestyle is that many Roma people have serious debts. And it is very hard for them to get out of their financial problems.
If the new generations learn now how to make the right choices they can have a better future. But there is an even deeper motivation for the work CDM does, according Anna Tichá: "My personal desire for all the children and adults who come to our centre is that they will get to know Jesus as their personal Saviour. But not only that. Jesus can also rescue them from their problems. He is their strength in planning and building up their future. And we are happy if we can be instrumental in that process."
Published in: Evangelical Focus - cities - Helping Czech Roma children to build their own future