Ramblas, the week after: tears and prayers
Christians visit the place where the Barcelona attack happened to offer comfort. "We are living incredible experiences", says Jaume Torrado.
Protestante Digital · BARCELONA · 28 AUGUST 2017 · 17:03 CET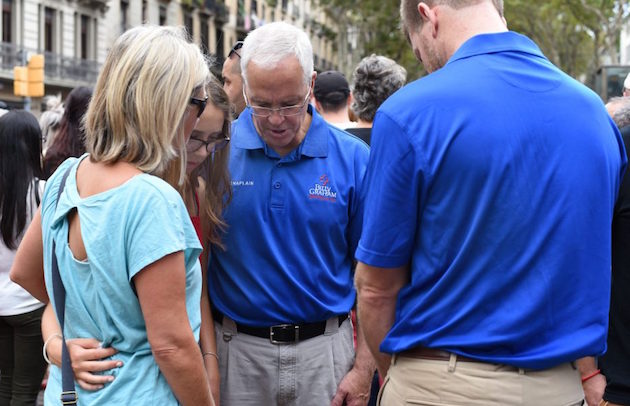 A group of chaplains prayinh with people in La Rambla. / Billy Graham Evangelistic Association
"We meet every afternoon. We started out being few, we were not prepared for something like that. But after calling the churches, we have seen how people have been joining us. This Thursday we were many, about one hundred people."
This is how small groups of Christians are praying for people in the Ramblas area of Barcelona, where radical Islamists killed 16 people 10 days ago.
One week after the attack, the ramblas of Barcelona have recovered its activity, marked by the bustle and presence of thousands of people.
However, what has happened is still very visible, not only in the mosaics, flowers and messages in many corners, but also in the attitude of many citizens who are overwhelmed by the violence experienced.
In this context, a group of evangelical Christians are touring the area each afternoon, seeking to talk, to hug, and to pray with those who come to Las Ramblas.
INVITING THE CHURCHES TO PARTICIPATE
Evangelical pastor Jaume Torrado is in the team of chaplains who are voluntarily helping these days. The initiative started shortly after the terrorist attack, when specialised members the Billy Graham Evangelistic Association travelled to Barcelona.
"We have to thank them", said the pastor of a church in the Catalonia region. "They are a group of about ten people, from the United Kingdom and the USA, who have been sent for this specific type of emergency situations", Torrado explained.
"They have not only worked, but also invited all the evangelical churches in Barcelona and Catalonia, and everyone else who would like to come, to get involved in this work".
UNFORGETTABLE EXPERIENCES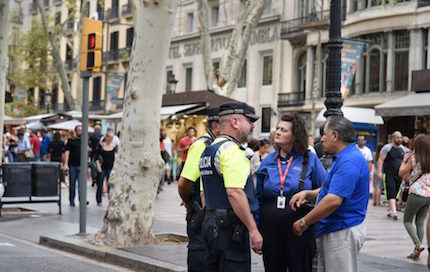 The activity of the street chaplaincy begins every afternoon, with "a small talk about how to act in such situations, how to approach people, how to listen to the voice of the Holy Spirit to know who to talk to, how to try to comfort people who are wounded, and how to pray for them. We also talk on how to share with them the good news of the Gospel".
According to the pastor, "incredible experiences" have already happened so far.
"There were a lot of broken people, people who are there all day long, because they cannot disconnect from what they have lived and how the attack has affected them", which "gives us opportunities to reach them with a spirit of compassion."
These experiences have had a "calling effect" on the churches in the area. "Those who participate are telling others what they live. There are many who never dared to go out to pray for others. But they are seeing that they are being useful, that God acts through their lives."
"It is a special moment", and people "are open", explained Torrado. "I have not found anyone who does not want to pray".
The groups of Christians have been able to have conversations with people of different beliefs, "with Muslims, Catholics, Hindus, agnostics, atheists... it has been incredible", Torrado emphasised.
AN EVALUATION OF THE INTERFAITH ACT
On Thursday afternoon, pastor Torrado represented evangelicals at the memorial event organised by the Barcelona City Council and the Government of Catalonia to honor the victims. He is a representative of the Catalonian Evangelical Council.
The pastor was able to talk with some of the representatives of other confessions, as well as with some of the authorities.
He stressed that "it was the Muslim representative who expressed his pain most clearly, because they do not know how to handle such a situation either."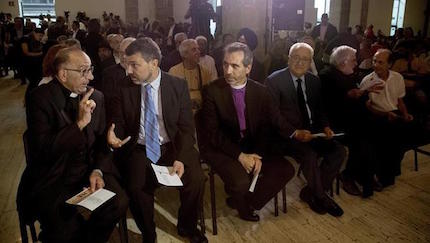 Torrado emphasised the good atmosphere between, although he admitted that, being an event organized by the UNESCO Association for Interreligious Dialogue (AUDIR in Spanish), it had "a more syncretistic tendency" with which he and most evangelical Christians do not agree with.
"The work that is done from the Stable Working Group on Religions is good. That is a more comfortable way than seeing how much syncretism we can achieve, as the Unesco seems to be trying."
"The dialogue between confessions is a much healthier way of doing things, because it aims to learn about the needs that each community might have, instead of looking for spiritual unity, which would be a very complex issue", he concluded.
Published in: Evangelical Focus - cities - Ramblas, the week after: tears and prayers