"Christians are a minority now, but that helps us start new conversations"
Switzerland is rapidly leaving behind its Christian roots, but secularisation opens new opportunities to share Jesus, says Andi Bachmann-Roth of the national Evangelical Alliance.
ZÜRICH · 18 SEPTEMBER 2020 · 17:40 CET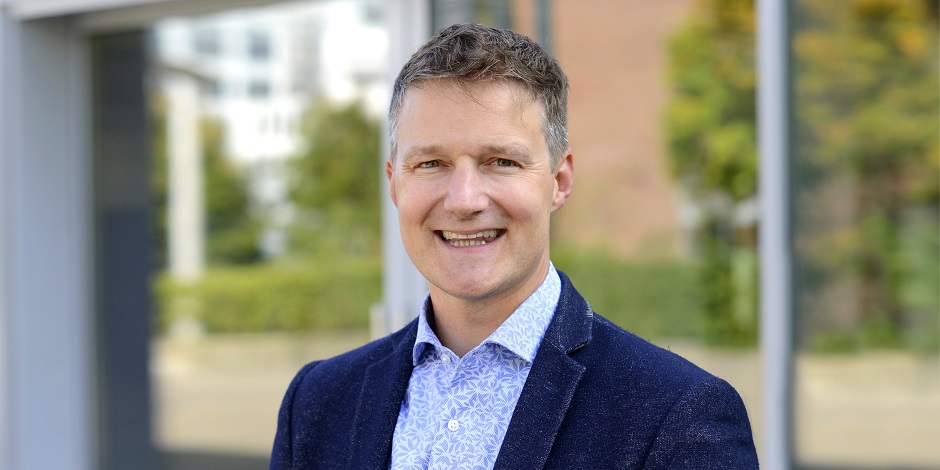 Andi Bachmann-Roth, co-Secretary General of the Swiss Evangelical Alliance. / SEA
The "fast and radical" secularisation process of Switzerland may be confusing Christians in the country at times, but it opens new possibilities for mission.
This is how Andi Bachmann-Roth, the new co-Secretary General of the Swiss Evangelical Alliance (SEA), sees it.
In a conversation with Evangelical Focus, Andi reflected on how the evangelical faith minority should build bridges with society. He also analysed the role of young people in mission, and the role of the Bible in ethical issues.
Question. In this year's SEA assembly, you started as co-secretary general. What is what excites you most about the opportunities ahead for evangelicals and their engagement in the Swiss society?
Answer. I am very happy to begin this task, it is exciting to expect what the people of God will look like in some years. It is a privilege to be part of a movement that seeks to be together as church. Much has grown in this united work for the last 170 years and my desire is that this love for one another grows even more and that we can be worthy witnesses of the Gospel.
Q. How many members of the SEA are mainline Protestant churches and how many free evangelical churches?
A. 60% of the Swiss are still members of the 'national churches'. Catholics are the biggest and then comes the Reformed church. But these figures can lead to confusion. A national study showed that only 17% of the Swiss are 'institutional believers'. And around 2% are members of free evangelical churches.
In Switzerland, we speak of an environment of about 200,000 evangelical Christians. 460 churches and 170 organisations are members of the Evangelical Alliance. Of these, around 20% are Protestant mainline churches, and 80% free evangelical churches.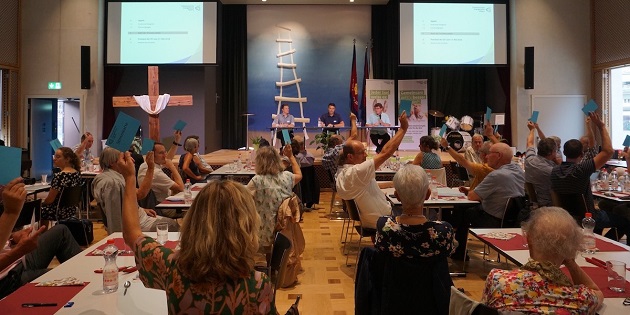 An image of the 2020 General Assembly of the Swiss Evangelical Alliance, in August. / SEA
Q. Switzerland has been known worldwide for your rich Reformation history (Calvin, Zwingli, etc.). This Christian identity is reflected in your flag, in the lyrics of the national hymn… But the country is rapidly becoming secular. How do you describe these changes in the last years?
A. I would dare to say that here the secularisation process is even a bit faster and more radical than in other places of Europe. People are very sceptical of the presence of the Christian faith in schools, hospitals, the army, etc. These feelings apply to anything religious, but of course includes the Christian belief. We have been clearly made aware of this trend in the area of our Christian youth organisations [which have lost the support of the state], for instance.
We realise that we are minority now, and that can lead to frustration at times. But in all this retreat, I mainly see an opportunity. It obliges us to ask ourselves again: why are we as Christians here? And what is our mission?
Many people have no longer bad experiences with the church, but often one at all. This gives a chance of beginning new conversations with people, without prejudices.
Q. Apart from the loss of faith, do you sense that the Christian values are disappearing in society as well?
A. Well, we often define Christian values as only linked to some issues such as sexuality, for example. If so, then of course we can say that these values are eroding.
But other Christian values such as solidarity, justice, or peace, are still very strongly anchored in the centre of society, and I believe they still shape young people as well.
Q. You have worked with young people and youth leaders around the SEA before. Christian organisations often struggle to find ways of involving young people actively. What do you recommend?
A. We have a good movement of youth leaders in Switzerland. And I think it has much to do with fostering good personal relationships. It has to do with nurturing friendships and spending time together, even before forming a common agenda.
And then, young people want to be on fire for something big. They want to be part of God's great vision.
Projects such as the Praise Camp and others, were launched because there were good friendships between youth leaders. There young people can meet each other, and realising: 'Hey, these other people do also love Jesus!'.
What is obviously more difficult is to integrate young people in institutions. At the SEA we indeed have difficulties to convince young people to become members and to contribute financially. But the engagement through projects and events works well. Young people love it to realise that we are not such a small minority. In all that, we try to highlight themes such as prayer, the Bible, or discipleship, above the 'brand' of the SEA.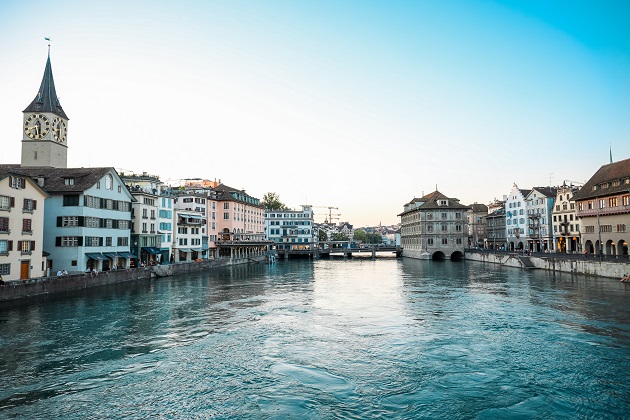 A view of Zürich, in Switzerland. / R. Georgiev, Unsplash, CC0
Q. At the Alliance you are often looking for creative initiatives. One was to meet for coffee with members of the Union of Free Thinkers. How did that go?
A. Yes, they are the free thinkers and have an atheist core. One year ago our Alliance Week of Prayer had the theme "Peace" and we asked people to choose between three "peace actions" that we as SEA team could perform, all of them a bit challenging and kind of funny. One option was to bring together fans of football teams who hate each other, another was to visit refugees in an asylum centre and help them learn the Swiss hymn. And then, there was the option of visiting the free thinkers. This third option is what our members chose.
On social media, the interaction with the free thinkers is often rough, they actively fight our agenda. We were interested in meeting them. So we went to them, brought some croissants, and it was a friendly conversation.
Q. What topics came up?
A. We got to know each other a bit, and then we asked what annoys them about us. We then could also share a bit why we are at times are a bit irritated by the tone they use as well – interestingly they mentioned similar feelings about us.
But then we spoke about areas in which we have things in common were we could meet each other, for example, in the sphere of freedom of conscience and of speech. They are fighting for thiese rights in strongly religious countries, and we fight for these freedoms as well. There were several issues in which we concluded that we have similar approaches, despite having different starting points.
Q. The SEA has been clear in its commitment to the Bible in several issues that are controversial, such as the welcome of refugees or the stance on LGBT matters. What are the challenges and opportunities ahead as you try to be faithful to the Bible in the midst of the Swiss society?
A. Well, LGBT matters are not our priority issue, nor do we seek to talk about it all the time. But it is like the elephant in the room, we have to speak out about it. In Switzerland it is a highly active discussion in the socio-political sphere right now. After a referendum, the anti-racist law now protects sexual identity and gender. And soon there will be a referendum on the Marriage For All initiative.
So we cannot just avoid these themes, but it is also difficult to express ourselves well so that we come to a constructive dialogue. For some years we have worked on a position paper on these issues, including voices of experts and of the SEA committee. We also opened several rounds of conversations. In the end, of course, we could not include all opinions we heard, but it was helpful to listen to people to learn about how we should speak about this issue in a respectful and positive way. I believe this work of the SEA has been valued positively. Of course, our reflection and position on LGBT matters has led to some tensions with churches who see this differently.
But it is true, at the end there is a matter of basic hermeneutical decisions. There are the questions about how we understand the Bible, and if we see the Bible as the authority for all areas of life. As the Evangelical Alliance, we believe in this.
Q. Finally, how can Christians in other countries pray for Switzerland?
A. Well, this last issue I was just mentioning is a big prayer issue. As a whole society there is a struggle around the questions: What is marriage? How do we approach gender?
Also in the issue of climate and environment, there is a strong polarisation happening, both in society and among Christians. We are worried, and we would desire that in these controversial themes we can debate, but remain united.
In Switzerland, we continue to be very privileged in many aspects. Pray that we do not lose our generosity towards others, and that we do not focus too much on ourselves. We have resources that we could give away, financially but in other areas as well. Pray that we are not too bound to our own problems. Pray that we would keep our eyes open to the rest of the world.
Pray for the gospel. Traditional evangelistic methods are coming to their frontiers. Sometimes we are a bit lost about how we can better speak about Jesus. Pray that we continue to share the good news in a bold and joyful way.
Published in: Evangelical Focus - europe - "Christians are a minority now, but that helps us start new conversations"