Cuban pastors freed without charge
The case of Yéremi Blanco and Yarián Sierra is closed after paying a fine for participating in the peaceful demonstrations of July.
Protestante Digital · HAVANA · 03 SEPTEMBER 2021 · 12:30 CET
Pastors Yarián Sierra and Yéremi Blanco.
The two Cuban pastors Yéremi Blanco and Yarián Sierra, who were imprisoned for fifteen days after being arrested during peaceful demonstrations in Cuba on 11 July, have been released without charge following a court hearing on Wednesday 1 September.
The official of the Versalles municipality in the city of Matanzas, imposed fines of 800 Cuban pesos (28 euros) on Yéremi Blanco and 1000 Cuban pesos (35 euros) on Yarián Sierra, after which they were released without charge.
Both men carry out pastoral ministry and are responsible for the support of their families. They are also co-workers at the Carey Seminary, which has an extensive biblical training program in Cuba and other countries in Latin America.
The director of the Carey Seminary in Cuba, Jatniel Pérez, reported the good news on his social media accounts. "By the grace of God, one more victory", said Jatniel Pérez, giving "thanks to all those whom God used to obtain this victory".
"After several days of struggle, denunciations and prayer, God gave the victory", added Pérez.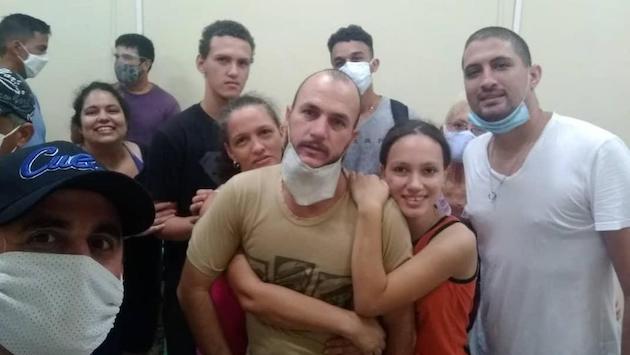 Pastors Yarián Sierra and Yéremi Blanco, with their families, moments after being released from jail, in Cuba
A case with international repercussions
The case of Yéremi Blanco and Yarián Sierra quickly made headlines in the media, as it was seen as an example of the repression of Cuban President Miguel Díaz-Cane.
Evangelical entities and human rights organisations worldwide advocated for their release, which happened on 25 July, a fortnight after they had been detained and held in isolation in prison.
Their case had yet to be resolved, given that they were released on charges of "public disorder" according to the Public Prosecutor's Office. Now, after the imposition of the financial fine, they are finally released.
Published in: Evangelical Focus - world - Cuban pastors freed without charge
Since you are here…
Evangelical Focus is a news and opinion platform that brings together Christians from across Europe and other parts of the world. We need the support of our readers to make this media project sustainable in the long term. You can support our work! Read about Evangelical Focus's sustainability here.
Would you like to support the work of Evangelical Focus?
Use one of these methods. You can also transfer your donation to "Areópago Protestante / Evangelical Focus" IBAN: ES8521000853530200278394 (Swift / BIC: CAIXESBBXXX). Subject: "Donation Evangelical Focus"
Thank you very much!