"Antakya is now a ghost city"
A pastor of the Turkish Protestant Church Foundation reports from the ground in Antakya (Antioch). "80% of buildings either collapsed or will have to be torn down".
ANTAKYA · 15 FEBRUARY 2023 · 15:00 CET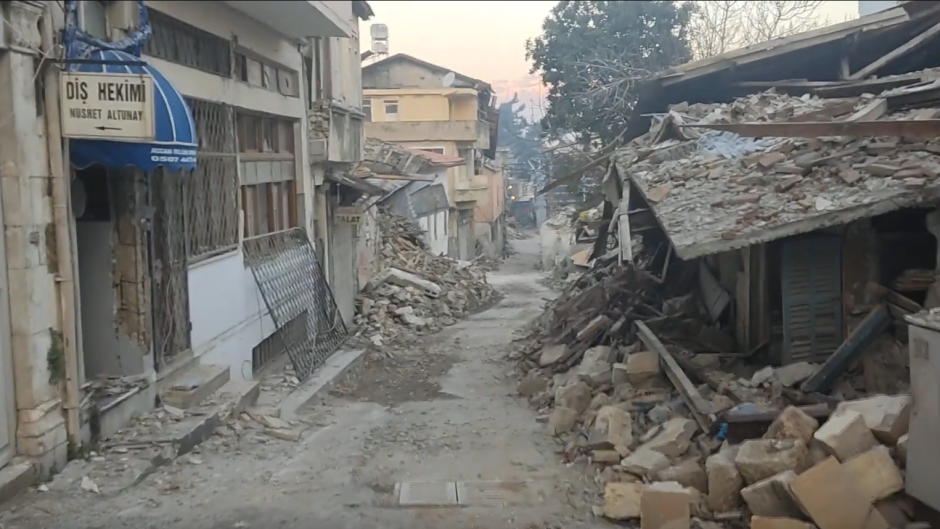 A neighbourhood of Antakya, on 15 February 2023. / Video M. Madrigal
A video recorded in the morning of 15 February (twelve days after the earthquakes that have killed nearly 40,000 people so far) shows the silence of a completely destroyed neighbourhood in Antakya (Antioch).
It has been recorded by Marc Madrigal, an evangelical pastor of a church in Istanbul who has travelled to the disaster zone in representation of the Turkish Protestant Church Foundation.
In a 5-minute video in which only the voice of Marc and the sound of birds is heard, he shares the following message, which we have transcribed in English (translated from Spanish).
"Hello from Antakya, at 8am on this Wednesday. This is the old Antioch, which was the third biggest city of the Roman Empire. Antakya is now a ghost city, after the earthquake. Most of the people have left, perhaps a 10% have stayed. Those staying are people without resources, Syrian refugees, or people who do not want to lose their belongings. Many have gone to Ankara, and other cities.
Most buildings here have either been destroyed or a in a very bad condition, non-habitable. Probably only 20% of the buildings can be used, the rest either collapsed or will have to be torn down.
There is much need here. There's no water, no electricity, and the infrastructure has collapsed. 2 or 3 years will be need for people to rebuild their homes.
What people staying in tents or containers need right now is power generators. Secondly, tanks of water for both personal hygiene and washing clothes.
And then, it is very cold here. Heaters would also be very helpful. Here people in the evenings come together and make a fire, and talk to each other and laugh, everything looks normal. But that's not how it is. Yesterday I was talking to a mano who looked quite cheerful. But he told me had lost all of his grandchildren, and her daughter had been recovered from under the debris and was in hospital.
There are many stories like this hear, people who have lost relatives or neighbours. There is a tremendous trauma here.
Other cities in Turkey are less affected (of course, there is catastrophe in other cities as well), but Antioch is where the situation is probably worse. Iskenderun, north from here, is also in a bad condition, with (I would say) 20% of buildings destroyed and 40-50% of buildings damaged.
This is what I can share so far, as churches we want to get involved with the people here in the long-term".
At least 41,000 dead
The latest official figures as of 15 February speak of 38,700 deaths in Turkey, and over 100,000 people injured. Statistics are more difficult to collect in Syria, but at least 2,500 people would have lost their lives.
A 55-minute-long drone video recording by Euronews shows the extent of the destruction in Antakya, which had a population of over 200,000 people before the quake.
The Protestant Church Foundation is collectiong donations to the support the relief efforts in the region. The bank details are:
Protestan Kiliseleri Vakfı (Protestant Church Foundation).
Account in EUROS (specifically for the earthquake): IBAN: TR24 0001 5001 5804 8022 2993 42
Account in USD (specific for the earthquake): IBAN: TR35 0001 5001 5804 8022 2993 38
Postal address of the foundation: Protestan Kiliseleri Vakfı. Bağdat Cad No: 85/1, Altıntepe, 34840 Maltepe, İstanbul
Published in: Evangelical Focus - world - "Antakya is now a ghost city"