Czech aid worker sentenced to life in Sudan
Two other Christians, a pastor an a student were also sentenced to 12 years, on charges related to "espionage."
JUBA · 31 JANUARY 2017 · 18:40 CET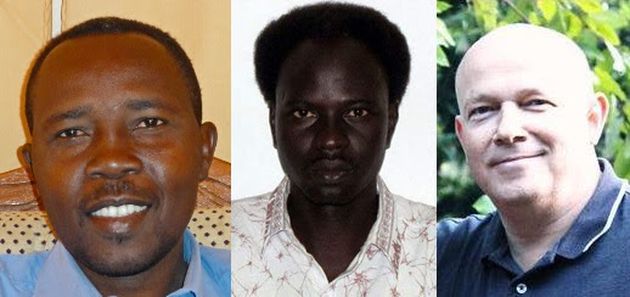 The case against the three men centred around Jasek's support for a Sudanese student.
A judge in Sudan has sentenced Czech aid worker Petr Jasek to life in prison and two other Christians to prison terms of 12 years on charges related to "espionage", informs the Christian website Morning Star News.
"Petr Jasek was imprisoned for life", attorney Muhanad Nur told Morning Star News. Jasek was also sentenced to six months in prison for "spreading false news aimed at tarnishing the image of Sudan" and a fine of 100,000 Sudanese pounds (US$16,000) for working for a Non-Governmental Organization (NGO) in Sudan without a permit.
In Prague, the Czech Foreign Ministry said the verdict was without basis. It reported that a deputy foreign minister will travel to Sudan to try to negotiate Jasek's release, and that the foreign minister is prepared to go also if necessary. The Foreign Ministry said Jasek was in Sudan only to help Christians.
A CHRUCH LEADER AND A STUDENT ARE ALSO CONVICTED
The court in Khartoum also convicted a Sudanese church leader, Hassan Tawor, and a Darfuri graduate, Abdulmonem Abdumawla, for assisting Jasek in the alleged espionage.
They received 10-year sentences for espionage-related charges, and two years of prison for "inciting hatred between sects" and "propagation of false news." The sentences are to be served consecutively.
"THEY THREATEN NATIONAL SECURITY"
The case against the three men centred around Jasek's support for a Sudanese student injured during a protest in 2013. Jašek was stopped as he attempted to leave Sudan in December 2015 and found in possession of a receipt, detailing his $5,000 contribution to the student, Ali Omer.
Jasek said the money was for Omer's medical costs, but the prosecution alleged that it was a donation to rebel groups in the southern regions of South Kordofan, Blue Nile and Darfur.
Abdumawla was arrested in December 2015 after he began collecting money to help Omer. Abdumawla contacted Pastor Tawor, who donated money for Omer's treatment, which reportedly raised the ire of Sudanese authorities.
At one hearing, an official with Sudan's notorious National Intelligence and Security Services (NISS) accused the defendants of conducting "hostile activities against the state that threaten the national and social security" in Sudan.
UNJUST ACCUSATION
A Christian Solidarity Worldwide (CSW) press statement asserted that the case "further illustrates the politicization of the criminal justice system by the National Intelligence and Security Services (NISS) which, under the pretext of investigating national security crimes, has brought charges against members of the political opposition, human rights defenders and leaders of minority religions, as occurred in the case of Reverends Yat Michael and Peter Reith in 2015."
"Mr. Jasek, Rev. Abduraheem and Mr. Abdumawla are not spies; they were simply driven by compassion to source finance for the medical treatment of a man whose injuries are so severe that he requires ongoing medical care", CSW Advocacy Director Joel Edwards said in a press statement.
"We call for the annulment of the verdict and the immediate release of these three men. In addition, we urge the Sudanese authorities once again to undertake a review of the sweeping powers exercised by the NISS and to end the targeting of ethnic and religious minorities."
"PRAY FOR THEM"
Advocacy group Middle East Concern (MEC), which confirmed the life sentence for Jasek, also reported that four churches are threatened with demolition in Sudan.
The organization requested prayer that the three convicted Christians will know the Lord's strength and comfort during their ordeal; for wisdom for the lawyers defending them; for a fair appeal process, and that the three men will be acquitted soon; for an end to the increasing pressure against churches and other religious minorities in Sudan, and that Christians will know the peace of the Lord; and that all officials involved will love mercy, act justly, learn about Jesus and choose to follow Him.
CHRISTIAN PERSECUTED IN SUDAN
Harassment, arrests and persecution of Christians have intensified since the secession of South Sudan in July 2011. The Sudanese Minister of Guidance and Endowments announced in April 2013 that no new licenses would be granted for building new churches in Sudan, citing a decrease in the South Sudanese population.
Sudan since 2012 has expelled foreign Christians and bulldozed church buildings on the pretext that they belonged to South Sudanese. Besides raiding Christian bookstores and arresting Christians, authorities threatened to kill South Sudanese Christians who do not leave or cooperate with them in their effort to find other Christians.
Sudan ranked fifth on Christian support organization Open Doors' 2017 World Watch List of countries where Christians face most persecution.
Published in: Evangelical Focus - world - Czech aid worker sentenced to life in Sudan