Bomb blasts at Filipino cathedral kill at least 20
Two bombs exploded on Sunday as people were gathered for a Catholic mass in Jolo, the capital of Sulu Province. Daesh (IS) claimed responsibility of the attack.
Agencies · JOLO · 28 JANUARY 2019 · 14:00 CET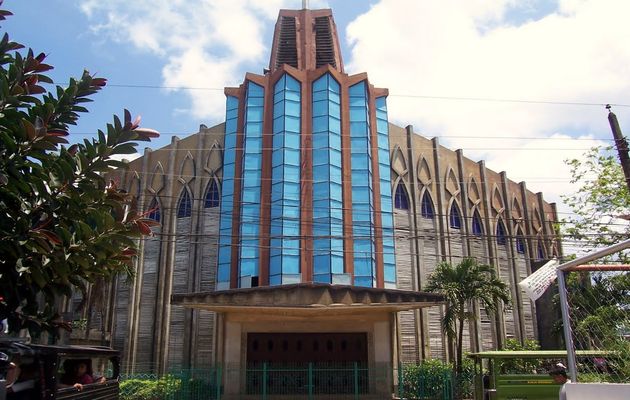 The Cathedral of Our Lady of Mount Carmel in Jolo. / mapio.net
At least twenty people have been killed and 111 injured after two bombs exploded at a Roman Catholic cathedral on a southern Philippine island, local security officials informed.
According to the national police chief, the first bomb went off inside the Cathedral of Our Lady of Mount Carmel in Jolo during a mass on Sunday.
The second blast took place outside the Catholic temple, as government forces were responding to the attack.
DAESH CLAIMED RESPONSIBILITY
Although police had initially suspected that Abu Sayyaf, a militant group that has pledged allegiance to Islamic State and is notorious for its brutality, was behind the attack, Daesh claimed responsibility for the bombings.
Jolo has long been a base for Islamist militants, specially those of the Abu Sayyaf group, who are blacklisted by the Philippines and the United States as a terrorist organization, which has carried out several major bombings since they began in 1991.
DEFENSE SECRETARY: "WE HAVE SECURED ALL WORSHIP PLACES"
"The enemies of the state have boldly challenged the capability of the government to secure the safety of the citizenry. The armed forces of the Philippines will rise to the challenge and crush these godless criminals", said Salvador Panelo, spokesman of the Philippine President, Rodrigo Duterte.
Meanwhile, the defense Secretary, Delfin Lorenzana, said in a statement that they "have directed our troops to heighten their alert level, secure all places of worships and public places at once, and initiate pro-active security measures to thwart hostile plans".
TENSION BETWEEN RELIGIOUS GROUPS ON RISE
The attack came less than a week after voters in Sulu province, where Jolo is located, rejected its inclusion in a Muslim autonomous area.
The referendum aimed to end nearly five decades of a separatist rebellion that has left 150,000 people dead, and it was overwhelmingly approved in other parts of the Mindanao island group.
DUTERTE'S INSULTS AGAINST CHRISTIANITY
Radical separatist groups are no the only ones who attack the Catholic population in The Philippines. President Duterte recently instigated the population to kill the Catholic bishops, as the conflict between his government and Christian churches (including evangelicals) grows.
Published in: Evangelical Focus - world - Bomb blasts at Filipino cathedral kill at least 20