Cuban political police detains and questions evangelical journalist
Evangelical Focus contributor Yoe Suárez was conducting a series of interviews in the city of Guantánamo, and was freed after being questioned and threatened with "legal action".
La HABANA · 12 AUGUST 2019 · 16:46 CET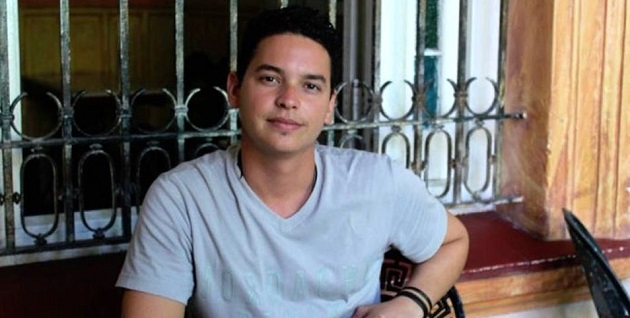 Yoé Suárez, Cuban journalist of evangelical faith.
Journalist and writer of evangelical faith Yoé Suárez arrived home early morning on Saturday 10 August after being questioned by the Cuban political police.
It was on Friday when he was detained at 13:00 local hour in the city of Guantánamo (south east of Cuba), where he had planned to conduct a series of journalistic interviews.
Speaking to Evangélico Digital, a news website for Latin America linked to Evangelical Focus, Suárez explained that he was in the neighbourhood of Pastorita where he was to meet Catholic journalist Roberto Jesús Quiñones. Quiñones has been sentenced to one year or prison for his journalistic work (as a regular reporter for Cubanet), but has not been imprisoned yet as an appeal is pending.
Hours before, Suárez had been able to interview another journalist, M.A. Vázquez, of the Diario de Cuba, a meeting that was recorded in the memory card of his mobile phone, which he has been able to keep.
A third interview was in his agenda, with relatives of the Rigal family, a couple that has been imprisoned for homeschooling their daughter, after she had been bullied for her Christian faith.
POLICE: "HERE WE ARE IN CHARGE"
According to Yoé Suárez, it was the State Security Police (PSE, in Spanish) who detained him. The PSE is a political body that exists to stop activities considered dangerous for the stability of the Cuban regime. This police is not to be confused with the National Revolutionary Police (PNR, in Spanish), which responds to common crimes.
Suárez was searched and forced to enter a special vehicle for arrests. Since the officers had not initially confiscated his mobile phone, he was able to send a Whatsapp message alerting about his situation. He later turned the mobile phone off to make sure it could not be unlocked – to protect personal data of his contacts.
The police officer in charge of the operation identified himself as "captain Kevin", Suárez told Evangélico Digital. "We are watching you since you left La Habana [Cuba's capital city] to come to Guantánamo", Suárez was told.
The evangelical journalist was also told that a 'Warning Act' had been issued, banning him the access to Guantánamo. According to Suárez, the aforementioned Kevin told him: "In this country, we are in charge", referring to the Communist Party, and later told Suárez that he could face legal action in the future if he persisted in the same line of independent journalism.
Yoé Suárez said he did not suffer physical violence during his detention and questioning, but experienced forms of intimidation. It were moments of distress, he said, especially as his wife only knew details of what was happening to him once he was freed hours later.
#SOS @diariodecuba @protestanted Yoe Suárez viajó a #Guantánamo a entrevistar a Roberto de Jesús Quiñones y a familiares de pastores Rigal. Según un mensaje vía whatsapp que fue la última noticia 1:10pm que se tuvo de él lo trasladaban en una patrulla a la Unidad de Operaciones.

— Mario Felix Lleonart (@maritovoz) August 9, 2019
A RESPECTED YOUNG JOURNALIST
Yoé Suárez (born in 1990) is a young but already experienced journalist known both in Cuba and in other countries. He has authored the non-fiction books "The Other Island" (La otra isla, 2016), "Charles in the Mosaic" (Charles en el mosaico, 2018), and "The Breeze of the devil. Violence and gangs in La Habana" (El soplo del demonio. Violencia y pandillerismo en La Habana, 2018). He also published Espectros (2016), a compilation of Cuban narrative journalism. He has also published with international media such as Univisión, Vice News, El Espectador and El Español.
Yoé Suárez is also a contributor of Evangéico Digital and his articles have been published in sister news websites Protestante Digital and Evangelical Focus.
Published in: Evangelical Focus - world - Cuban political police detains and questions evangelical journalist