Spain: Atheism and agnosticism on the rise in pandemic times
A report finds that the pandemic has accelerated the loss of religiosity in Spanish society, especially among those under the age of 34.
Protestante Digital · BARCELONA · 18 APRIL 2022 · 12:00 CET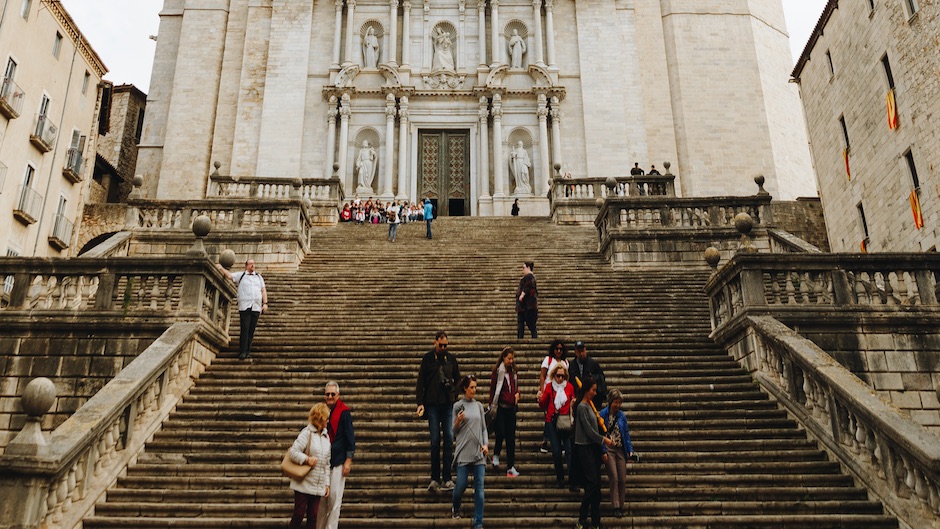 The staircase of the Catholic cathedral of Girona in Catalonia, which is one the regions with the largest non religious population. / Photo: Brandon Gurney, Unsplash, CC0
According to the latest report by the Ferrer i Guàrdia Foundation, called Feminism, religions and freedom of conscience, the Covid-19 pandemic has accelerated the loss of religiosity among the population in Spain.
One fact highlighted by the Foundation is that for the first time, among young adults under the age of 34, the number of people who consider themselves non-religious is now a majority.
Among the group aged between 25 and 34, over 56% identify as non-religious, and among those between 18 and 24 the percentage reaches 63.5%, while among the older population (over 65), 76.5% of those interviewed say they are religious.
Almost 30% more unbelievers in 40 years
The evolution of the religiosity of Spaniards over the last 40 years shows that in 1980, barely 8.5% of the population identified as non-religious, while in 2021 this figure had risen to 37% of the population.
In the breakdown by month, the most significant change took place from March to April 2020, coinciding with the most severe lockdown in Spain. In just one month, the number of people claiming to be non-religious rose from 29% to 36%.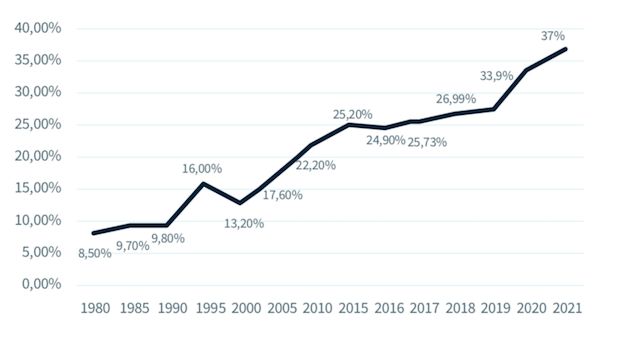 Evolution of the non-religious population in Spain / Fundació Ferrer i Guàrdia
"It will be necessary to know the evolution over the next few years to determine whether this increase is really the beginning of a progressive cycle that has not been recorded until now", say the authors of the report.
Roman Catholicism continues to be the predominant religion (about 59%), although far from the figures of previous years. The second largest groups are atheists (14.6%), agnostics (11.6%) and non-religious (10.8%), which altogether account for 37%.
Minority denominations represent 2.5% of the population and just over 1.5% are undecided.
Catalonia and Navarre, the 'least religious' regions
In the analysis by regions, Catalonia and Navarre are the territories with the most non-religious population (41% each), followed by the Basque Country (37.8%) and the Balearic Islands (33.7%).
In contrast, the regions with the lowest percentage of non-believers are Ceuta (3.4%), Melilla (15%) and Aragon (16.6%).
You can read the full report here (in Spanish).
Published in: Evangelical Focus - europe - Spain: Atheism and agnosticism on the rise in pandemic times