Top 10: Our best interviews of 2021
A selection of the most interesting conversations: a world-class astronomer, a jailed Cuban pastor, the representative of Algerian evangelicals, a survivor of the Brussels terrorist attack...
30 DECEMBER 2021 · 15:00 CET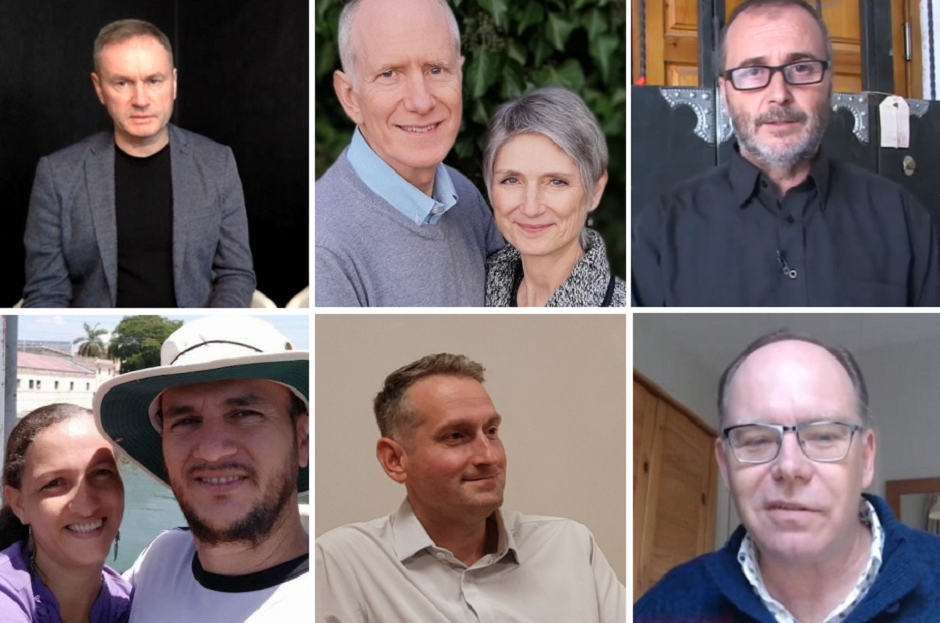 Some of the people interviewed by Evangelical Focus in 2021 (from top left to bottom right): Vyacheslav Goncharenko, Janet Winston-Young, Salah Chalah, Yéremi Blanco, Sam Allberry, Jim Memory. / Photo: EF
Throughout 2021, we have continued to look for often unheard voices who have something relevant to say about faith and society. In case you missed them, these are ten of our best interviews at Evangelical Focus this year.
- Heino Falcke, the German leader of the scientific team that made the first 'photo' of a black hole: "It is a big grace that we are allowed to see the universe"
- Salah Chalah, leader of the Protestant Church of Algeria and pastor of the largest church in Algeria, which was closed by the authorities: "We gather in houses or outdoors... just like the early church"
- Janet Winston-Young, a survivor of the 2016 Brussels terrorist attack who has written a book about how the Bible sustained her in her recovery: "Even in the midst of the biggest nightmare, God gives a path to follow"
- Vyacheslav Goncharenko, the pastor of an evangelical church in Minsk (Belarus) whose church has been under pressure by the authorities: "The state suppresses everything they identify as an enemy"
- James Akinyele, leader of the Nigeria Evangelical Fellowship, whose aim is to find answers to the persecution of Christians in the north of the country: "The number of believers who think in an armed response to the violence has increased"
- Yéremi Blanco, a pastor with a young family arrested without charges for 15 days after joining the peaceful protests against the Cuban regime: "I will continue to serve God in Cuba for as long as I can"
- Vitaly Vlasenko, a Baptist leader in Russia working to build international connections: "Russians only speak about socio-political issues in their kitchens"
- Samuel Escobar, the influential Peruvian missiologist reflects on the life of another Latin American Lausanne Movement thinker, his friend René Padilla: "René Padilla helped many to form a Christian vision of history"
- Sam Allberry, a Christian apologist who has much to say about sexuality, identity and the church: "Christians need to keep biblical convictions and still show grace"
- Jim Memory, missiologist who has analysed the state of Europe from both a social and church perspective: "New bridges between diaspora and autochthonous churches needed for mission in Europe"
Bonus. Ethnomusicologist Carla Suárez looks back at a personal interview with Desmond Tutu in 2014.
You can also see what were the most read Evangelical Focus stories of 2021.
If you value the work of Evangelical Focus, why not supporting us (starting with 1 Euro/month)? See below "Since you are here..."
Published in: Evangelical Focus - europe - Top 10: Our best interviews of 2021
Since you are here…
Evangelical Focus is a news and opinion platform that brings together Christians from across Europe and other parts of the world. We need the support of our readers to make this media project sustainable in the long term. You can support our work! Read about Evangelical Focus's sustainability here.
Would you like to support the work of Evangelical Focus?
Use one of these methods. You can also transfer your donation to "Areópago Protestante / Evangelical Focus" IBAN: ES8521000853530200278394 (Swift / BIC: CAIXESBBXXX). Subject: "Donation Evangelical Focus"
Thank you very much!